If I ask you, where are you storing your valuable Bitcoins?
You earned my respect if your answer is a hardware wallet. And, if your answer is an exchange wallet, you seriously need to reconsider your decision.
Storing valuable crypto assets in an exchange wallet is extremely risky, and the chances of losing funds are highest.
But, if you're storing your crypto assets in an exchange wallet because acquiring a hardware wallet is costly. Or, because desktop wallets don't give you the flexibility to use your crypto on the go, you share this concern with most crypto investors.
However, many security options are available to store your Bitcoins besides the exchange wallet and desktop wallet.
Using Android wallets serves the purpose and lets you use them on the go. Above all, Android wallets are entirely free to use.
Following are some of the best and most popular Bitcoin wallets for Android.
Best Bitcoin Wallets For Android 2022
#1. Cash App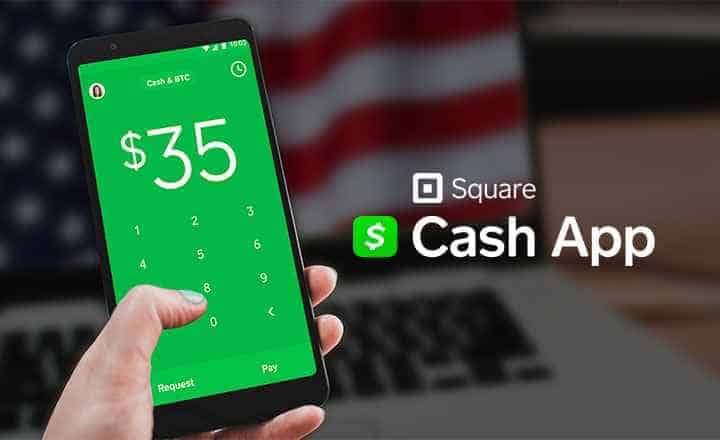 Cash App is a popular Bitcoin wallet service from Square, Inc, founded by Jack Dorsey, the co-founder and CEO of Twitter.
It is compatible with all android devices and is the safest, secure, and free money app to send, spend, and invest your money. Some of the features of the Cash App are:
Instant sign-up: It takes only a few minutes to download and complete the sign-up process.
Bitcoin: The easiest way to send, receive, sell, deposit, and withdraw Bitcoins. You track your holdings in real-time and can buy as little as $1.
Instant transaction confirmation: Send, receive, or request money or crypto assets with just a few taps.
Custom VISA debit card: You can order your VISA cash card and use it for making online transactions
Stock investments: Allows buying and selling of popular US stocks with as little as $1 and can track it on a real-time basis.
#2. Coinbase Wallet
One of the most trusted names in the cryptosphere, Coinbase wallet, allows safe and secure storage of BTC, ETH, LTC, BCH, ETC, XRP, and all ERC20 tokens.
Coinbase wallet also includes a Web3 DApp browser that helps to interact with other DApps powered by Ethereum. Some of the other powerful capabilities of Coinbase wallet are:
Secure-user-controlled crypto wallet: All funds and assets are stored securely on your device using secure element technology, and users remain in control of private keys.
Back-up private keys: You can back up your crypto wallet's private keys to Google Drive, which helps you to avoid losing access to your funds
Crypto payment: Enables sending and receiving cryptocurrency payments anywhere in the world.
#3. Blockchain Wallet

Blockchain wallet is a popular non-custodial wallet with over 38 million wallets in over 140 countries. The wallet supports transactions in BTC, BCH, ETH, XLM, and PAX with industry-leading low fees.
Security measures incorporated in the wallets are:
You remain in control of your private keys.
Biometric authentication or 4-digit PIN
Advanced two-factor authentication
Secure backup and recovery with a 12-word backup phrase
Hierarchical deterministic address architecture for increased transaction privacy
Server-side entropy for maximum randomness
Other features:
Can buy and sell bitcoin in 36 countries and exchange one crypto with another
Historical price charts
Simple and easy user interface
Global support with 21 languages
Check Out Blockchain Wallet App
#4. Electrum Wallet

Apart from being a leading cryptocurrency desktop wallet, Electrum is also counted on the list of the most popular Bitcoin wallets for Androids.
Some of the advanced security features integrated into the wallet are:
The private keys are encrypted and never leave your device.
The wallet can be recovered using a secret 12-word phrase key in case access to the wallet is lost.
Keeps your private key data offline (cold-storage) and go online with watching-only mode.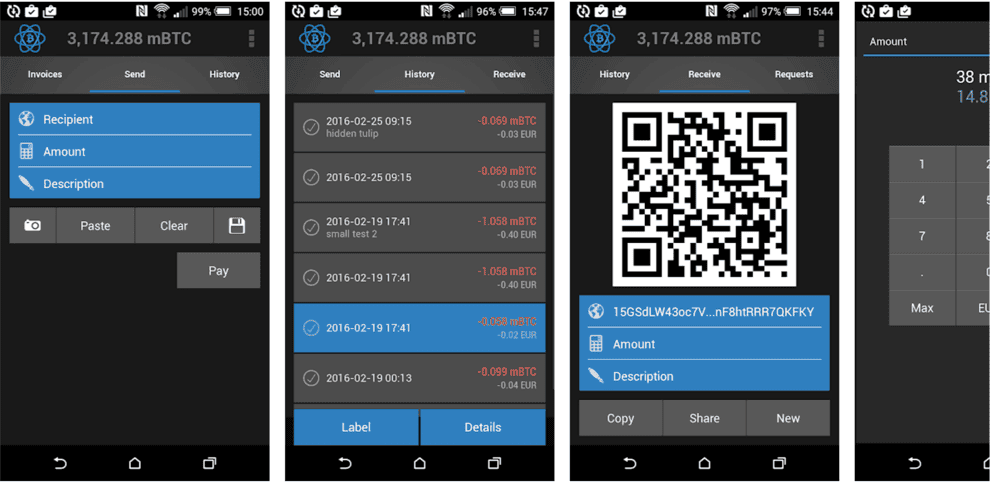 Other features include:
It uses servers that index the Bitcoin blockchain, making it fast.
Allows to export the private key and use it in any other wallet you wish
Verifies all transactions in your history using SPV
The Electrum servers are decentralized and redundant, which ensures zero downtime
#5. Blockstream Green Wallet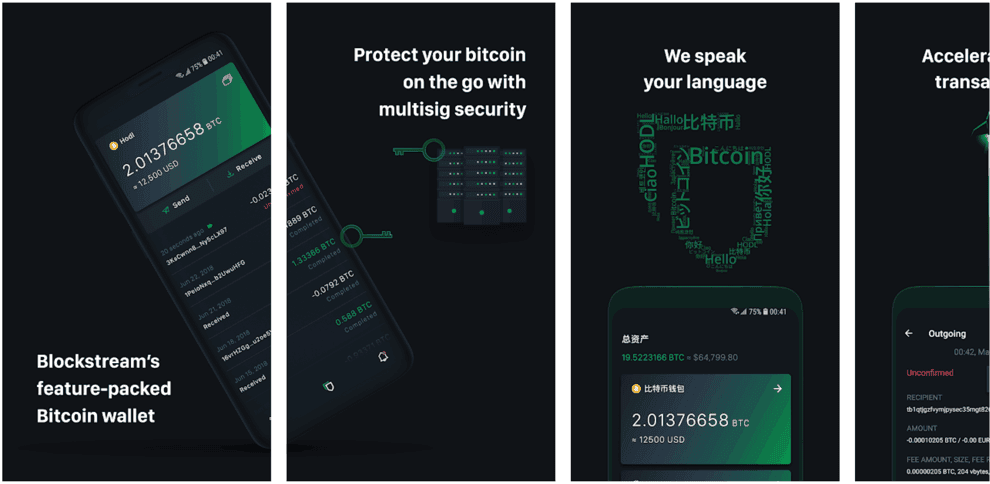 Blockstream Green is another great option to store your Bitcoins conveniently and securely without compromising control over the funds. The wallet offers users a long list of features, making it hard for any wallet users to ignore.
Unmatched security: It uses an innovative multi-signature model, which uses dual private keys. One is stored in the wallet server, and the user holds another one. This allows enforcing 2FA to protect the funds and ensure users are always in control of funds.
Hardware wallet support: Support full integration of Trezor One and Ledger Nano S.
Watch-only mode: You can keep an eye on the bitcoin balances while on the go and receive payments without even requiring to grant permissions
Fee control: Transactions costs are kept low using SegWit and customizable fees
Multilingual global support: Provides support through the world's most spoken languages
Check Out Blockstream Green Wallet App
#6. Coinomi Wallet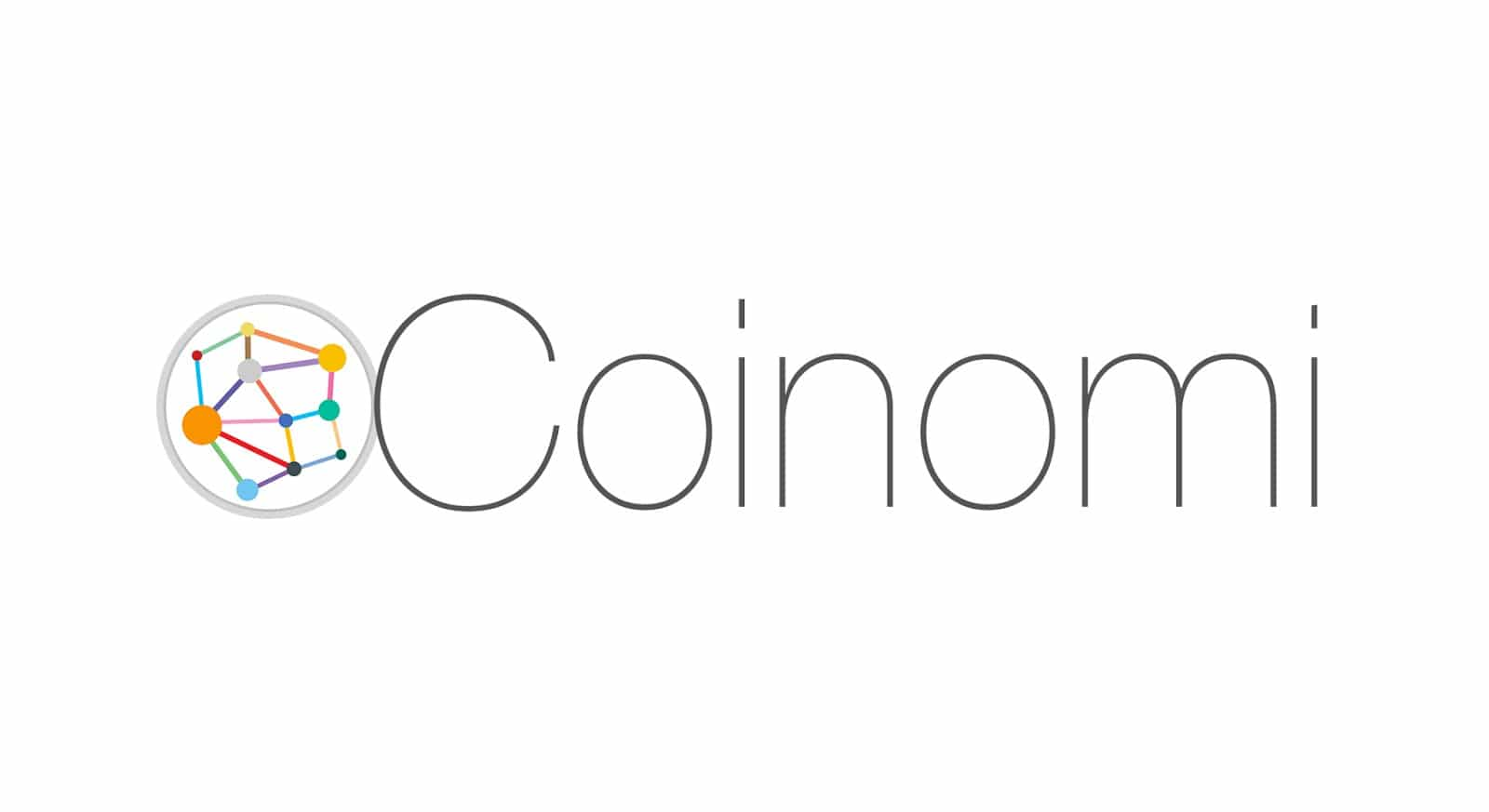 Coinomi is one of the most trusted wallets supporting over 1000 tokens, altcoins & stablecoins, including the major ones like BTC, ETH, LTC, BCH, etc. It is also considered one of the most secure Android wallets is integrating the highest standard of security into the wallet.
Private keys remain in the device, secured with solid wallet encryption and cryptographic guarantee.
No KYC to access your funds, no IP association, no identity linking, and transaction tracking
The hierarchical deterministic approach (BIP44) allows you to recover your funds securely with just one super-passphrase.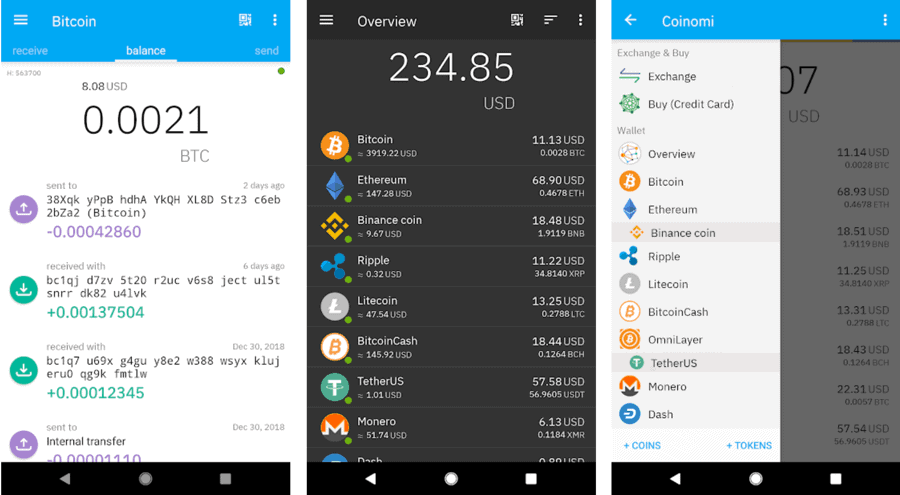 Other features include
The built-in exchange allows conversion between assets within the app.
Streamlined UX enables you to use your altcoin to pay directly to bitcoin addresses and vice versa.
Custom & dynamic fee structure enables you to get the best value for money from each transaction.
Multi-lingual 24*7 customer support
#7. Exodus Mobile Wallet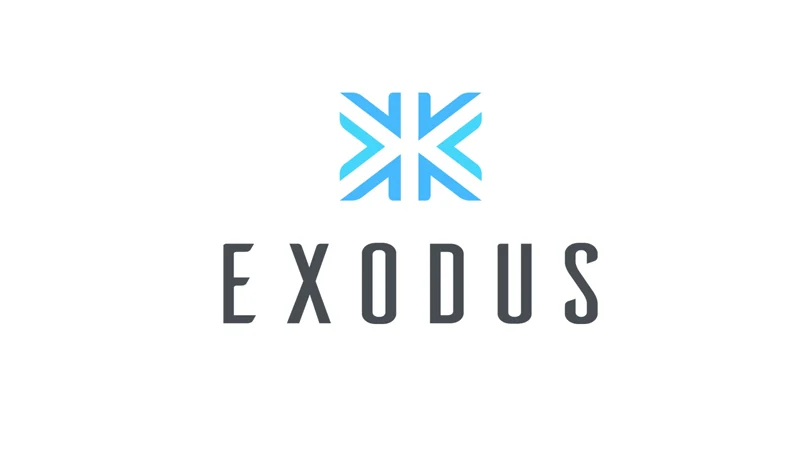 A multi-currency wallet supports all major coins like BTC, ETH, XRP, and more. The wallet lets the app buy and sell cryptocurrencies and keeps your transaction data private.
You can easily exchange Bitcoin with all the tools and features the top Bitcoin wallets in the cryptosphere have to offer.
Recommended Read: Custodial vs non-Custodial Wallets
Not just this, you can also integrate the app with hardware wallets; being a top-of-the-line digital wallet itself, Exodus is an ultimate tool for an optimised trading experience.
Some of the features of Exodus Wallet are:
A non-custodial wallet that encrypts your private keys and transaction data to keep your data private and anonymous
Allows real-time tracking of your portfolio and its performance
Send and receive cryptocurrencies with the touch of a button using a text address or QR code.
24×7 global support
#8. Trust Wallet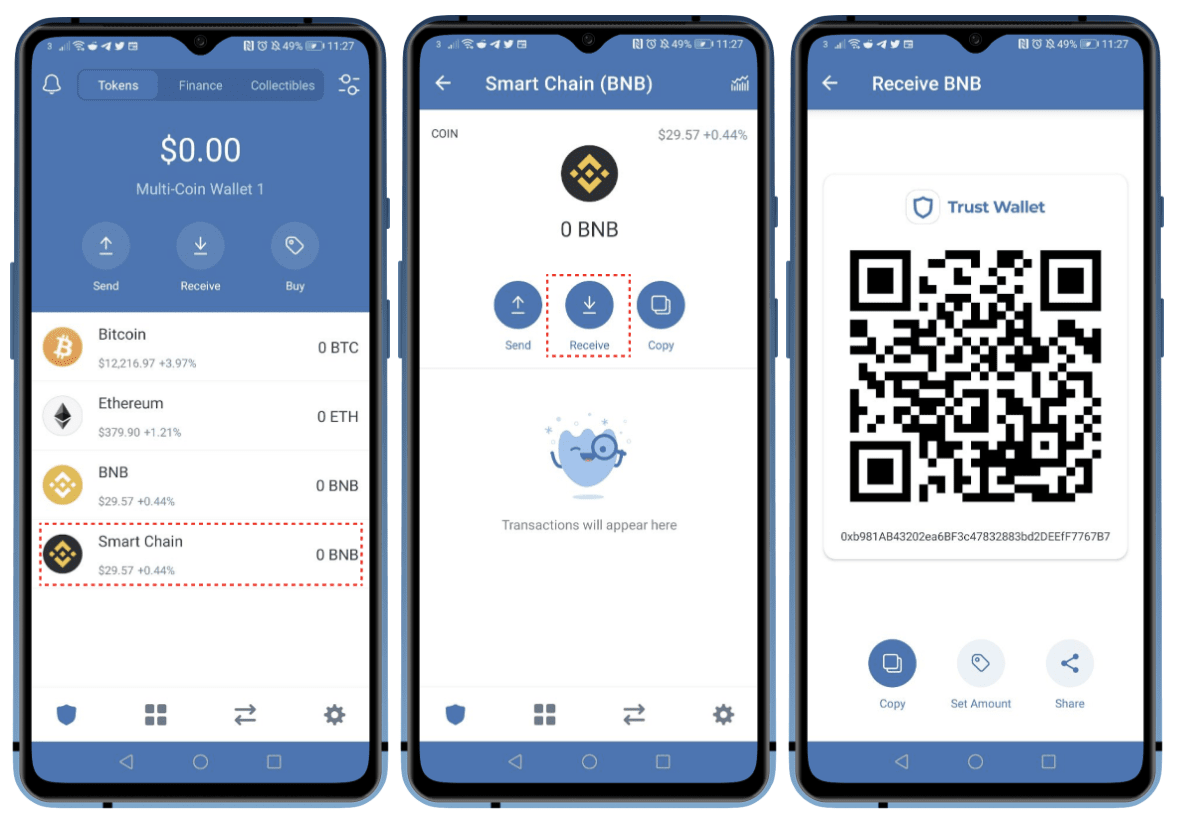 It is among the most popular crypto wallets, and I have thoroughly enjoyed using it for a while now. It is undoubtedly one of the best crypto wallets out there.
Trust Wallet supports multiple crypto coins where you can store Bitcoin, Bitcoin Cash, Ethereum, Tether, Ethereum-based tokens and many more. It is a self-custodial wallet launched in 2017 and was later acquired by Binance in 2018.
This crypto wallet app gives you complete control over your digital assets. You can directly install their app, which has a global google play store rating of 4.5/5, which is pretty high for cryptocurrency wallets.
Trust Wallet cryptocurrency wallet allows you to instantly exchange crypto on its crypto exchange which is directly available on its mobile app. It gives you secure access from your mobile devices, and you can use DApps anytime without leaving your wallet.
You can begin your journey on this platform by downloading the app and funding your wallet with some crypto without the hassle of filling out lengthy forms, uploading selfies and sharing your sensitive data.
The app also lets you earn significant interest on your crypto holdings; crypto staking is also available through which you can earn hefty interest on your assets. You can easily track charts and use all the tools with complete accessibility on its interface.
Trust Wallet is a free platform; there is no cost to download or make an account. However, when you send crypto funds through Trust Wallet to another wallet, you will have to pay gas fees associated with the transaction. The app charges an additional fee on crypto purchases but is way less than many other mobile wallets.
With Trust Wallet, you don't need to worry about the security of your funds or wallet address as it is a non-custodial wallet. It provides you secure control over your keys and keeps them safe in vault-like security, unlike hot wallets or custodial wallets, for that matter.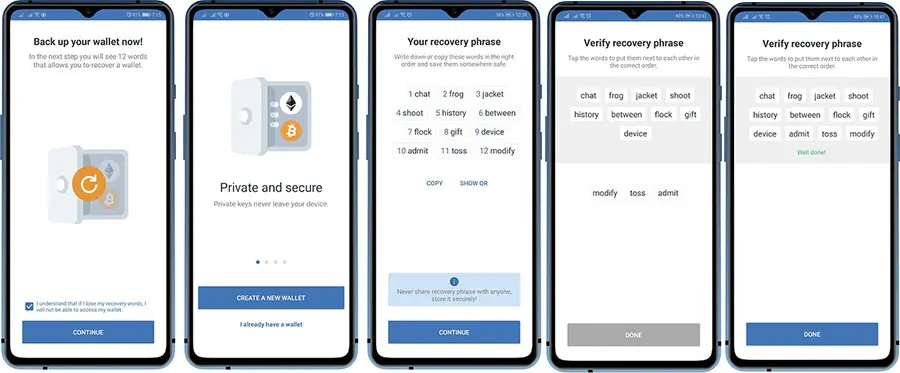 Things get better:
Trust Wallet supports 65 blockchains, with its interface available in 11 different languages and supports 4.5M+ assets as well as thousands of coins. You can also add the wallet as a chrome extension, making it accessible at your fingertips all the time.
Trust Wallet app is available for all your gadgets and seamlessly supports any Android device.
#9. Jaxx Wallet
Jaxx Liberty is a comparatively new intuitive cryptocurrency wallet by Jaxx- one of the oldest cryptocurrency wallet companies in the cryptosphere.
Jaxx is a multi-currency wallet that supports over 80 currencies, including Ethereum. And the good thing is a wallet that Jaxx Liberty is a cross-platform product built for Android and iOS devices, macOS and Windows desktops, and as a Chrome browser extension.
Jaxx Liberty has a simple interface, and the setup is quite simple, even for beginners. Just set up your wallet and start using it.
It is among the top wallets for Android currently in the market.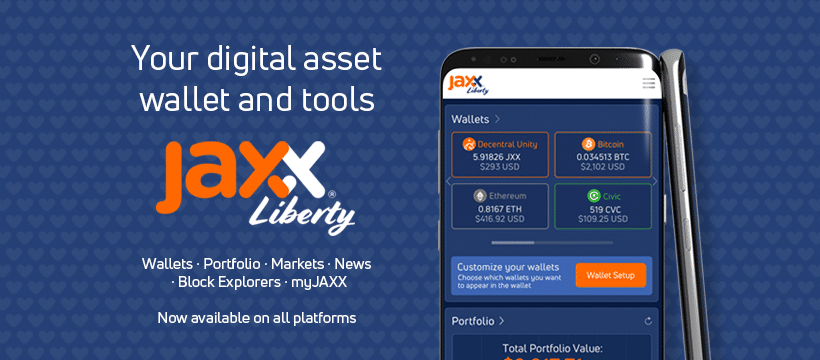 With Jaxx Wallet, you remain in control of your funds because it is mandatory to note down your 12-word seed for the initial wallet set-up, which makes it secure too.
Jaxx Wallet has highly reputed customer support as well. All your queries are handled by an in-app ticketing system as well as email. The overall process is convenient, and the response time is pretty quick.
So what are you waiting for? Click the link below and your journey with Jaxx Liberty.
#10. Argent Wallet
Argent is a third-party Ethereum wallet founded in 2020 and one of the recent platforms to support direct staking.
Argent is only available on Ethereum's blockchain and comes with various advanced features, making it stand out from its peers.
Argent is an open-source project that interests developers allowing them to make their own version of the wallet or view its codes. Argent is also a non-custodial wallet giving you complete control over your assets.
This wallet allows you to use a combination of cold and hot wallets as well as verify transactions to give you a sense of safety and security. You can also link your bank savings account for crypto purchasing on this platform.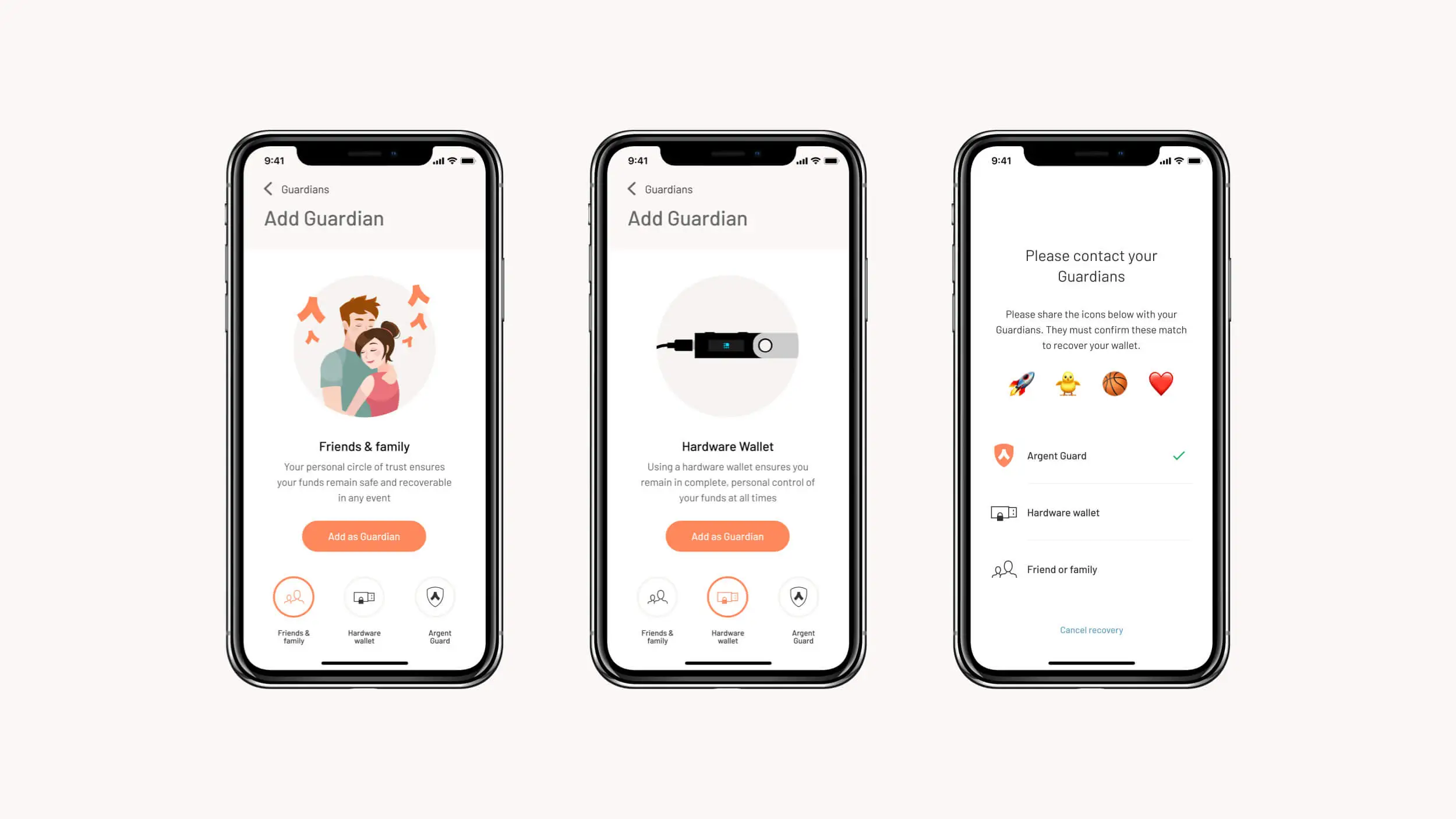 Argent has a significant advantage that appeals to a large audience. Making it so popular among crypto enthusiasts is its user interface. They have a variety of advanced features that makes this wallet so unique.
Argent lets you store your Ethereum blockchain tokens securely and is a fully functional crypto wallet just as you expect it to be. It also comes with Pin code protection and an option of cloud storage if you want to have one.
It provides multi-layered security and seamlessly supports almost all the hardware crypto wallets, integrates with them, and supports their functions. You can also earn interest rewards on the assets you lend through the DeFi wallet capability built into the platform.
The majority of the transactions on the platform are free, and the wallet doesn't charge you any fee. And wallets with no network fees are minimal to find.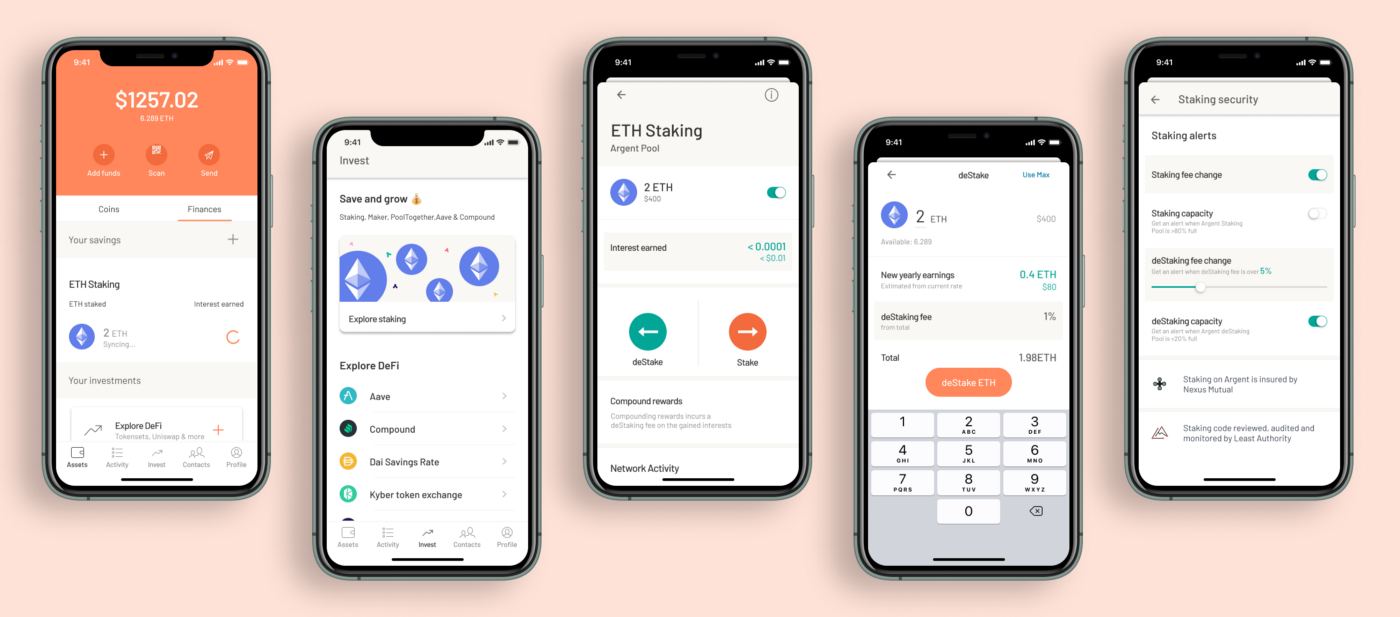 It is one of the best crypto staking platforms with one of the best and most impenetrable security features. Argent also offers multi-signatures and remote locking, as it requires the user's biometric information to ensure a higher level of safety and security.
What is the best crypto wallet for Android?
A simple answer to this question is Exodus. It is the best crypto wallet that you can use on your Android mobile phone. The tools it comes with and its integration with other hardware wallets and crypto exchanges are phenomenal.
Is Android safe for crypto?
Yes, Android is safe for your crypto. Your investments are going nowhere until you use a reputed and secure wallet. And picking any crypto wallet from the ones I have enlisted, you don't need to worry at all. Trust me; your assets are in safe hands. So go ahead, without a second thought, and check them out.
Conclusion
Now that you have gone through some of the best Android wallets for Bitcoin, I would like to know which one you prefer. All the digital wallets mentioned here use the industry's best standards for security and privacy.
There is no shortage if you are still looking for more Bitcoin Android wallet options. But selecting the most secure wallet is what matters the most.
Do let me know your thoughts in the comments below 🙂
Latest posts by Sudhir Khatwani
(see all)