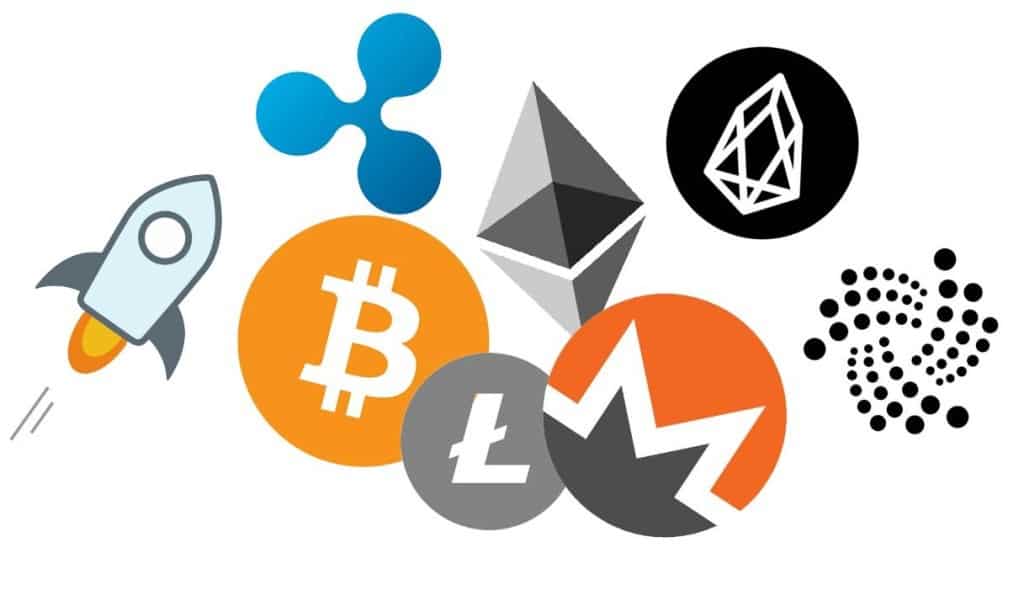 With the increase in the number of altcoins, the need to store these altcoins safely is also growing.
Many cryptocurrency wallets recognize this need and make their single currency wallets multi-cryptocurrency wallets.
There are good chances that you, too, hold many currencies and are looking for a reliable multi-currency wallet or a safe altcoin wallet. If that is so, you are in the right place because we often review some of the best cryptocurrency wallets for you.
Choosing a wallet is not easy. It is easy to be deceived and get to use the wrong wallet, which can result in permanent loss of your funds.
So make sure you only choose the reviewed and tested wallets that have made some name for themselves in the cryptosphere. Here is the list of similar wallets that we think are reliable and vetted by us:
Best Multi Coin Crypto wallet In 2022
Ledger Nano X
Ledger Nano S
Ledger Nano S Plus
Trezor Model T
Trust Wallet
Coinomi
Exodus
Magnum Wallet
Nano X is the best multi-cryptocurrency wallet one can ask for !!
It's a hardware wallet launched in early 2019 is now rocking the market with its cutting-edge features. It's not only the features but also the security standards Ledger SAS has set for itself.
Ledger SAS is the company behind Ledger hardware devices and has been based out of France since 2015. Given the fact that a year in crypto is like ten years, so you can just imagine the amount of experience Ledger SAS has in developing solutions for crypto safety.
On the product side, they are the flagship hardware wallets that offer superior design, and a highly engaging and straightforward user interface both on the device and on its wallet app – the Ledger Live app.
It gets better:
The device comes with Bluetooth allowing you to connect wirelessly to your iOS and Android devices so that you can play with your currencies on the go.
Of course, for this experience, the device comes with a battery that can last up to several hours. Additionally, the hardware wallet supports 5500+ cryptocurrencies, and you can use 100 apps simultaneously on the device.
It has a large screen, and the body is made of brushed stainless steel and plastic, making it robust.
This cryptocurrency wallet has an easy-to-use interface with its cold wallet capabilities certified by CC EAL5+ and ST33J2M0 chipset.
This makes it the best multi-cryptocurrency wallet that supports multiple types of digital currency in the present conditions.
Lastly, it is a non-custodial wallet where you can control the ownership of all the cryptocurrencies through one seed, which is an excellent feature to have.
#2. Ledger Nano S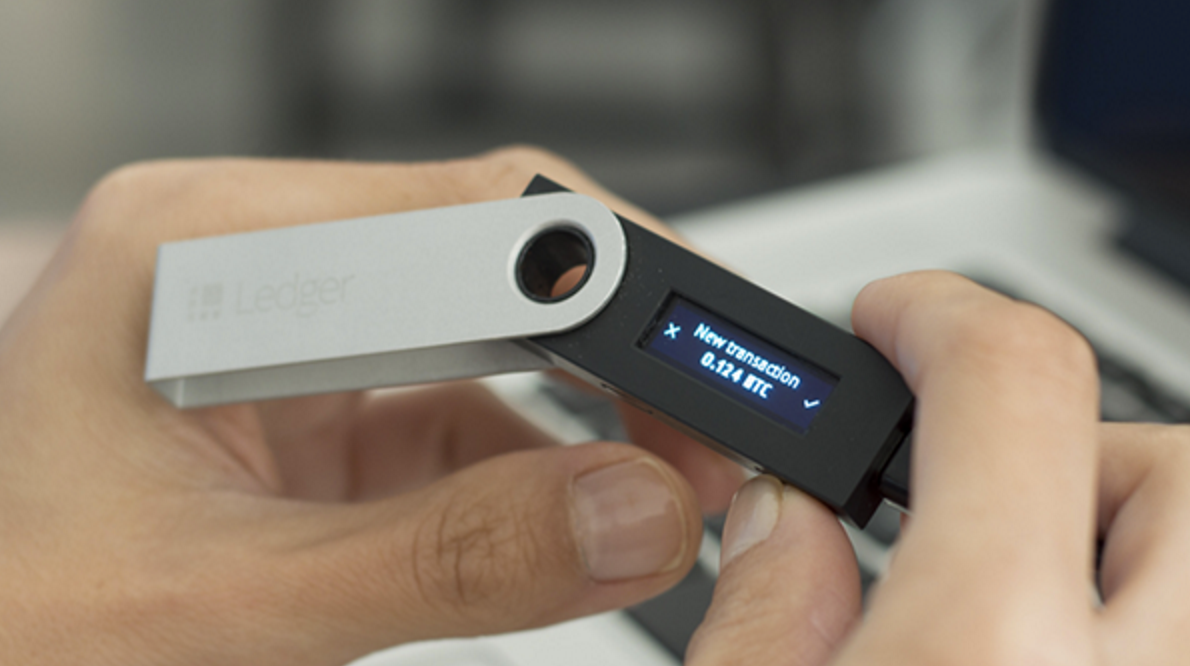 On the more affordability side, another great option from Ledger SAS is the Nano S, launched in 2016 and offers secure offline storage as well.
It comes with almost all the significant features of Nano X. It supports all those 5,500 cryptocurrencies and 100 downloadable applications functionality.
What it doesn't have is a built-in battery, and it only supports apple phones in consultation mode. Besides, it is entirely compatible with a 64-bit desktop computer (Windows 8.1+, macOS 10.14+, Linux), excluding ARM Processors. Via its desktop app as well as Android devices.
It comes with the same CC EAL5+ certification, so you know the wallet has the same top-notch security level and ST31H320 + STM32F042 chipset.
It is undoubtedly the best multi-cryptocurrency wallet compared to its price point.
#3. Ledger Nano S Plus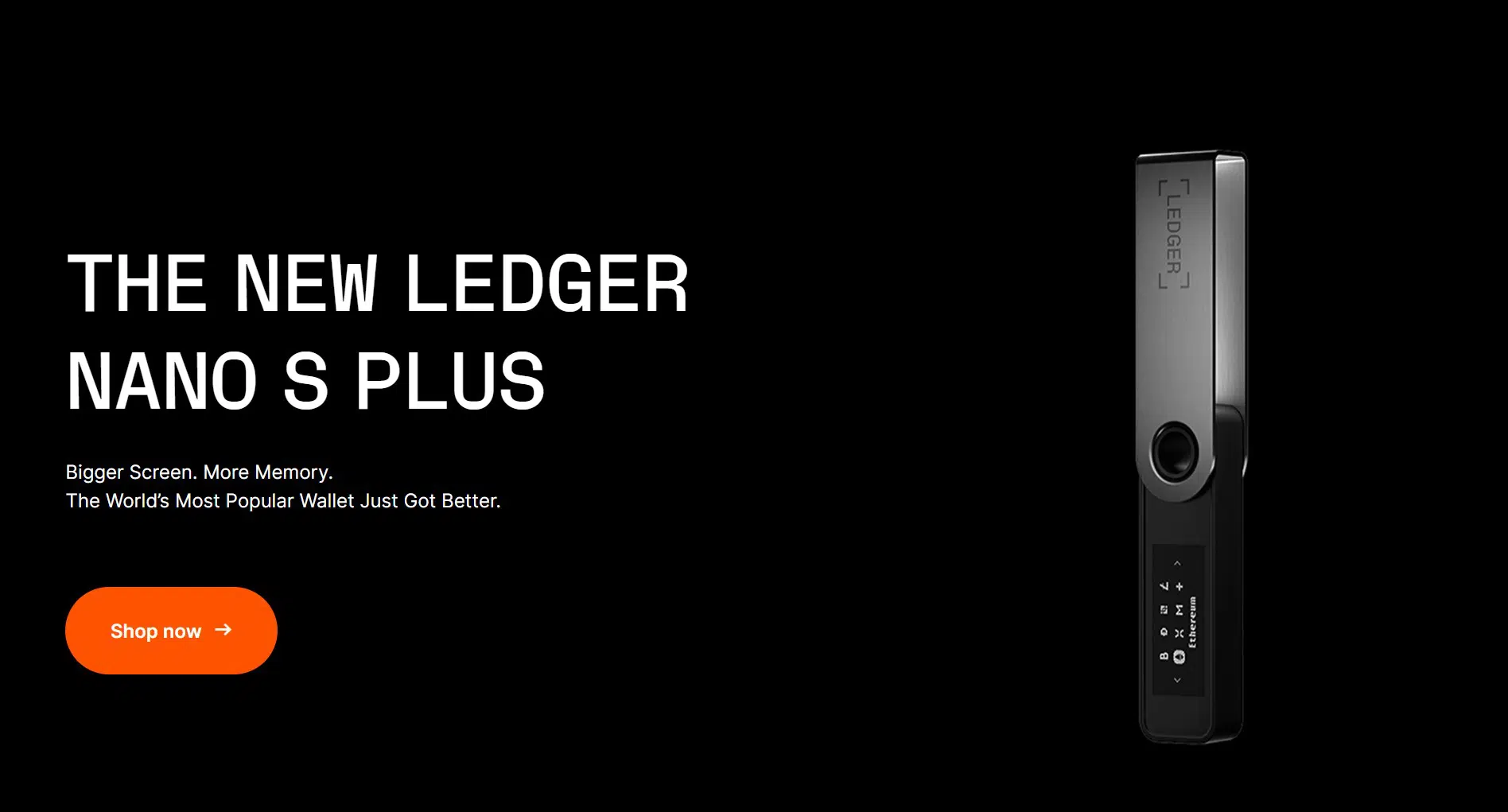 On the mid position of Ledger SAS's fantastic crypto wallet range is Nano S Plus. It is the most recent hardware wallet launched by Ledger.
It was launched in April this year to bridge the gap between Nano X and Nano S. The device supports 5,500 crypto assets, and you can store up to 100 cryptos at a time on the device.
It is compatible with all your Android and iOS devices as well as 64-bit desktop computers (Windows 8+, macOS 10.8+, Linux), excluding ARM Processors.
It is CC EAL5+ certified as well and comes with the powerful ST33K1M5 chip. The certified secure chip keeps your private key offline, out of the hacker's reach. It has the same robust built as Ledger's other two wallets.
#4. Trezor Model T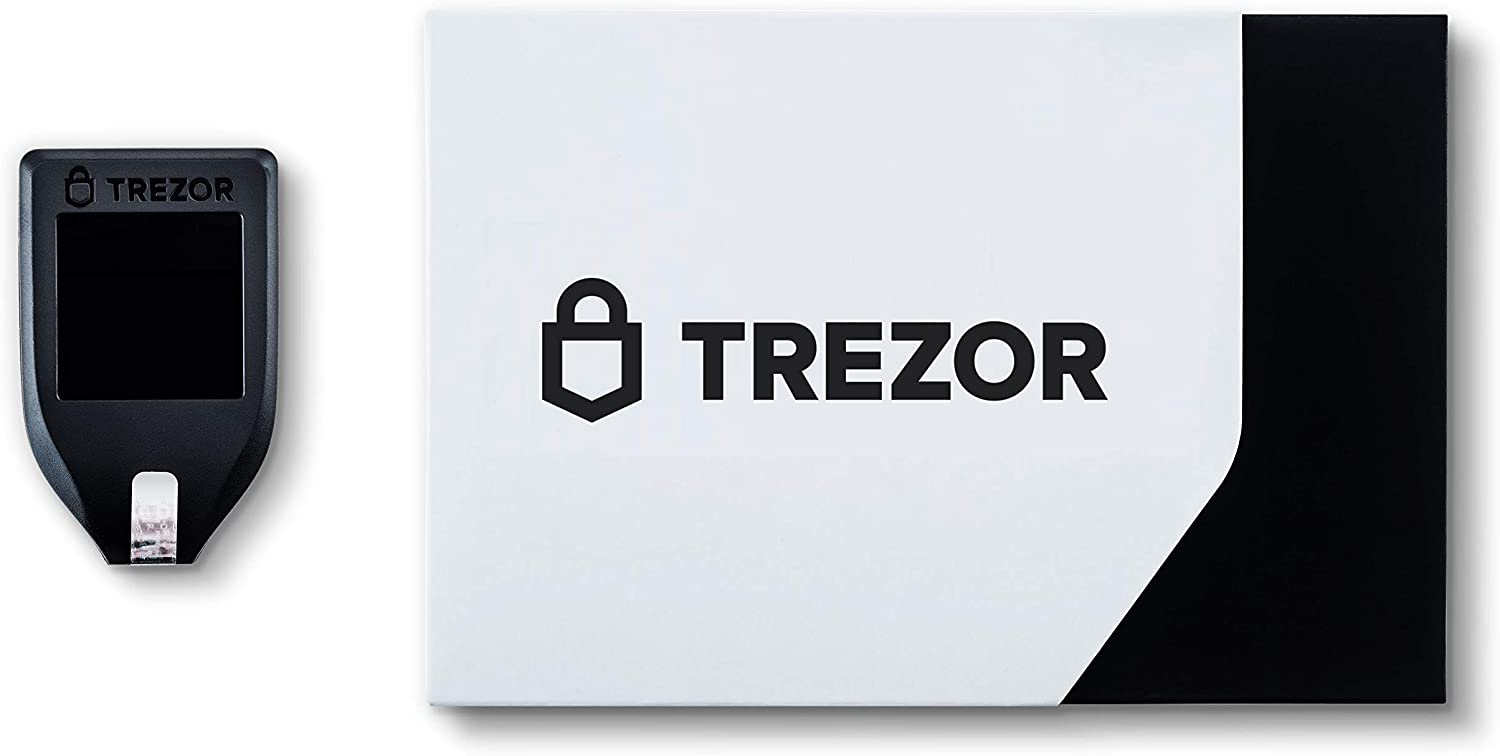 Another prominent name in the offline space is Trezor Model T offered by the company Trezor.
Trezor Model T was launched in 2018; However, the device seems a little outdated but offers all the latest top-notch features, thanks to the regular updates from Trezor's dedicated developer's team.
Trezor Model T supports over 1200 digital assets and comes with an inbuilt full-colour display and a powerful yet straightforward interface.
Making it to this list of best multi-cryptocurrency wallets is the security features this device is equipped with. It offers a secure wallet capability where you can store your private keys in the cloud.
Additionally, there is U2F authentication and FIDO2 authentication. It is certified by RoHS and CE, which meets all the quality and reliability standards to store crypto safely, and your private key is in safe hands.
Trezor Model T is the first hardware wallet to implement Shamir Backup (SLIP39) for an upgraded level of security. In case you misplace your device, you can quickly recover your entire wallet using a 12-word recovery seed, and that is why Trezor Model T is the best cryptocurrency wallet in its segment. To know more, you can check Trezor Model T vs Ledger Nano X comparison.
#5. Trust Wallet [Online Wallet]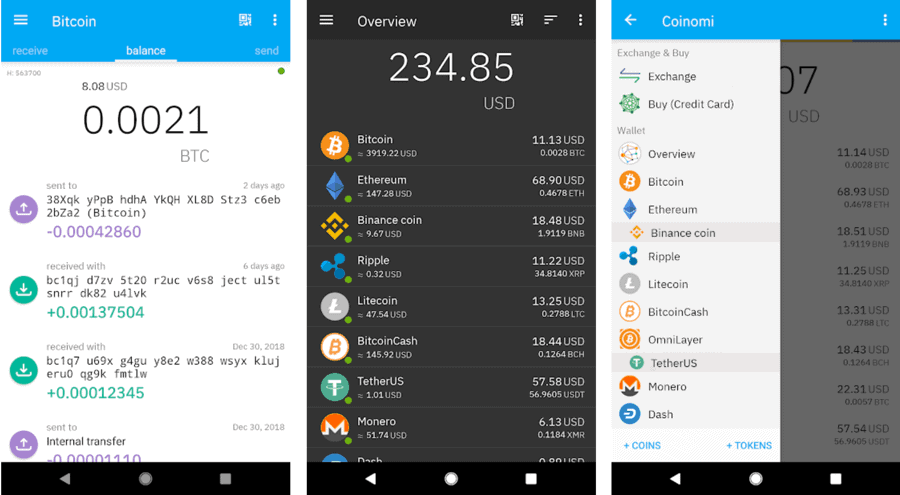 Trust Wallet is my favourite digital wallet, and I thoroughly enjoy using it because of its security and intuitive UI. It is among the best crypto wallets out there.
Trust wallet is a multi-currency HD wallet that supports Ethereum, Bitcoin, Litecoin, Ethereum-based tokens, etc. They have also added the feature of Staking via their DApp browser when you visit platform.trustwallet.com.
And with the Trust wallet, you need not worry about the security of your coins or tokens because it is a non-custodial wallet where you always control your private keys.
Not only this:
The crypto wallet can be easily set up in just 5 minutes and currently offers $50 worth of BTC, ETH, BNB and many other coins. Trust Wallet doesn't collect any of your personal data.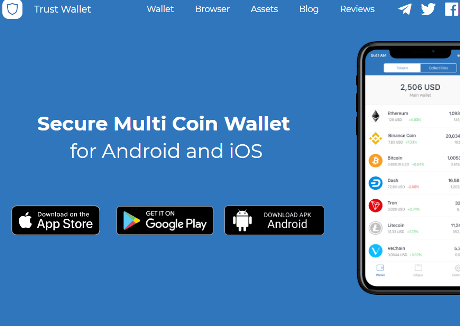 Trust wallet supports 65 blockchains as well as a whopping 4.5M+ assets and thousands of coins. The interface is available in 11 different languages, and you can add the wallet as a chrome extension, making it available at your fingertips anytime, anywhere.
Additionally, they have a highly experienced and dedicated customer support team that will handle all your queries. Millions of users worldwide have used this platform extensively, recommending Trust Wallet as an anonymous bitcoin wallet as well.
You can effortlessly link your bank account to fund your wallet quickly and begin trading right then and there.
#6. Coinomi [Mobile]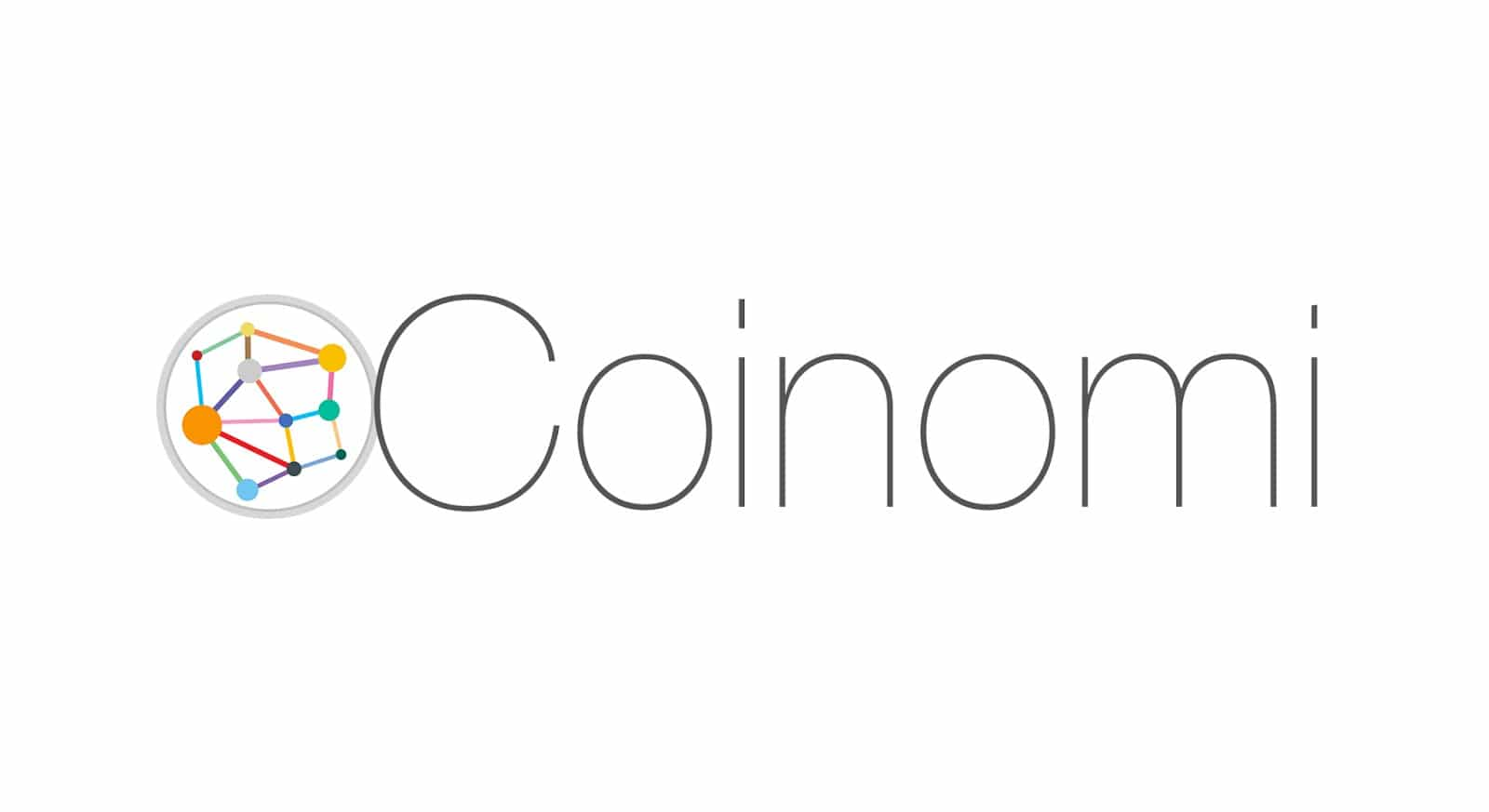 Coinomi is another best multi-cryptocurrency wallet that has made a name for itself in the cryptosphere. The company has been based out of London, the UK, since 2015 and is a pioneer in supporting forked coins.
The development team is swift and competent, giving confidence to its massive user base to store its 100+ digital currencies.
Coinomi supports 130+ digital assets, over 125 blockchains, and its mobile wallet app is available for Android and iOS users. They have also launched their desktop clients, but I have not used those. It is Seg-Wit enabled and offers 168 fiat currency representations available in 25 languages.
Furthermore, the wallet gives you a single seed through which you can be in control of all the currencies, making it one of the most advanced multi-cryptocurrency wallets for mobile users.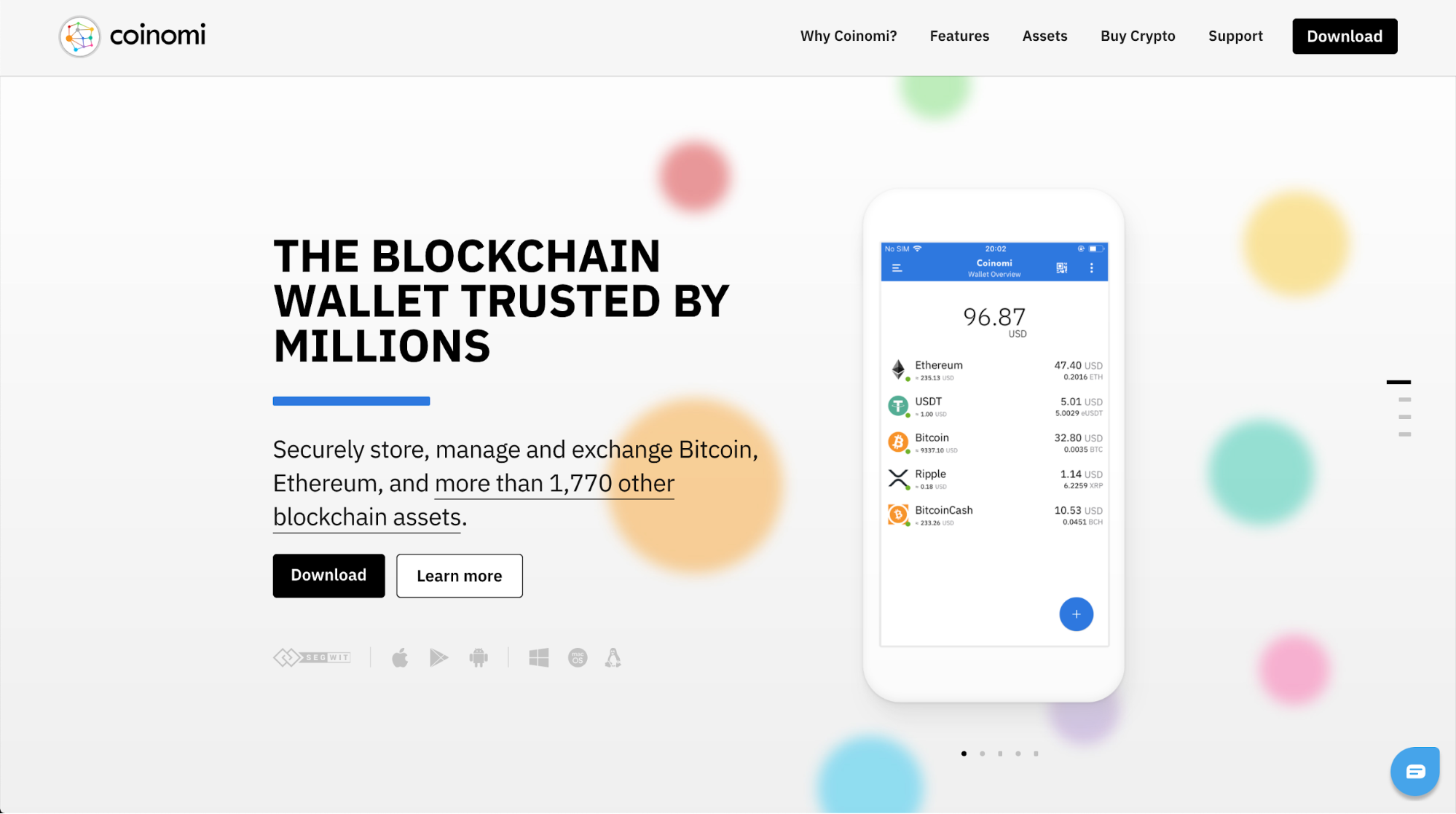 Though it is not hardware-compatible, it has a user-friendly interface capable of processing cross-chain payments within minutes.
Coinomi also has an in-built cryptocurrency exchange in the app that allows you to exchange one coin for another without going to your centralized crypto exchange. Such a feature is handy to have in events of extreme volatility.
It is available both for iOS and Android. The app requires 127.9MB for iPhones and Android 15MB. The app is completely free with zero transaction fees.
#7. Exodus [Desktop]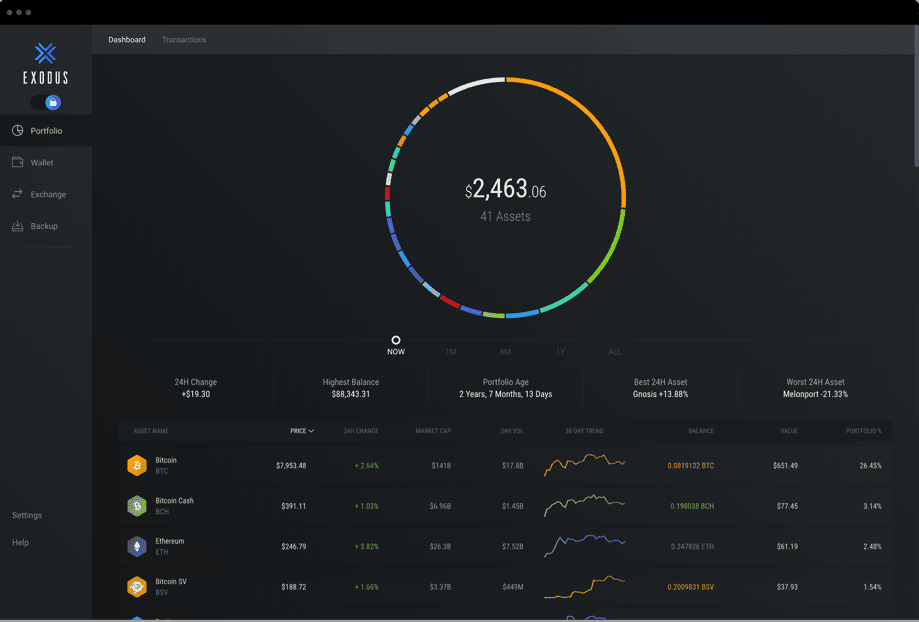 Anyone who has read, TheMoneyMongers before would know that we love Exodus wallet and let me tell you, this is not a bias.
Exodus is simply the best multi-currency wallet to have on your personal computer. The wallet has never had significant flaws and has a beautiful design.
The design is so simple that even your grandparents can use it. And still, they haven't let this simplicity compromise their security, which is generally an easy thing to do.
Apart from that, it is pretty standard for them to provide seed words to keep you in control of your digital assets. At present, Exodus supports 225+ cryptocurrencies & tokens.
I like the pie-chart representation of my portfolio and its capacity to integrate with Trezor like an offline wallet for several currencies.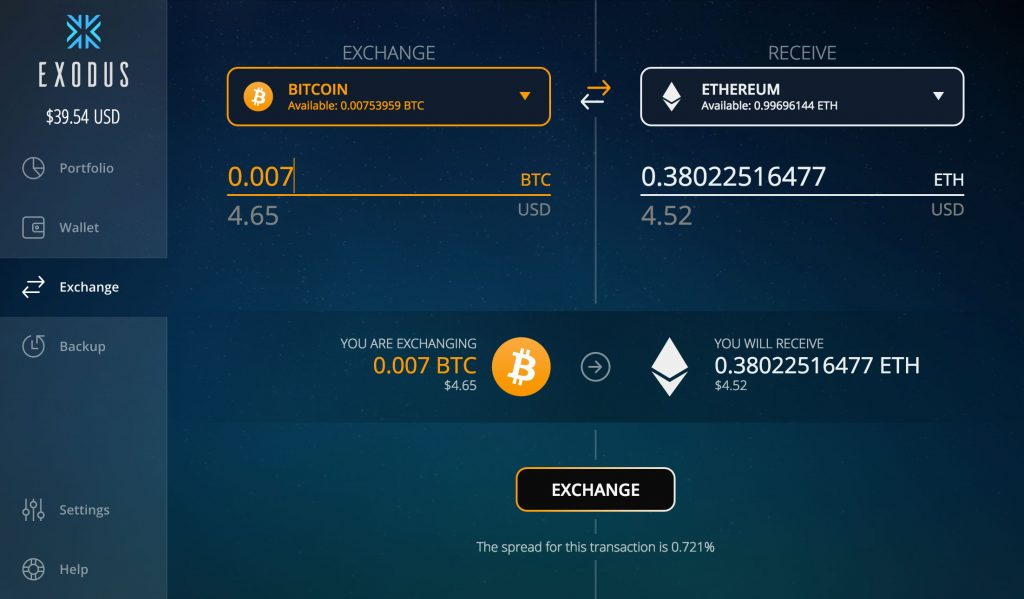 Additionally, the UI is super sleek, and the usability doesn't compromise the security features. It is a non-custodial desktop wallet where you get your seed words to protect your funds.
Integration with an offline cryptocurrency wallet like Trezor gives you the best of both worlds. To Exodus lovers, it gives them the freedom to continue using the simple software interface and leverage the secure hardware infrastructure.
It supports Mac, Windows, & Linux versions. They have also launched their mobile crypto wallets, but I haven't got a chance to look at them.
#8. Magnum Wallet [Web Wallet]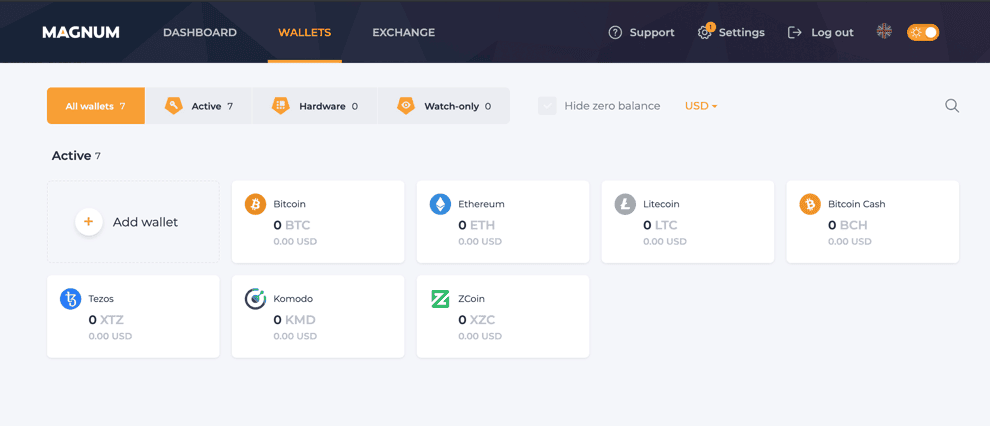 Magnum wallet is another multi-currency digital wallet that I started testing and using in 2019. So far, the experience has been excellent and has a safe enough cold storage capability to tell you guys, so that's why it has been made to this list.
Magnum wallet is a non-custodial multi-currency wallet capable of storing 60+ currencies, including bitcoin cash and many others, through its web interface. The seed or private keys remain encrypted in the browser, so make sure to use the correct wallet.
Also, beware of fake web wallets trying to look like a Magnum wallet and trying to get your password through phishing attacks.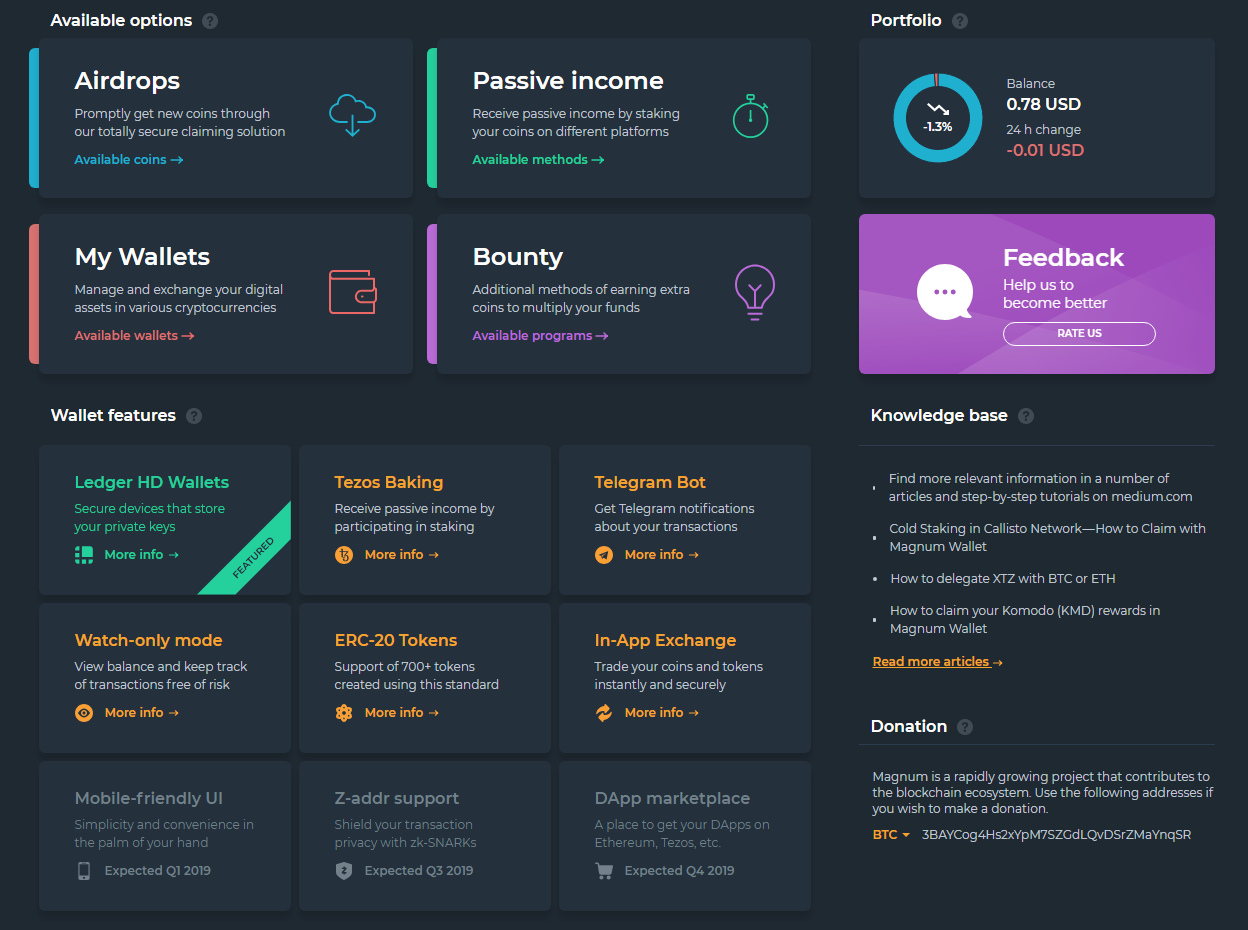 When you make a wallet on Magnum for the first time, you will be required to set a password. This password is the key to your wallet, and losing this would mean losing your access to all the currencies stored on the Magnum wallet.
However, there is a way to back up. When you first log in for the first time, make sure to take the backup of the private keys file from the settings section.
This backup will help you access your cryptocurrencies if you have lost or forgotten your password.
Another good thing about Magnum is that it integrates easily with the Ledger Nano X wallet giving you the freedom to use offline wallet infrastructure through the software interface of Magnum.
– Which wallet is best for all cryptocurrencies?
All the wallets I have listed are best on their own terms; it depends on your trading strategies and requirements. If you ask which is my preferred wallet, I am a big fan of hardware wallets. And in that list, I will blindly choose Ledger Nano X.
Among all the mobile devices, Nano X is my favourite; my experience with it was the best. If you choose to hold crypto in cold storage, this option will be the best for you. And if you want something for your desktop, go for Exodus. Exodus will be your best choice as an open-source wallet and equally secure. And for online storage wallets, Trust Wallet is the best.
– Can one wallet hold multiple cryptocurrencies?
Yes, in fact, all the wallets in this list can hold multiple cryptocurrencies. The decision lies with you, whether you want to go for hardware wallets or software wallets. I must say all these wallets are unique, and the wallet software, whether application-based or web portal based, all work seamlessly.
– Which is the safest crypto wallet?
The safest crypto wallet is undoubtedly the hardware wallet. In fact, regarding the safest bitcoin wallets and the top choices among crypto enthusiasts.
These wallets don't require to be connected to the internet all the time, unlike other wallets, keeping you safe from cyber attacks.
These wallets support multiple digital currencies and seamlessly connect to a cryptocurrency exchange with multi-cryptocurrency wallets.
Therefore hardware wallets are undoubtedly the best crypto wallet in the crypto space.
– Wallets For Multiple Cryptocurrencies?
Now you must have understood how to create or get a multi-currency wallet. But the question arises now, which wallet to use from it?
Well, all the wallets we have listed here are after a thoughtful use and internal discussion in our team. So all these wallets are safe and the best for storing multiple currencies.
Moreover, at TheMoneyMongers, we don't recommend custodial wallets because that goes against the ethos of cryptocurrencies themselves.
But still, if you are confused and want a single recommendation from us, go for Ledger Nano X– a future-ready wallet that can store 5,500+ currencies for the long term.
If you have any more questions, feel free to shoot to us in the comments below 🙂
Latest posts by Sudhir Khatwani
(see all)