Remember this loud and clear:
Your cryptocurrencies are only as safe as your crypto wallet.
Yet, we compromise in getting a cryptocurrency hardware wallet.
But let me still repeat.
We often keep hearing that this best Bitcoin exchange or that crypto exchange got hacked, but still, we don't learn from our mistakes.
We still keep trusting the inbuilt online wallets of these exchanges and sometimes over-rely on our mobile or desktop wallets, too, by storing large amounts of cryptocurrencies on them.
But this can be fatal.
If you don't choose a reliable hardware wallet for your BTC & the best Bitcoin-like cryptocurrencies, the day is not very far when you will lose your entire crypto capital like this rich chap who lost $24 million when his mobile wallet was hacked.
Moreover, you should not rely upon any or all cryptocurrency hardware wallets because not all are made the same. Here are some of the criteria through which we like to scan our hardware wallet picks:
Team: Should have good development & marketing team
Ease Of Use: The wallet should have an easy-to-use UI & UX.
Compatibility: Should be compatible & accessible across different operating systems
Security: Should be uncompromising to the security standards
Community: Should have an active community of users
In light of these criteria, we have the following suggestions for you if you are looking for a good and robust hardware wallet for your cryptocurrencies like Bitcoin or Ethereum.
Top 5 Best Crypto Hardware Wallets Of 2022
Don't risk your Cryptos! Choose any of these Best Hardware wallets to store your Bitcoin and other cryptocurrencies safely in 2022 and beyond:
#1. Arculus Cold Wallet
Arculus is a DeFi cold storage hardware wallet launched in 2021 that lets you easily store and manage your crypto and NFT assets. 
Unlike many other hardware wallets, this crypto wallet is entirely offline. It does not require connectivity via Bluetooth, Wifi or any other mode of connection, making it safe like a fortress.
This unique hardware wallet is equipped with a three-factor authentication system that involves a biometric lock, a 6-digit numeric PIN and the Arculus Key™ Card that can be activated via NFC by holding the Arculus Key Card to the back of your smartphone. 
The Arculus Wallet™ App supports more than 45 cryptocurrencies, including BTC, ETH, USDC and USDT. The card costs $99, and its mobile app is entirely free.
Your private keys are securely encrypted, kept on the Arculus Key Card, and never stored online. 
During the initial Arculus wallet setup, you will be provided with your recovery seed phrase with instructions on the app to write it down to keep in a safe place. Your private keys are generated and stored on the Arculus Key Card, and you never leave them.
With the best-in-class CC EAL6+ Secure Element Hardware Classification, you have the complete power to hold your crypto in cold storage with confidence. 
The app comes with an easy-to-use account dashboard and "tap to transact" feature that delivers faster as well as offers a more responsive experience.
This hardware wallet easily pairs with your mobile phone's Arculus app to provide the seamless experience of accessing your cryptocurrencies without negotiating the security of your private keys.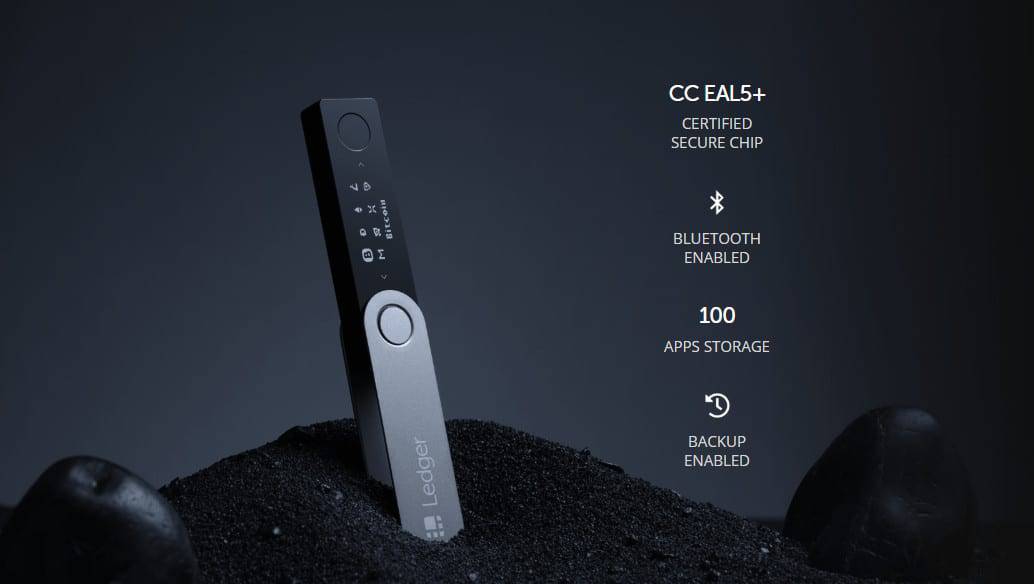 Are you looking for more options to be used as the most secure Bitcoin wallet?
We have got you covered with another hardware wallet known as Ledger Nano X. Ledger wallet is the product of Ledger company (a global leader in securing crypto assets) and is based out of Paris, France.
Ledger has been innovating its cryptocurrency hardware wallets since 2014 when it launched its first product, the Ledger Nano wallet. But it's 2022 now, and they have revamped their hardware wallet to Ledger X.
Ledger Nano X is a state-of-the-art device to secure your cryptocurrencies on a hardware device that looks like a USB drive. Also, in terms of its physical design, Ledger X has two side buttons and an OLED screen to control your device.
You can easily manage your transactions from your mobile phone or computer with their Ledger Live app, which is available for mobile and desktop devices.
It gets better:
This hardware wallet is Bluetooth enabled and allows end-to-end encryption for extra security while you transact through your mobile or desktop.
Though some think that Bluetooth connectivity is not the best feature to have for the security of funds, I see no problem in using it if use it safely as it offers an encrypted Bluetooth connection. If you want a non-Bluetooth version of the same Nano S might provide a rescue for you.
The hardware wallet has a rugged design made of brushed stainless steel and good-quality plastic. It comes with a 100mAh lithium-ion battery that lasts several days on a single charge.
Lastly, backing up your 12 or 24-word recovery seed is quite easy using the Ledger Nano X device and must be done at the time of device initialization itself.
This seed can produce a private key for each of the public addresses for all the stored currencies since Nano X is also an HD wallet.
I have been using this wallet for some time, and I can say it is one of the most intuitive hardware wallets to use. It offers the necessary security that you wouldn't on centralized exchanges or software wallets where you currently keep your coins.
PS: Always buy Ledger Nano X from this official website; purchases made through other sources such as Amazon have been reported faulty resulting in compromising of users' funds.
….or you can read our detailed Ledge Nano X review here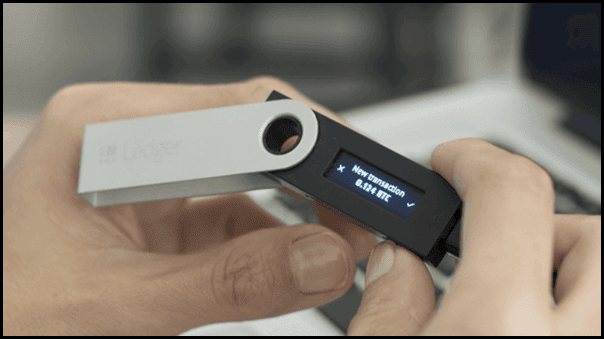 Which is the most popular Bitcoin wallet in the market?
It certainly has to be a Ledger Nano S hardware wallet.
Ledger Nano S is the product of the same company that launched Ledger Nano X. Of course, the company has been innovating since 2014 and is experienced in making crypto hardware wallets.
Ledger Nano S was the precursor of the Ledger Nano X device, but it was the most-sold cryptocurrency hardware wallet in the industry at its peak.
As of now, millions of customers have used Ledger Nano S because it provides unmatched security compared to any other mode of storage. (Read our detailed comparison of Ledger Nano X vs Ledger Nano S)
Even I have been using Ledger Nano S and Trezor Model T for almost a year now and can comfortably say that these devices compete for the tight neck-to-neck in terms of performance.
However, the price tag on Ledger Nano S is a bit lower as of now, so if you are someone who wants to invest less than $100 on a cryptocurrency hardware wallet, you should look no further than Ledger Nano S.
You get all the necessary features like a backup of recover seed, PIN code, two side buttons, OLED screen, a desktop & mobile app, etc., to manage your cryptocurrencies safely.
Plus, Nano S can also store and manage 5500+ crypto coins and tokens, but you cannot use all the currencies simultaneously through Ledger Live. In contrast, Ledger X provides more flexibility, so if you want to use more coins, that too all at the same time, you need to check out Ledger X hardware wallets.
Lastly, whenever you talk about the best hardware wallets in the budget, you cannot afford to miss Nano S because this is the wallet that brought hardware wallets to the mainstream. It is easily the best Bitcoin wallet to store the private key of all the public addresses in one shot.
PS: Always buy Ledger Nano S from this official website; purchases made through other sources such as Amazon have been reported faulty resulting in compromising of user's funds.
#4. Trezor Model T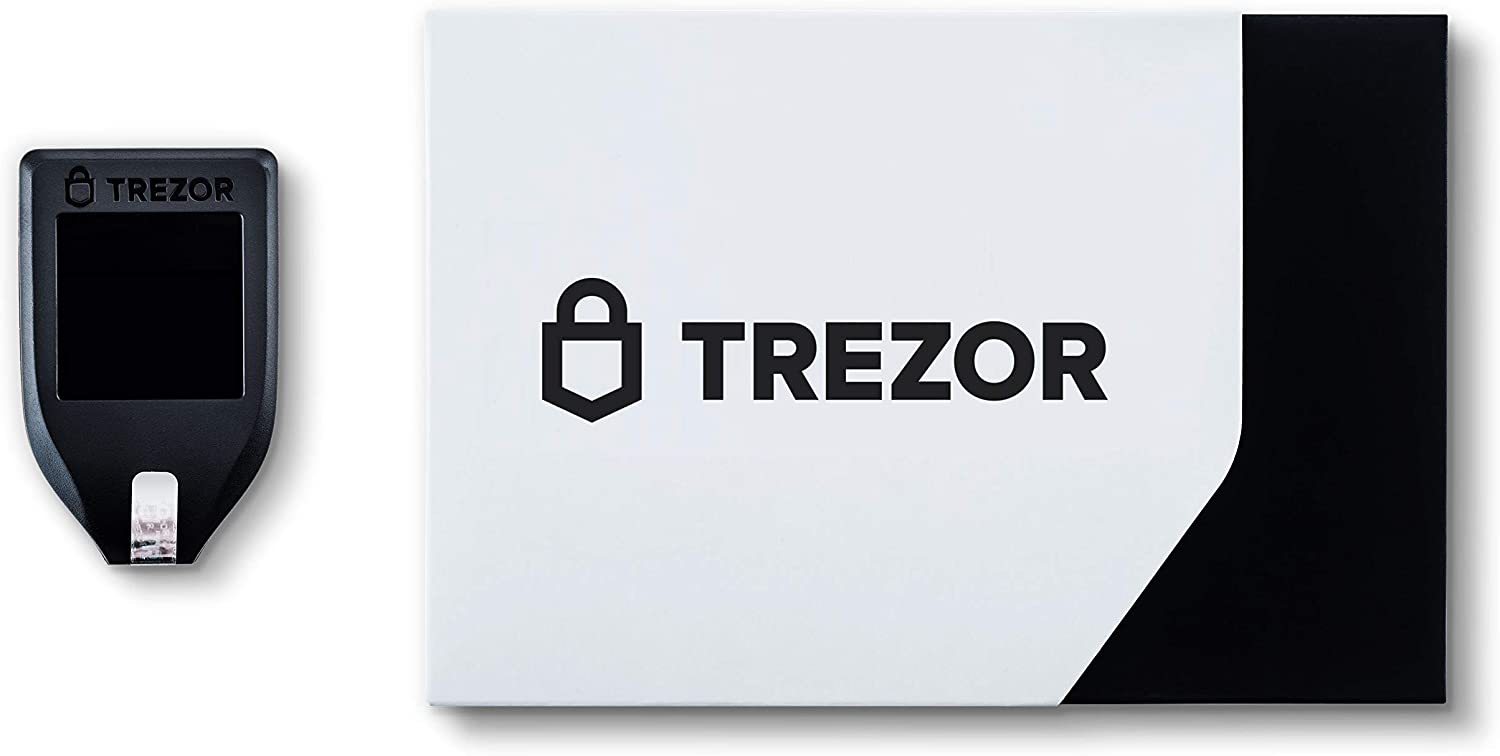 Trezor Bitcoin wallet is the safest Bitcoin wallet you will yet find in the market.
It was developed by SatoshiLabs, a Czech Republic-based company that pioneered the ear of Bitcoin hardware wallet. SatoshiLabs started making some of the best hardware wallets for Bitcoin and other cryptocurrencies in 2013, and since then, it has been continuing its innovation.
In line with that, Trezor Model T is the next-generation cryptocurrency and Bitcoin hardware wallet designed carefully to act as a digital safe for your digital assets.
While using Trezor Model T, your private key never leaves your device, and you can access an interactive desktop UI to take complete control of your cryptocurrencies.
Taking back-up of your private keys with Trezor Model T is even easier as you just need to back up your 12 or 18-word recovery seed. Also, you can set a mnemonic passphrase on your Trezor Model T to put an extra layer of security for your funds.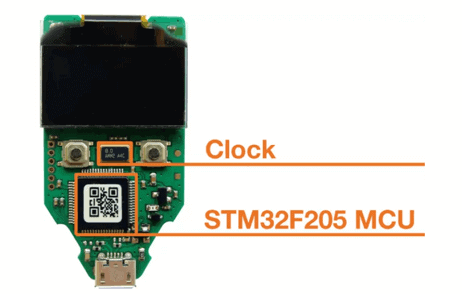 Trezor Model T has only one chip or one microcontroller for generating and storing private keys. This chip is thoroughly peer-reviewed and, in general, considered safer than secure element chips, which are closed-source and not heavily peer-reviewed.
Lastly, Trezor Model T currently supports more than 1800+ cryptocurrencies and ERC20 tokens, including Bitcoin. It is a lightweight USB-like device used by millions of cryptocurrency HODLers who are serious about the security of their cryptocurrencies.
PS: Always buy Trezor Model T from this official website; purchases made through other sources such as Amazon have been reported faulty resulting in compromising of users' funds.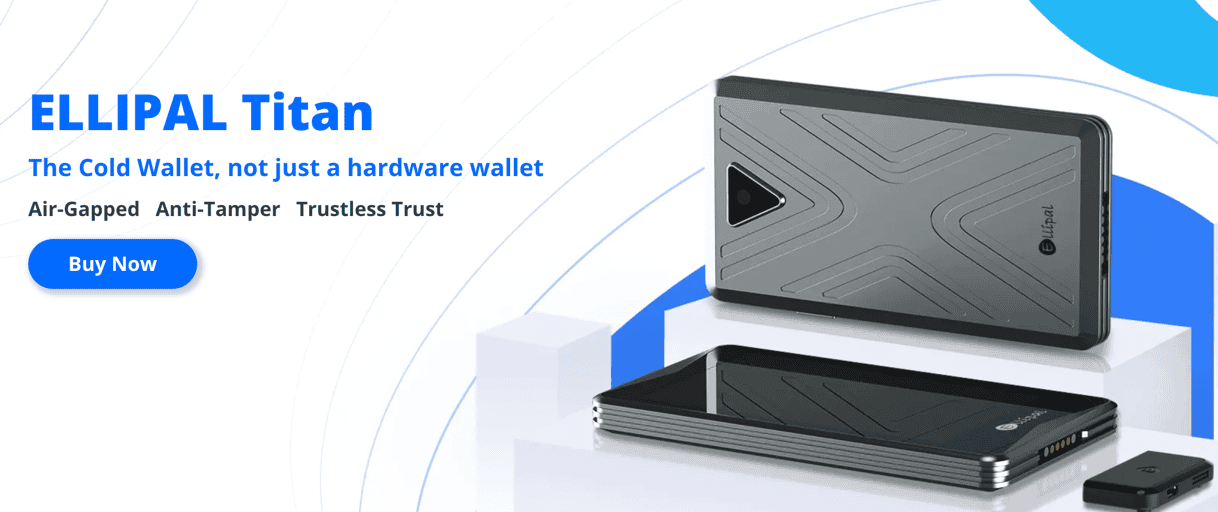 Ellipal Titan hardware wallet is another wallet to look up to in the 21st century for keeping your crypto assets safe and secure.
Established in 2018 and headquartered in Hong Kong, Ellipal wallet has become an increasingly popular choice for many to cold store their cryptocurrencies.
Ellipal Titan is 100% air-gapped with no Bluetooth or USB features for extra safety. Instead, they use full QR code integration, which is the best way, as it makes it resistant to any type of network attack.
On the design side, it is a fully sealed IP65 anti-tamper metal casing giving an attacker a hard time attacking it physically. Still, even if it is opened somehow, it will be damaged and useless to an attacker.
On the UI front, it is easy to use and handle with a large touch screen and mobile support for crypto users to use anywhere on the go.
Currently, Ellipal supports 34 blockchain assets, including popular assets like Bitcoin, Ethereum, Litecoin, etc., and over a whopping 7000 tokens where you control all the help and transactions with your 12-word mnemonic.
The Titan is not a desktop wallet; these hardware wallets work seamlessly with Android and iOS making it the best choice for mobile users. It also comes with an excellent interface that supports Bitcoin and other assets seamlessly. Additionally, it has a large touchscreen UHD display and a built-in camera which are the USPs of these hardware wallets.
All QR codes are verified and secure. They also put them on Github, where anyone can easily audit and verify their code, ensuring transparency is always the priority.
#6. CoolWallet S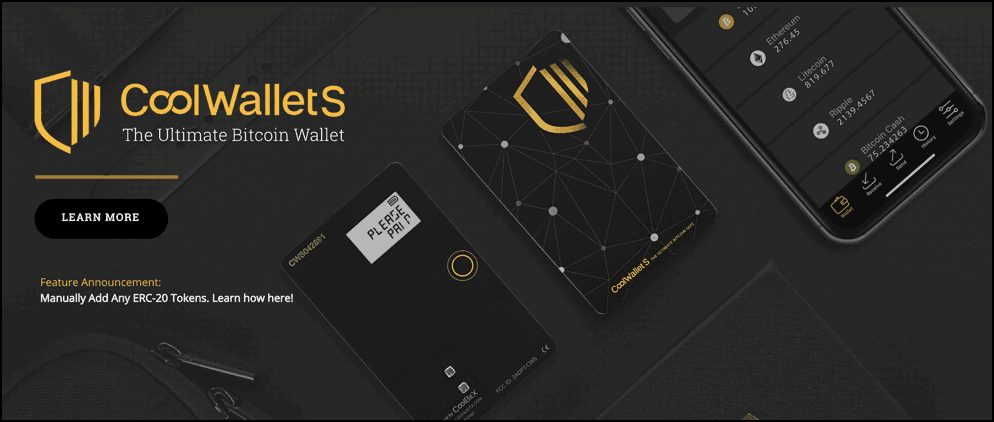 CoolWallet S is the easiest-to-use cryptocurrency hardware wallet available in the market and is aptly dubbed as a 'crypto on-the-go' wallet.
CoolWallet S is a credit-card-sized hardware wallet for your Bitcoin, Ethereum, Litecoin, XRP, Bitcoin Cash, ERC20 Tokens, etc and allows seamless conversions to fiat currency.
By not being like other Bitcoin hardware wallets, which are usually USB-type devices, CoolWallet S opens up the opportunity to integrate with mobile devices directly.
This hardware wallet easily pairs with your mobile's CoolWallet app to provide you with the seamless experience of using your cryptocurrencies on mobile without compromising the security of your private keys.
Also, like other hardware wallets, CoolWallet S allows you to back up your recovery seed and is a trustable product by far more than 150,000 customers around the globe.
Lastly, it is a chargeable device with a contact charging feature that takes 2 hours until fully charged. This makes it the most advanced as well as the most incredible hardware wallet available right now in the market, and even Bobby Lee- a crypto pioneer also seconds with this:
#7. Trezor One (Trezor hardware wallet)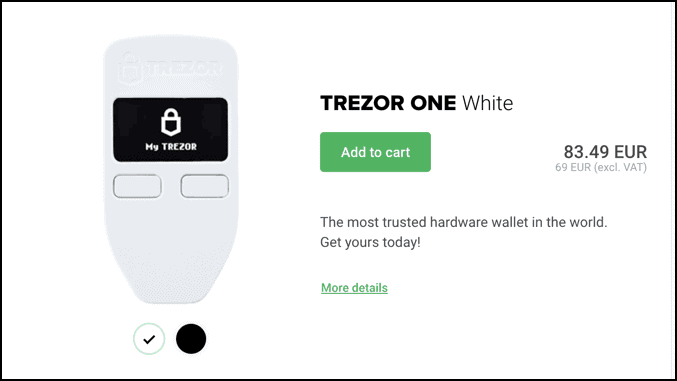 Trezor One is the first flagship product of the SatoshiLabs company, which pioneered the era of hardware wallets. This wallet is also popularly known as the Trezor hardware wallet.
Of course, being the precursor of the Trezor Model T has fewer features, but it is still usable and provides decent security to your crypto assets.
Nevertheless, it is any day better than any mobile or crypto exchange inbuilt wallet that you might be using now. So, if you are someone who is low on your budget as of now and still wants to secure their cryptocurrencies like BTC, ETH, LTC, etc., you should definitely buy this Trezor wallet.
Like other wallets, Trezor One allows you to back up your recover seed words and always remain in control of your private keys.
This Trezor is a USB 2.0 device compatible with Windows, Linux, and macOS (10.8 or higher) and protects you from keyloggers like attack vectors.
PS: Always buy Trezor One from this official website; purchases made through other sources, such as Amazon, have been reported faulty, compromising the user's funds.
Some frequently asked questions regarding hardware wallets…
– Which Are the Best Hardware Wallets For Bitcoin & Altcoins?
I know some of you might still be confused about which cryptocurrency hardware wallet to choose. But you shouldn't be because we haven't listed a long list of wallets like other sites to confuse you deliberately.
All the six wallets we have listed are the best in the business, and we are using five wallets out of these six wallets, but if you want single recommendations from us, you should look no further than Ledger Nano X or Ledger Nano S.
We even suggest you have both these wallets to diversify regarding the security of your funds. In the future, these two wallets might be interoperable somehow; who knows !!
– What is the best crypto hardware wallet in 2022?
Without even a second thought, I can tell you that Ledger Nano S Plus and Trezor Model T will be your best options for secure cold storage of your crypto assets in the current crypto space.
Both Ledger Nano S Plus and Trezor Model T offer industry-leading features and security in their respective price ranges. Discussing primarily the Ledger Nano S Plus, they are the top crypto hardware wallets to offer and the best package deal you will find.
Supporting an extensive collection of crypto assets on various blockchains and thus offering a variety of trading services as well as fortress-like security. All your crypto assets are entirely under your control. The way its software's user interface seamlessly integrates with all your devices, whether a PC or mobile device, including both Android and iOS devices, is just phenomenal.
The device comes with a secure chip that enhances the Ledger's security features way ahead of its competitors. Additionally, you can also connect it through a USB cable and access it through its desktop app.
And all these features are just the tip of the iceberg Ledger Nano S Plus offers all the latest hardware wallet features that you would need for a smooth, secure and controlled trading experience. And all this at not even $80 is just remarkable.
Moving on to Trezor Model T, it is the hardware wallet project backed by one of the industry leaders for a very long time now. Both Trezor and SatoshiLabs have been prominent names among cryptocurrency wallet-related offerings in the market.
Trezor wallets are well-known and reputed devices for keeping users' private keys and digital assets safe and in vault-like security. They are ROHS certified and allow you to save your private key in the cloud.
But don't think that involving cloud storage would jeopardize the security of your cryptocurrency wallet. You see, with U2F authentication, FIDO2 authentication and ROHS certification, your wallet address and digital currencies are in safe hands.
The device comes with an inbuilt full-colour HD display, and it can flawlessly integrate with any software wallet on the market, making it easy to use and accessible. And using this feature, you can easily switch between your cold and hot wallets to suit your trading strategies as per requirement.
It is the best option among the top hardware wallets giving you all the features you can think of to make your trade pretty convenient and secure at just $215.
So, considering what these crypto wallets offer and how affordable they are, Ledger Nano S Plus and Trezor Model T are undoubtedly the best crypto hardware wallets.
– Is a hardware wallet worth it?
There is no doubt in saying yes to this question. Hardware wallets are the best option you should go for if you want your crypto transactions to stay safe from cyber security breaches.
There are great options currently in the market from which you can choose. The ones I have listed are the best hardware crypto wallets currently. All of them offer a variety of advanced features which will surely fulfil your trading needs and make your trading experience far safer.
There are even some options like the Ellipal Titan, for instance, that totally cuts your cold wallet from the internet connectivity or any other wireless connectivity out of the picture keeping your digital assets accessible to only you and guarding your cold wallets like a Knight.
Therefore, when you choose a safe crypto wallet, you should opt for a hardware wallet without a second thought.
– Which hardware wallet is most secure?
When it comes to the most secure hardware wallet, you could get my finger point to Trezor Model T. It is among the oldest on the list and thus the most experienced one.
Trezor was behind the first hardware wallet, so you can understand what the company stands for and its legacy. It offers top-notch security features with U2F authentication and FIDO2 authentication.
Additionally, they also provide password management and second-factor authentication certified by ROHS, which doubles the security, and offers a secure wallet capability where you can store your private keys in the cloud.
Other than this, all the operations involving public and private keys are only allowed after user authentication via PIN. The bootloader erases the device memory if the firmware signature is invalid.
Trezor supports BIP39 passphrases, which are never stored or remembered on the device. This protects against local hardware attacks. The bootloader is write protected, and the JTAG is disabled, so an attacker cannot replace it.
Your recovery seed protects you against theft, loss or destruction of your device. Simply restore the recovery seed, and your wallet is back. The bootloader always verifies the firmware signature.
The firmware is only run if correctly signed by SatoshiLabs. Otherwise, a warning is shown. Additionally, the Trezor hardware case is ultrasonically welded, making it difficult to be restored after breakage.
– What is the best and safest Bitcoin wallet?
If you just wish to store Bitcoin, the best hardware wallet for Bitcoin is undoubtedly Ledger Nano X and Trezor wallet. You can pick any of these as both are cost-effective and will give you sufficient peace of mind for the security of your coins as they are the best cold storage options available in the market.
This way, the private key of your bitcoins and other cryptocurrencies are always offline in a secure device which is almost impossible to tamper with unless you do something terribly wrong.
If you ask me, I am using three hardware wallets, i.e. Nano X, Nano S, and Model T. Three wallets because I don't trust any of the software wallets and want to diversify my crypto coins even at the wallet level.
– Which is the best cryptocurrency hardware wallet for ripple?
Ledger Nano X is the best cryptocurrency hardware wallet for ripple as they were the first wallet to sort out Ripple's tag issue while sending and receiving Ripple coins.
This is not an easy task, plus Ledger Nano X has the best Bitcoin support and the support for 5500+ other supported coins. With Nano X, you also get the Bluetooth feature which makes it easy to use wirelessly on mobile devices too.
– How does a hardware Wallet work?
Ledger SAS, a pioneering company in making some of the best hardware wallet solutions for the security of crypto coins, uses a dual chip architecture in one single device, i.e. both Ledger X and Ledger S. You have a general-purpose MCU and another a secure element MCU (SE MCU).
The secure element is mainly responsible for securing your seed/private keys. The other MCU is an abstraction layer to facilitate communication between the SE and the user's smartphone/desktop.
Inside these MCUs is the BOLOS operating system, a proprietary system of Ledger SAS, and this part is not thoroughly peer-reviewed because it isn't open source.
But with these limitations, also Ledger hardware wallets cannot be hacked easily unless someone has physical access to your device and knows your PIN code. Otherwise, it isn't possible to hack.
On the other hand: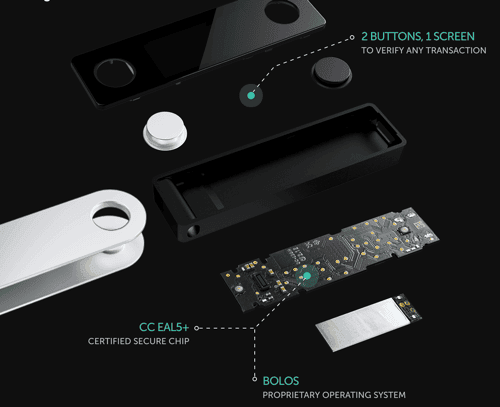 Trezor Model T & Trezor One have only one chip or one micro-controller for generating and storing the private keys on their hardware wallets.
– Is A Hardware Wallet Necessary?
As nothing is mandatory in life if you choose to see it that way, similar; similarly, if you aren't holding a significant amount of cryptocurrencies or are not serious about the security of your crypto coins, then probably hardware wallets are not for you.
If you hold small amounts of currencies for experimental purposes and don't believe they will appreciate in value, you are better off with software wallets.
But some of the best Bitcoin wallets are hardware wallets, so if you are a long-term player, we recommend getting at least one of the above-listed hardware wallets.
Conclusion: Best Crypto Hardware Wallet
So that's all from us in this detailed guide on the best cryptocurrency hardware wallets you can use to store your Bitcoin and altcoins.
Lastly, I would like to say that don't be frugal.
You have come a long way. You have learned about Bitcoin and cryptocurrencies. You have done your research and then invested in these currencies that too a decent amount.
Then why now compromise on keeping them as securely as possible? If you lose your coins, what will be the point of having done all the learning and search of investing in them in the first place?
Think about this.
Get yourself the best Bitcoin hardware wallet; if you hold BTC and if you hold other currencies too, you MUST get the best hardware wallet no matter what by spending a couple of bucks more
Now you tell us: Which wallet do you think is the best? Are you using any of these wallets? Which wallet do you plan to buy to safeguard your cryptocurrencies?
Tell us in the comments below and don't hesitate to question; we are waiting to hear from you 🙂
Latest posts by Sudhir Khatwani
(see all)