The year 2019 witnessed the transition of the crypto ecosystem from a proof-of-work (PoW) to a proof-of-stake (PoS) based consensus mechanism.
And because of its economic advantage, it soon attracted the interest of major players in the cryptosphere. The staking market was soon dominated and controlled by the whales.
But, now, as the staking economy is expanding with greater participation from small investors, it will be the next big thing in the cryptosphere for 2022 & beyond.
Therefore, let's look at some of the best staking wallets, through which you can stake crypto and earn a stable passive income periodically.
Best Wallets For Staking Crypto in 2022
Ledger Nano X – Overall best Staking Wallet
Ledger Nano S Plus – Budget-Friendly Staking Wallet
Trezor Model T – Most Secure Staking Wallet
Coinomi Wallet – Mobile Wallet for Crypto Staking
MyEtherWallet
MetaMask – Most Popular Crypto Staking Wallet
Argent
Binance Exchange Wallet
Trust Wallet
Stake Box
Huobi Wallet
#1. Ledger Nano X [Recommended]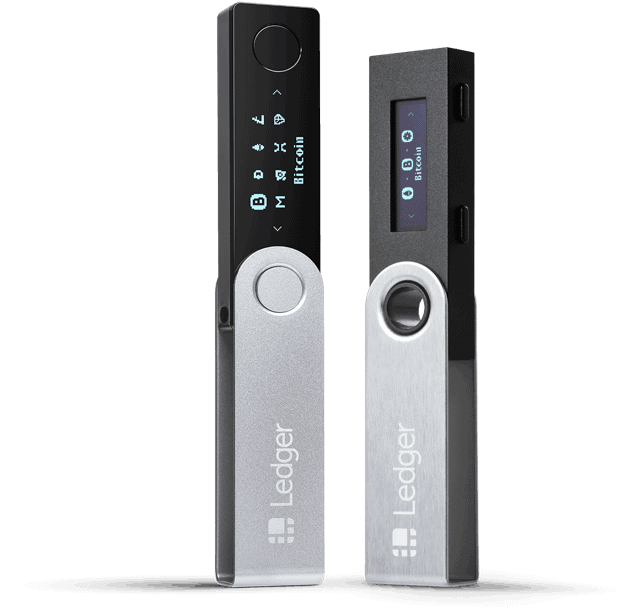 Ledger Nano X is one of the most popular, trusted, and secure crypto wallets in the market for storing cryptocurrency. And, also the wallet supports you to stake more than 10 coins securely.
You can stake coins either using Ledger Live, the desktop application, or through your Ledger device. However, Ledger Live is only compatible with Tezos (XTZ)) and for other coins, you need your Ledger device with third-party apps.
Unlike other exchange wallets, which offer limited control and transparency, Ledger offers users more control over the staking.
By using Ledger Live, the user can select validators from a long list based on their preferences and continue to process transactions in the right way. Also, it helps to keep the blockchain decentralized and safe.
The other advantage of staking with this mobile wallet is that you receive rewards while holding the coins securely in your Ledger wallet.
This hardware wallet has a rugged design made of brushed high-strength stainless steel and good-quality plastic. The device comes with a 100mAh lithium-ion battery lasting several days on a single charge.
Additionally, it also comes with a CC EAL5+ certification level and ST33J2M0 secure element chip, making it a robust and secure staking wallet.
Lastly, the device looks stylish with an improved design and UI compared to Ledger Nano S, which is the precursor of its Nano X device. Ledger Nano X is undoubtedly among the best wallets and charges no transaction fees, unlike some of the most famous crypto exchanges.
#2. Ledger Nano S Plus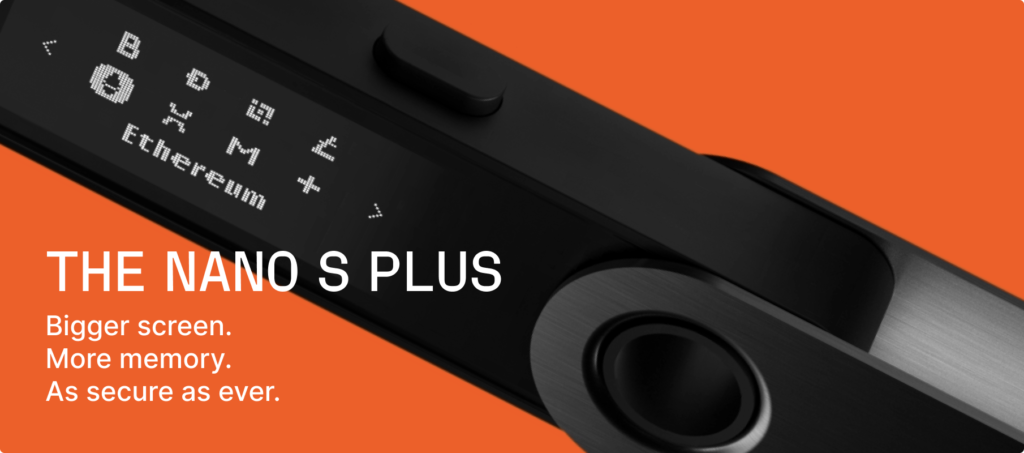 Ledger Nano S Plus is yet another fantastic option from Ledger SAS in the mid-range of their lineup. Though it is cheaper than the Nano X model, it offers almost all the functionalities of Nano X at a relatively lower price.
You can stake all those crypto assets as on the Model X on all your Ledger wallets, like:
Ethereum
Polkadot
EOS
Tezos
Cardano
Tron
NEO
Cronos
Nem
Cosmos
Terra
Internet Computer
Elrond
Algorand
Solana
The device is ruggedly designed, and made of stainless steel and high-grade plastic. It has a pocket-friendly design with a 123×64 px large screen and is even 13g lighter than Nano X as it doesn't have a battery. Other than that, you can expect to store XRP with complete control as well as fast execution with its CC EAL5+ and ST33K1M5 chipset as the Nano X.
Additionally, this Ledger hardware wallet integrates with its Ledger Live App and is compatible with 64-bit desktop computers. It is for sure a one-stop solution to store Ripple and trade at any time anywhere.
#3. Trezor Model T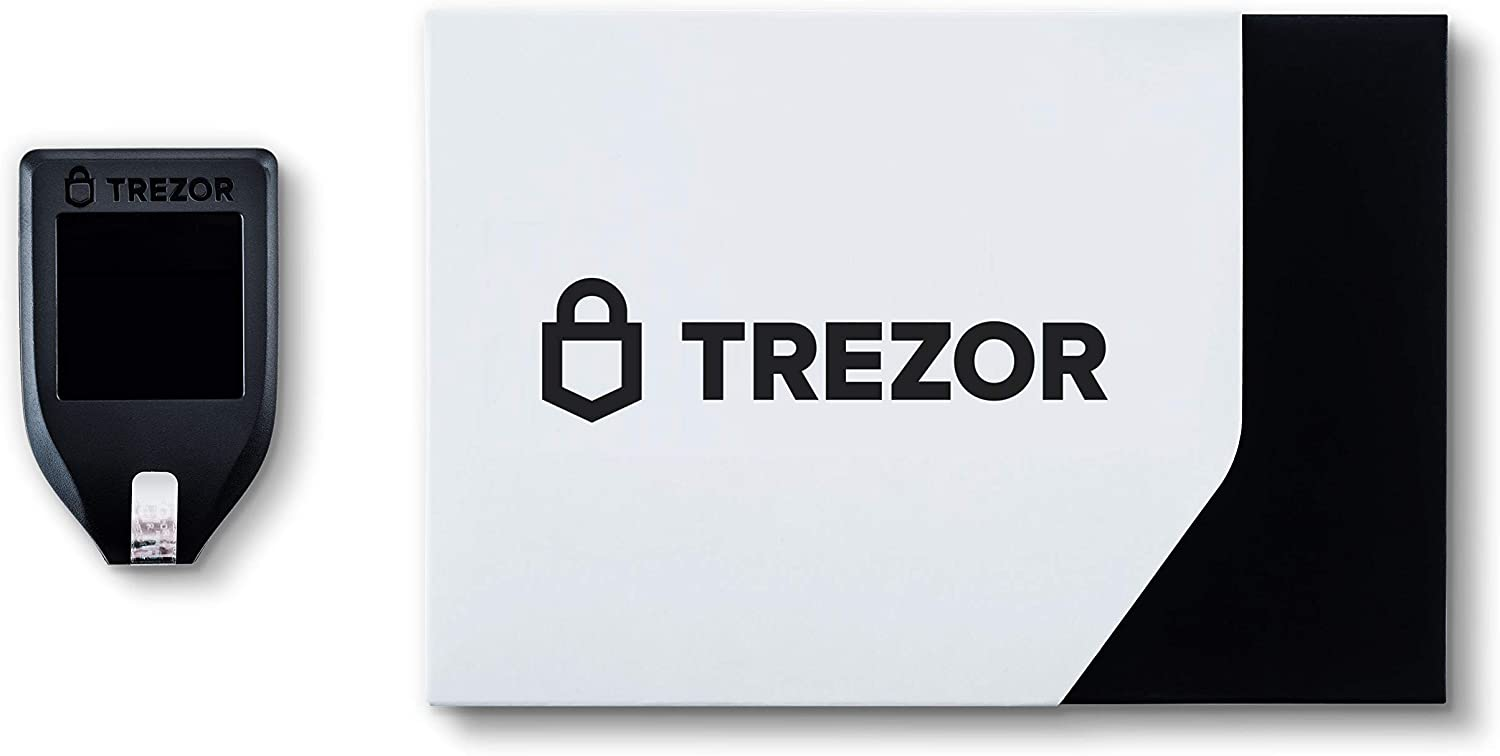 Another excellent option for you will be the Trezor Model T. Being a prominent name in the hardware wallets space, Trezor Model T was launched in 2018 from Trezor, the parent company and is marketed by SatoshiLabs.
Though the device is a little older than its competitors, Trezor doesn't set back in any way, thanks to its dedicated developer team that offers regular software and security updates.
With U2F authentication and FIDO2 authentication. They also provide password management and second-factor authentication certified by ROHS, which doubles security. It offers a secure wallet capability where you can store your private keys in the cloud.
But Trezor doesn't directly support staking. Instead, you can easily link your mobile wallets to staking pools or validators. A prominent name is AllNodes which currently supports over 50 digital assets which you can easily stake on Trezor directly.
The device comes with an inbuilt full-colour display and a powerful interface. If you misplace your device, you can quickly recover your entire wallet using a 12-word recovery seed.
#4. Coinomi Wallet [Mobile]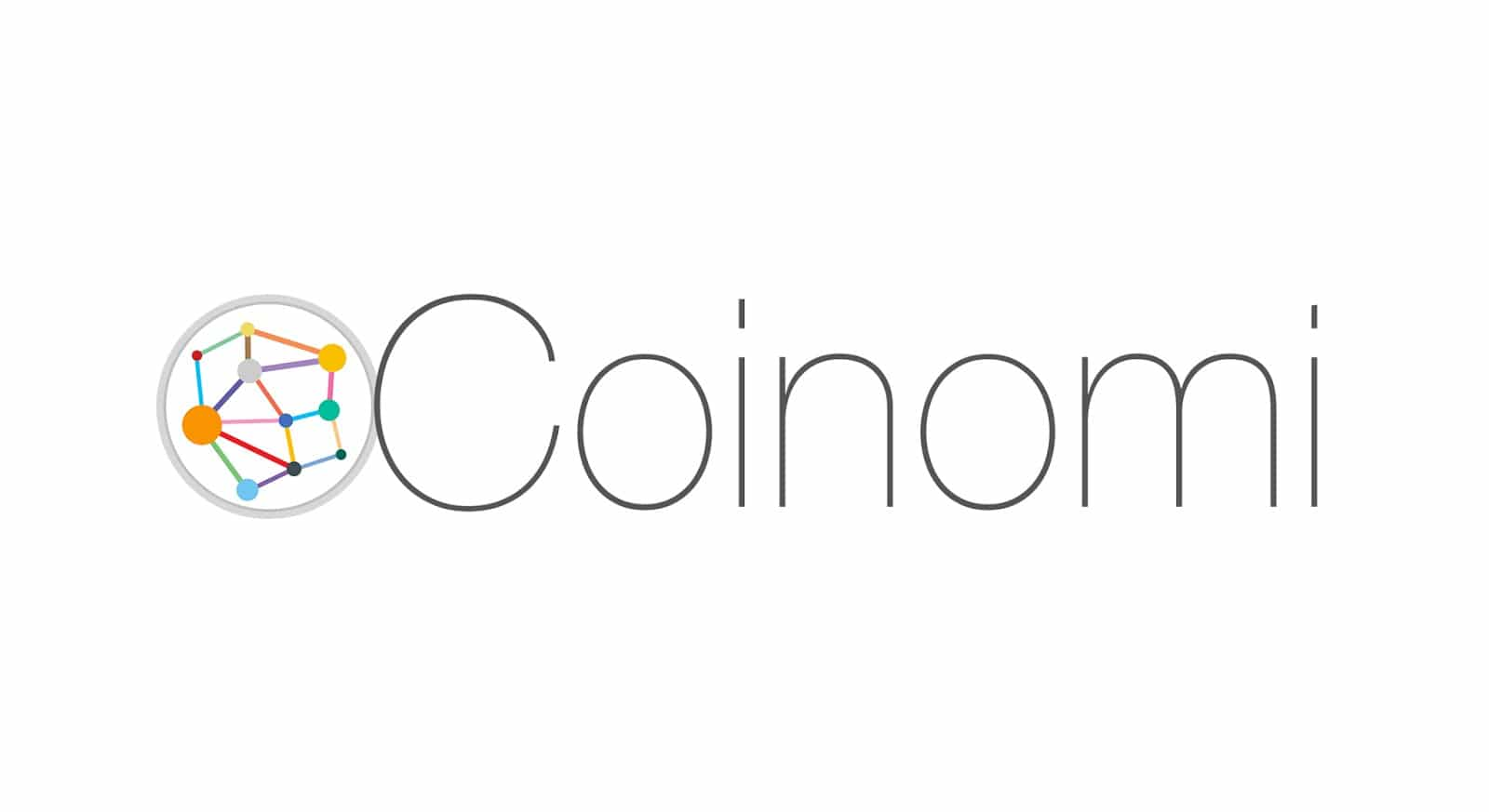 Coinomi is among the best Crypto wallets, and when it comes to staking platforms, Coinomi leads the way too. The company has been based out of London, the UK, founded in 2015 and is among the top leaders in crypto staking platforms.
The platform currently offers the following crypto-staking coins, and the list will soon be a lot longer, have a look at them.
Automatic StakinG
Smart contracts
Ethereum or Ethereum Classic tokens
COLD staking
Other staking options
Komodo
PIVX
Decred
Dash
Blackcoin
NavCoin
Bitcoin Plus
Reddcoin
Additionally, the wallet gives you a single seed through which you can restore your wallet in case you forget your key, keeping you in complete control of all the cryptocurrency wallets, which makes it one of the most advanced multi-currency wallets for mobile users to store your public and private keys.
It is the oldest multi-chain wallet available offering a staking service to millions of active registered users. Imperatively, no Coinomi wallet has ever been hacked or otherwise compromised to date. It comes with Digi-ID out of the box so that you can forget about the old, insecure credentials and replace them with Coinomi's top-notch blockchain-based identity modules.
With its user-friendly interface, no extra steps or endless sign-ins are required. It has a one-click cross-chain payment process.
#5. MyEtherWallet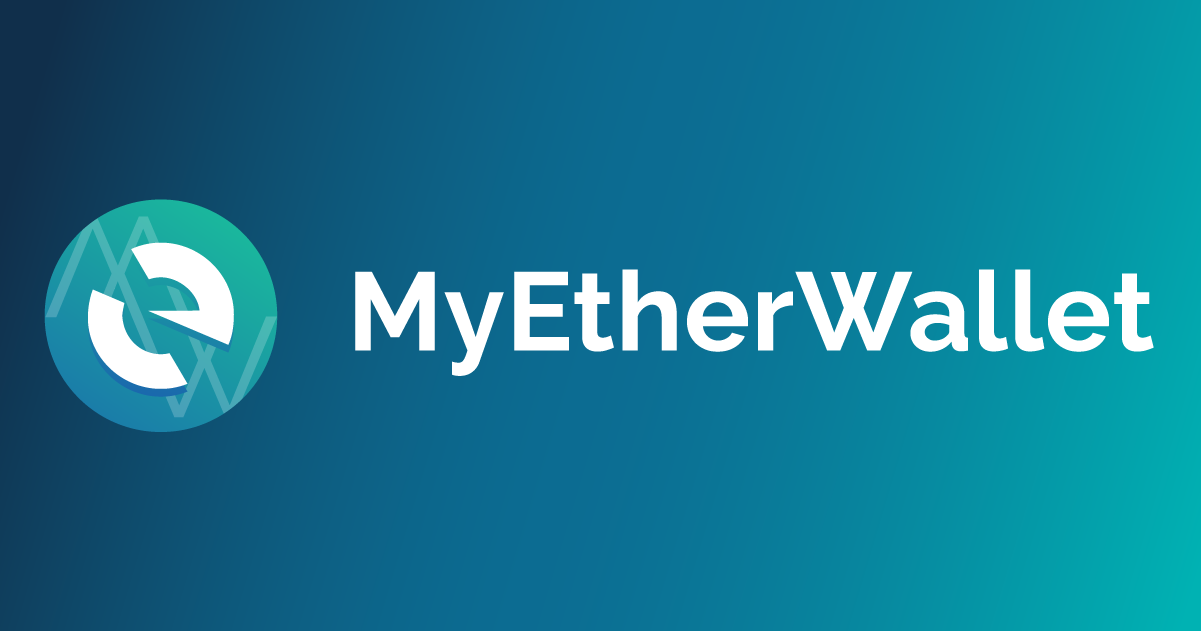 MyEtherWallet is an open-source, client-side tool launched in 2015. It is on the top list of the best crypto-staking wallets designed explicitly for directly staking Ethereum 2.0.
MyEtherWallet offers direct in-app staking through a partnership with a node-hosting service called Staked. You are required to deposit 32 ETH to be a full validator and be willing to pay a 0.75% fee.
Being a validator means running specific software on a computer that must be connected to the internet 24/7. Validators get rewarded with ETH for validating blocks and reduced rewards if they don't perform validation duties as required.
And by staking ETH, you can earn up to 10.1% APY of the staking reward. MyEtherWallet is a non-custodial wallet, meaning it doesn't require your sensitive information or your private keys and gives you 100% control over your assets.
Additionally, instead of the traditional 12-word seed, it allows you to choose the 13th word to recover the wallet.
But on, the negative of this wallet is that many phishing sites are mimicking MyEtherWallet, which has resulted in the loss of funds for many crypto investors, just take care of that, and you will be fine.
To start with, you can set your code, which gives you a UTC/JASON file keeping your private keys encrypted.
Suggestion: Keep this password hard to guess because anyone with this password can create the same type of file to hack your funds.
#6. MetaMask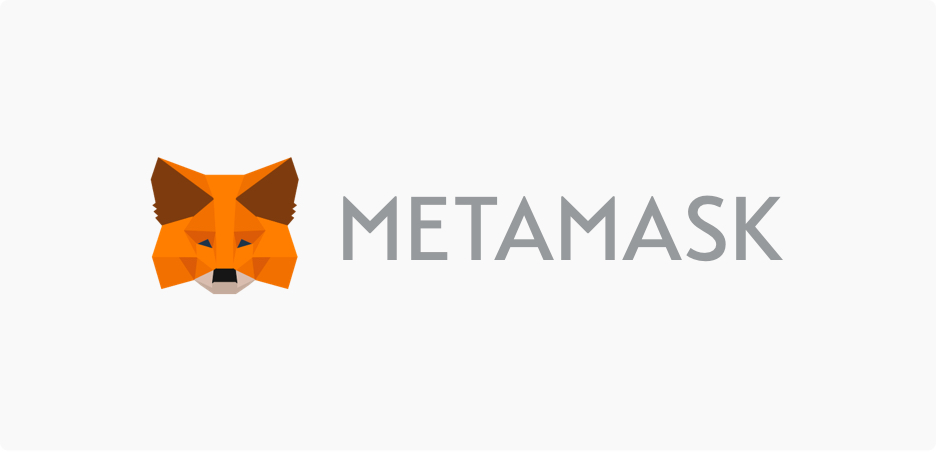 This unique crypto wallet was launched in 2016 and offered its services to mobile devices in 2020. Today MetaMask serves over 35 million users allowing them to buy, sell, exchange and stake cryptos to earn rewards.
MetaMask supports all ERC-20 tokens and NFTs across multiple blockchains, including Ethereum main blockchain, Binance BNB blockchain, Polygon, Avalanche and other test networks.
In order to effectuate the switch from Proof of Work to Proof of Stake on Ethereum, the Ethereum network has devised a structure that uses DeFi staking to help ensure the security of the network.
You can use this intuitive software on the Ethereum Mainnet and Testnet. Also, with MetaMask, you control the seed and need to set up a password to encrypt everything locally in your machine browser.
This way, you have complete control of your funds always.
Dipping your toes into DeFi? Here's our top picks for DeFi wallets for 2022
#7. Argent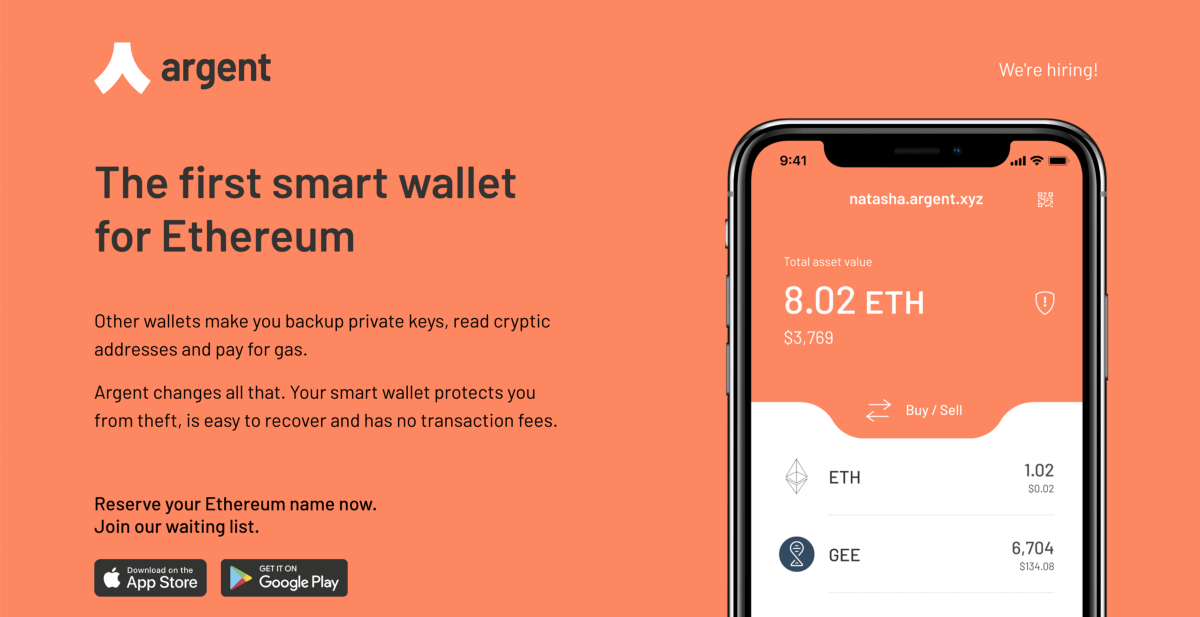 Argent is a third-party wallet founded in 2020 and one of the recent platforms to support direct staking.
Argent is only available on Ethereum's blockchain and comes with a variety of advanced features, which makes it stand out from its peers.
Argent is an open-source project that interests developers allowing them to make their own version of the wallet or view its codes. Argent is also a non-custodial wallet giving you complete control over your assets.
This wallet allows you to use a combination of cold and hot wallets as well as verify transactions to give you a sense of safety and security. You can also link your bank savings account for crypto purchasing on this platform.
It is one of the best crypto staking platforms with one of the best and most impenetrable security features. Argent offers multi-signatures and remote locking, as well, as it requires the user's biometric information ensuring a higher level of safety and security.
In the Argent app, you can directly stake your ETH through Lido. All you need to do is just visit the 'invest' section, tap on 'Eth2 staking', and make your deposit to earn rewards. It's that simple.
#8. Binance Exchange Wallet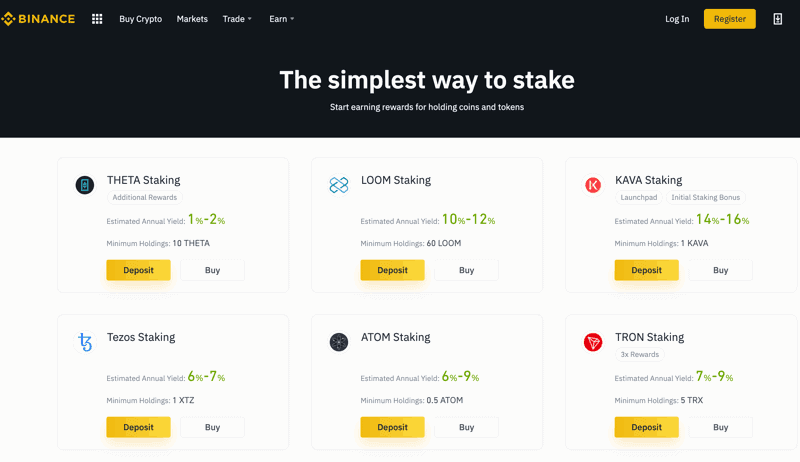 Binance recently launched its dedicated staking platform allowing users to deposit PoS coins and earn staking rewards. It offers the simplest way to stake and earn rewards.
The main advantage of using Binance exchange for staking is that users can start staking without setting up their nodes and you can link them to a crypto exchange easily as well. The users can simply earn rewards from the supported coins by holding them in their Binance account.
To make staking attractive with Binance, it offers users additional promotional rewards and doesn't charge any fee on any staking operations. Also, Binance allows you to trade against your staked coins, and the coin balance and reward will adjust accordingly.
Currently, it offers to stake in all significant PoS coins, including TRON, NEO, ATOM, Tezos, Algorand, QTUM, Stratis, Stellar, Ontology, etc.
#9. Trust Platform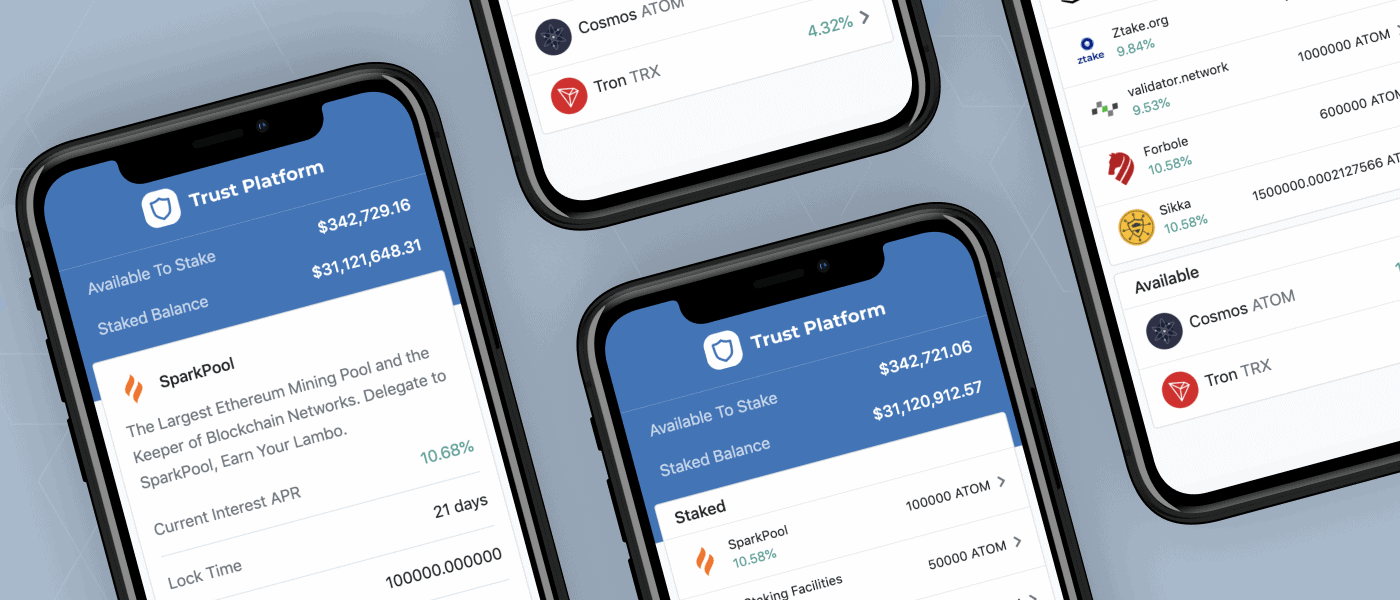 The Trust Platform from Trust wallet offers locked staking and is a governance platform for token-based communities. Its primary aim is to make the staking economy more accessible and become a one-stop solution for the new decentralized financial world.
Currently, the Trust Platform supports staking in multiple coins like VeChain (VET), TRON (TRX), Callisto (CLO), TomoChain (TOMO), Tezos (XTX), Cosmos (ATOM), IoTeX (IOTX), and Algorand (ALGO).
The support for the hardware wallet will be added at later stages, allowing you to stake right from your hardware wallet and is surely one of the best cryptocurrency staking platforms out there.
#10. Stakebox

Staking using Stakebox is a bit different but more efficient than the processes followed by wallets like Ledger or Trust wallet.
Instead of a staking application, Stakebox offers customized cryptocurrency Raspberry Pi staking devices. In short, it provides a coin-specific staking device with the flexibility to use at your convenience and without needing to connect it to your PC or MAC.
Stakebox devices are low energy consuming devices suitable for running 24/7, thus making the staking process more profitable. And, with minimal human interference, it is straightforward to use and operate.
It offers custom branded staking devices of 17 coins, including QTUM, Reddcoin, PIVX, CloakCoin, BitBay, Pinkcoin, Whitecoin, Denarius, etc.
#11. Huobi Wallet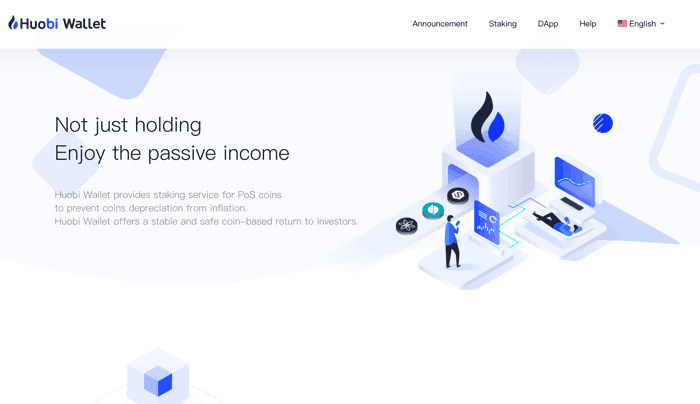 Huobi Wallet is another suitable option for staking PoS coins and offers stable and safe coin-based returns from staking to investors.
Staking with Huobi using your own crypto wallet has multiple benefits like there is no need to move out coins from the address for staking, all operations are conducted on-chain, no extra fees & redemption penalties, etc. And all this while maintaining the safety and independence of coins.
It has multiple configurations for the monitoring process, multiple entry nodes, robust DDoS defence systems, and a dedicated security operation team to maintain the security of coins and safe off-chain staking operations.
With Huobi, you can stake 8 different coins, including ATOM, Ontology (ONT), IOST, Tron (TRX), Cardano (ADA), IRISnet (IRIS), IoTeX (IOTX), and Loom Network (LOOM).
FAQs:
– Which wallet is best for staking?
For the best crypto experience, whether it is staking or storing cryptos for an extended period, without a doubt, you can choose hardware wallets.
And without a second thought when it comes to cold wallets, Ledger Nano X is the best choice. The pricing it comes at and the functionalities it offers are just phenomenal.
And the security features it comes with are impenetrable. It is a highly secure cold wallet with an additional secure element chip that doubles your security and privacy.
So, there is no reason not to check them out and boost your profits with their staking services.
– What is the best app for staking?
Trust Platform will be the best option for the best application for staking crypto. This software wallet lets you earn interest on crypto holdings, and you can readily track charts and prices with the app, which are among the USPs of this wallet.
It is available on 65 blockchains; you can also add the wallet as a chrome extension, making it functional and more accessible.
So, don't feel hesitant to try this platform.
– Which crypto has the highest staking rewards?
BitDAO is one of the world's leading DAOs (Decentralised Tokenized Autonomous Organization). BIT token holders get voting rights on governance proposals, such as updates to core protocols and token swaps.
With BitDAO and BIT tokens, you can earn an annual return of up to 14.77%, which is much greater than the industrial standard.
Conclusion
Mining and staking are both essential functions for maintaining the stable and safe operations of different blockchains. And, staking cryptocurrencies will surpass the popularity and size of mining operations in 2020 and beyond.
With more and more cryptocurrencies getting launched with the PoS consensus mechanism (even Ethereum is moving towards PoS based consensus mechanism), the benefits of staking cryptocurrencies can hardly be ignored.
Although many wallets support staking PoS coins, the discussed wallets and platforms offer the best security and functionalities. And, if you are a beginner in staking, then the Binance exchange looks like the best option, and if you want a wallet, don't overlook Ledger Wallets.
If you have questions or want to share any experience regarding staking, do write them in the comment box below.
Latest posts by Sudhir Khatwani
(see all)