It looks like you have decided to buy a hardware wallet.
But it seems there is a tussle in your head about which one to pick: Ledger Nano X or S !!
Which one is better, Nano S or Nano X?
Is it worth having both: Ledger Nano S & X?
Which one should you buy first, Ledger S or Ledger X?
The tussle becomes all the more impressive because you are comparing two devices of the same brand, i.e., Ledger SAS- a pioneer hardware wallet manufacturer from France making hardware wallets since 2014.
At TheMoneyMongers, we understand this and work relentlessly to give you the facts so that you can decide for yourself.
This time also, we have done the hard work to help you decide between Ledger Nano X and Ledger Nano S. In this guide, we will compare both these hardware devices based on the following 8 criteria:
Based On Security
Based On Supported Size & Design
Based On Mobility
Based On the Number Of Supported Coins
Based On Compatibility With Other Software
Based On Native Apps
Based On Setup Process
Based On Value For Money
Let's get to business then:
Introductory Summary: Ledger Nano X vs Ledger Nano S
First things first:
Ledger Nano S and Ledger Nano X are hardware wallet devices by the same company, Ledger SAS. Ledger SAS is based out of Paris, France, and has been providing digital asset security products since 2014.
Ledger Nano S is the precursor of the Ledger Nano X and has been the company's best product. The company revealed last year that they were able to sell 1 million pieces of Ledger Nano S.
Whereas Ledger Nano X is Ledger's recently launched device which was announced in January 2019 and started shipping in May 2019. It is a wireless-enabled device with enhanced mobility and security features, whereas the Ledger Nano S is its forerunner.
Indeed, there are quite a few notable differences between the products, and the company seems to have a different vision for them.
That's why you need to know about both before buying one for yourself, and that's what we are helping you with in this article.
Stick around as we explore the security side of both devices.
Ledger Nano S vs Ledger Nano X: Based On Security
The security of your funds will be as good as hardware, and these hardware wallets use special-purpose chips to secure the private keys of your funds.
So as long as the hardware chips can secure your private keys, your funds are safe. Also, anything that is open-source is generally believed to be more reliable and peer-reviewed.
But in the case of Ledger, both the devices are closed sourced.
However, this doesn't mean you should not use Ledger devices, but it is a point to be aware of. On the other hand, the architecture used by both wallets is the same, but the chips used are different.
Ledger Nano S used two chips known as the SE MCU (Secure element) and another general-purpose MCU. SE MCU is responsible for handling your private keys or seed and is extremely difficult to hack. The other MCU is an abstraction layer accountable for facilitating interaction between your desktop/smartphone and the SE MCU.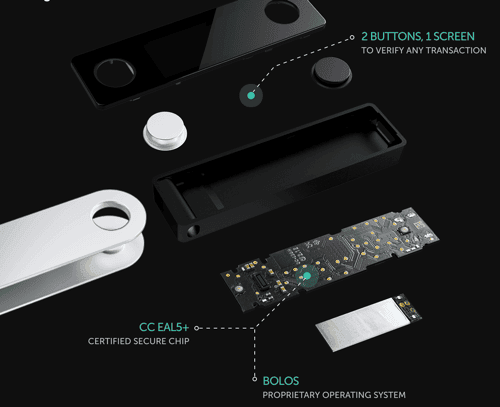 A similar ditto architecture is in place for Ledger Nano X, but its chips are of higher capabilities. A new state-of-the-art Secure Element (ST33J2M0) chip and dual-core MCUs (STM32WB55) with wireless (Bluetooth) as well as USB support are used in Ledger Nano X.
Ledger Nano S vs Ledger Nano X: Based On Supported Size & Design
I got my Ledger Nano X a few days back and have made only a few transactions with it. At the same time, I have been using Ledger Nano S for almost two years now.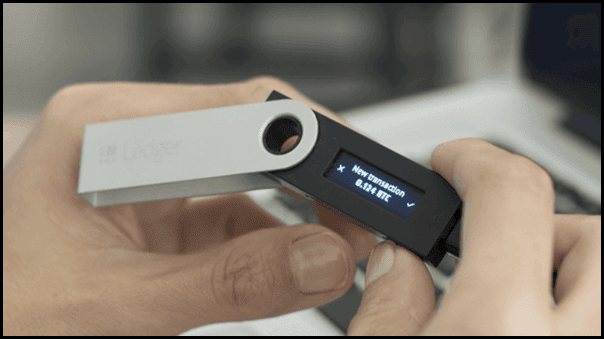 Though Ledger Nano S is a stylish flash drive-like device, its OLED screen is small and itchy to use. It has two buttons at the side to help you navigate the menu and select options shown on the device, which does a fine job but surely can be better.
Content of the box: 1 USB hardware wallet, 1 USB cable, Instruction manual, Key chain, Recovery seed sheet
Dimension & weight Size: 56.95mm x 17.4mm x 9.1mm & Weight: 16.2g
Materials: Brushed stainless steel and plastic. No battery is required.
Ledger Nano X's design is rad, and I like it more.
The OLED screen is almost twice the Nano S, and the bulging buttons find the best place in front of the device, increasing the user experience. At first, it might appear like a touch device, but it is not.
New to crypto wallets? Learn the differences between Custodial & non-Custodial Wallets
Regarding weight, Ledger Nano X is twice as heavy as Ledger Nano S, but that's due to the 100mAh battery that Ledger Nano X carries. (more on this later)
Content of the box: 1 hardware wallet, 1 USB cable, 1 getting started leaflet, 3 recovery sheets, 1 keychain strap
Dimension & weight Size: 72mm x 18.6mm x 11.75mm & Weight: 34g
Materials: Brushed stainless steel and plastic. Battery required.
 Ledger Nano X vs Ledger Nano S: Based On Mobility
Mobility is another factor to compare when talking about hardware wallets, and I must say Ledger Nano X is way ahead of Nano S compared to mobility.
That's because Ledger Nano X's main USP is supporting features that encourage mobility. For example, Ledger Nano X is the first popular hardware wallet with Bluetooth, and it supports both iOS and Android mobiles.
Recommended Read: Hot Wallet vs Cold Wallet
Whereas Ledger Nano S doesn't have Bluetooth, you can use it with your 2.0 USB cable Android devices. Also, Nano X has a 100 mAh battery which can last up to several hours and has a long life of 5 years. That's why Nano X seems more fitting for users who want to use their devices on their smartphones.
Next, we will compare both these devices based on the number of coins and there, too, Ledger Nano X seems to be winning.
Ledger Nano X vs Ledger Nano S: Based On Number Of Supported Coins
Its users have long criticized ledger Nano S for supporting a few cryptocurrencies at a time. As of now, Ledger Nano S can only support 18 different cryptocurrency apps on its hardware. This was made possible after the update of firmware 1.4, before which Nano S could only support four currencies simultaneously.
On the other hand, Ledger Nano X can support 100 cryptocurrency apps at a time on its hardware device. It has a space of 2 MB on it, which makes it one of the maxima in the hardware wallet world.
However, you need not confuse these facts with the number of coins you can store on both devices, which is different from the number of coins one can use simultaneously on the device.
In that regard, both Ledger Nano S and X can be used to store 5500+ cryptocurrencies. Though their initial coin offerings were just 1100, you can see how far they have come in such a short period because they are multi-currency wallets using the same software architecture as the Ledger Live app.
Ledger Nano S vs Ledger Nano X: Based On Compatibility With Other Software
The difference is not much when you compare Ledger Nano S and Ledger Nano X based on their software compatibilities. Still, whatever slight difference, they have significantly impacted the user experience and mobility.
For example, Ledger Nano S is compatible with 64-bits desktop computer (Windows 8+, macOS 10.8+, Linux) excluding ARM processors, and it is also compatible with Android 7+ smartphones with an OTG kit. But a thing to note here is that it is not compatible with iOS devices.
Whereas Ledger Nano X is compatible with  64-bits desktop computer (Windows 8+, macOS 10.8+, Linux) excluding ARM processors and also compatible with smartphones (iOS 9+ or Android 7+) with OTG and Bluetooth both.
When we speak of third-party apps like MyCrypto Wallet, MyEtherWallet, Electrum wallets, etc., both the hardware devices stand equal in terms of compatibility.
Based On Native Apps [Nano X & S- Tie]
The native app is the interface you see on your smartphone or desktop. In this case, the Ledger Live app helps you use the hardware devices by providing your intuitive UI.
In this case, the native app of both the hardware devices is the same, i.e., the Ledger Live app. So there will be no difference when you use either wallet.
And I must say, the Ledger Live app is one of the smoothest, lightest, and swift interfaces I have seen so far for any crypto hardware wallet.
Ledger Nano S vs Ledger Nano X: Based On Setup Process
The initial setup process of both the hardware device is identical.
For Ledger Nano S & X, you need to:
Start the device by plugging it into a desktop or mobile or connect using Bluetooth.
Download and install the Ledger Live app directly from Google Play Store or Apple's App Store.
Initialize the device and write down the seed words it shows.
Confirm those seed words.
Set a PIN & you are ready to use the device through the Ledger Live app
Note: You need not install the firmware on Ledger Nano S or X while initializing them for the first time. However, it is recommended that you keep updating your firmware through the option provided in the Ledger Live app as and when the update is available !! Also, when you are doing the setup having wireless communication with the device gives a better user experience, so Ledger Nano X seems to be winning on those grounds.
 Based On Value For Money: Nano S vs Nano X
These are the price tags of both the hardware devices, and Nano X is twice the price of the S. I have already spoken a lot about their features and limitations, so I will not talk again.
But both these devices provide value for money. If you are short on budget and don't aim to use a lot of currencies at a time, you might opt for Ledger Nano S.
But if you are someone who wants a future-ready device and will be using several currencies on the hardware device, you should go for Ledger Nano X.
Also, if you want a high degree of mobility and a smooth user experience, you should go for Ledger Nano X because, in the future, the experience will only be smoother.
So these were my parting thoughts, and I hope after reading this, you must have got clarity on Ledger Nano S Vs. Ledger Nano X: Which One To Choose?
However, I still want to clarify that if you wish for something future-ready and if you are here for the long term, go for Ledger Nano X because I anticipate Ledger Nano S will be discontinued by Ledger SAS sometime in the future. And once that is done, you can expect any support from Ledger SAS for your old device.
Lastly, Ledger Nano X is conceived by Ledger SAS after launching Ledger Nano S and Ledger Blue, so it looks like they have merged the wisdom of both precursors. That's why I expect Ledger Nano X to do better than Ledger's previous two versions of hardware wallets.
Keep this in mind when you buy a new device. Make sure that you that from the Ledger website only. Getting a new wallet is an important decision for your online accounts and assets. Therefore, you should do this right.
As well as though Ledger Nano S is the cheaper Nano device, but when you do thorough market research as I did, this device feels a little older than its peers.
Let alone, the USB micro B that it comes with is old in itself, I mean, it is becoming the news of the past, and when Ledger's crypto starter pack has Ledger Nano X, then you don't even need to have a second thought to use it.
FAQs:
– Is Ledger Nano S or X better?
Ledger Nano X is the flagship offering of Ledger SAS as well as the best crypto hardware wallet in the market right now.
It comes with tonnes of features where Bluetooth connectivity, secure chip, seed phrase, crypto exchange integration, powerful user interface, complete coin control and additional storage capacity for your crypto assets are just to name a few.
Let me tell you why I include Ledger Nano X in the best hardware wallets. Though the price tag can seem a little over the budget for some but let me tell you, this Ledger Device is worth every penny that you pay for.
This hardware wallet comes with an inbuilt battery that lasts more than many other popular hardware wallets on the market. It comes with a larger screen than Nano S, about double its size, meaning that it is far more detailed, and Ledger Nano X has a higher resolution screen than all the Ledger hardware wallets line up.
It is a secure hardware wallet with the same security features as some of the highest-rated, advanced and premium crypto hardware wallets and, in some cases, even better.
It has a certified secure element chip that enables it to stay isolated from the internet, and your pin code and private keys could never leave your device. The Bluetooth connection is also encrypted, so you shouldn't worry about the device's security ever.
This Ledger hardware wallet comes with long-lasting battery life. Ledger launched this wallet in the space of other hardware wallets wherein there is very tight competition, and Ledger Nano X stands in the competition and wins it.
Not only this, but Ledger live mobile app also comes with in-app application usability allowing you to use all those 100 crypto apps simultaneously without even leaving the Ledger Live app. These physical devices work with your iOS and Android smartphone flawlessly.
Additionally, Ledger Nano X can seamlessly integrate with the other software wallets thanks to its own operating system, BOLOS.
You can connect this physical device to your PC via a USB C cable that connects to Nano X, and on the other end is a USB A cable that connects to your PC directly, which lets you access all those advanced features that you chose this mobile device for.
This ledger wallet also offers you an auto-lock feature with which you can automatically password lock your device after a period of inactivity that you can set. You can activate the device again as you enter the verification code.
Ledger Nano X crypto wallets can function as a software wallet and gives you a remarkable crypto storage space of 2MB, which is far more than the industrial average.
Ledger Nano X is like a fortress that gives you complete coin control, and this newer hardware wallet of Ledger SAS stands apart from other devices of this range.
I can tell you this there is no other hardware wallet better than Ledger Nano X for sure. So what are you waiting for? Go check them out now.
– Is Ledger Nano X more secure than Nano S?
Both the Ledger Nano devices are equally capable in their price ranges. At a glance, Ledger Nano lineup is undoubtedly better than most of the other devices in this price range.
But regarding their in-depth comparison, as I already said, Ledger Nano X is the better option. And when it comes to their security, Ledger Nano X is far more reliable and secure than Ledger Nano S.
This device features an inbuilt Bluetooth feature through which you can connect it to all your devices seamlessly. Its Bluetooth functionality comes with state of art encryption system that offers a breach-free connection.
Ledger Nano X touts to be a sufficiently safe Bluetooth connection that transmits only public data while keeping your private key/seed phrase safe. So even if your Bluetooth is hacked, the attacker cannot access your funds.
It comes with a secure elements chipset that provides complete control and transparency. The security of the Ledger Nano X relies on the Secure Element (SE), which will request your consent for any action on the device. So when you receive or send crypto, all these processes are carried out via SE, making it secure and safe.
Secure Element chip is commonly used in passports and credit cards, so you know what level of security you are getting. The point of using this chip is to provide you with an extra layer of protection that other devices don't have.
Other than this, they also have their own designed operating system, Blockchain Open Ledger Operating System (BOLOS,) which provides a smooth framework to build source code for portable native applications around a secure core. It protects the core against application attacks and isolates applications from each other without getting in the way as Ledger claims it to be.
It also comes with a CC EAL5+ certification level and ST33J2M0 chipset, making it even more robust and secure.
So, now you know Ledger Nano X is the ultimate choice you should choose above all the other wallets in the market without further thought. Now, just click the link below, get Ledger Nano X and see for yourself why I am a big fan of this fantastic device.
Now you tell us: What do you think about Nano S or Nano X? Which one are you going to buy? Do tell us what you choose in the comments section below; I will be waiting 🙂
Check out how Ledger Nano X & S compares to other hardware wallets:
Latest posts by Sudhir Khatwani
(see all)