You are in the right place because I know you are looking for the best wallet options to store your Dogecoin cryptocurrency.
You probably already know Dogecoin is a meme cryptocurrency. Being a very popular crypto asset, it was launched almost five years ago and since it continues to exist to date tells you about the anti-fragility this currency has.
The chances are that it never dies until supercomputers attack it and destroy all the economic value. But until then, it might be a valuable crypt for many in the cryptosphere.
That's why I have made this list of suggested wallets that you can use to store your Dogecoin cryptocurrency:
Ledger Nano X
Ledger Nano S
Ledger Nano S Plus
Trezor Model T
Trust Wallet
Dogecoin wallet
Coinomi
Exodus
DogeChain
Dogecoin Paper Wallet
Jaxx wallet
Best Dogecoin Wallets
#1. Ledger Nano X [Recommended Dogecoin Wallet]
Ledger Nano X is among the best crypto hardware wallets and the best Dogecoin wallet offered by Ledger SAS- a pioneer in manufacturing security solutions for digital assets.
I have been using Ledger Nano X for some weeks now, and I must say it has everything you need to store 5500+ cryptocurrencies. The good news is that it also seamlessly supports the Dogecoin cryptocurrency.
.You don't need to be worried about your private keys as it is a non-custodial HD wallet capable of securing your private keys even when you use it with a malware-infected device.
Yet, another cool thing about Ledger Nano X is that it is a Bluetooth-enabled sleek device that you can use with iOS and Android devices without any OTG or USB.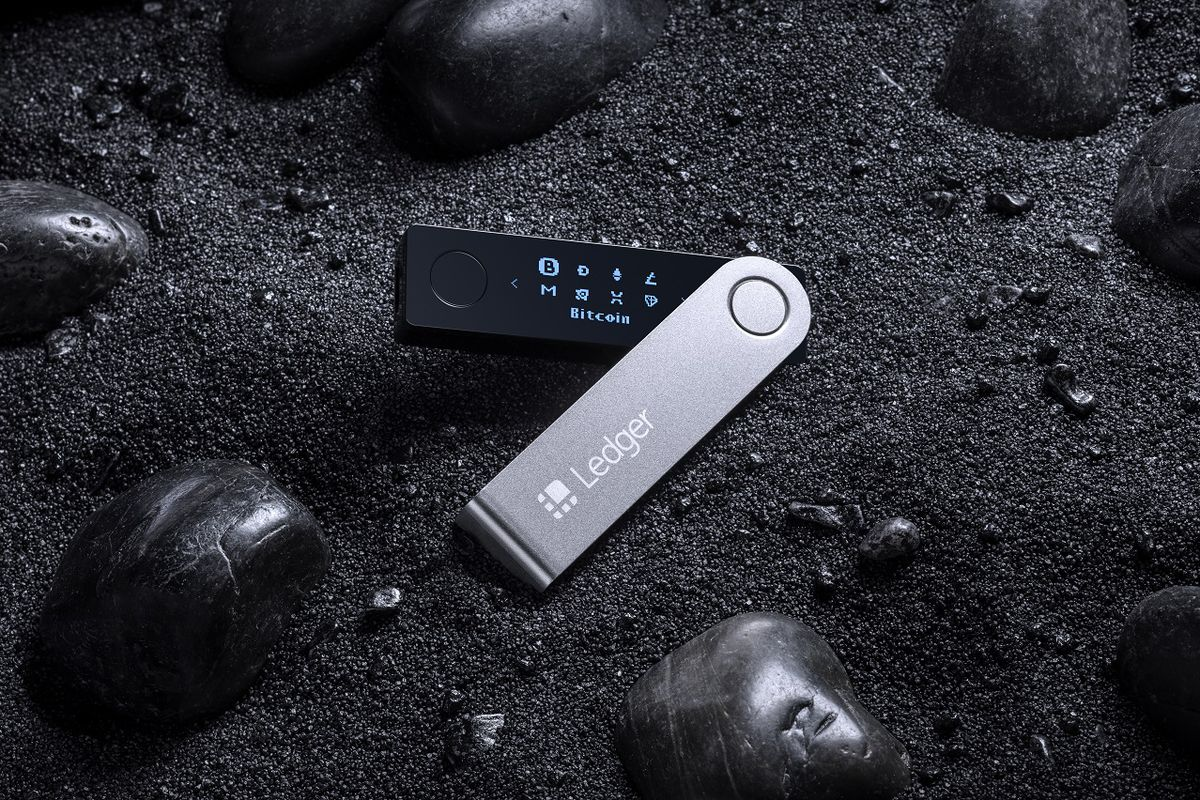 Plus, Ledger Nano X can support 100 apps at a time and is a battery-enabled device that makes it an ideal tool for Dogecoin and other crypto users.
Ledger Nano X has an in-built Ledger Live app that is user-friendly, and you can manage your firmware/hardware directly from the app without jeopardizing security.
The battery lasts up to 5 hours and has a life of 5 years. Its sleek design is robust, too, made of stainless steel and high-quality plastic, which is easy to carry around and pocket friendly. To know more about it, check this full review of Nano X.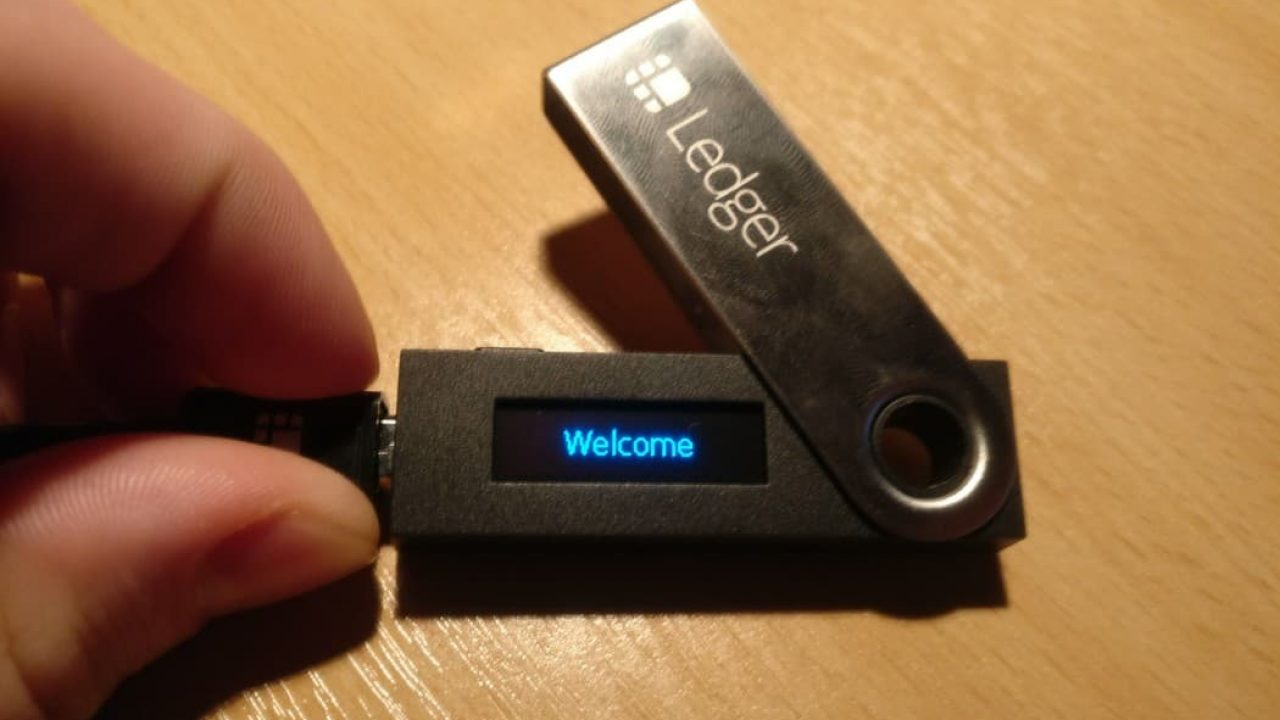 Ledger Nano S offers offline storage and has already become one of the most used hardware wallets in the crypto industry. It is a small USB device and an affordable hardware cryptocurrency wallet that provides secure storage to store Dogecoin.
Ledger Nano S has a smaller screen than Nano X and is a bit edgy in its design. However, it still does an excellent job securing your cryptocurrencies like Dogecoin better than any other software wallet.
Depending on their size, you can install up to 3 applications on the device. It has a CC EAL5+ certification level with ST31H320+ STM32F042 chipset, which is secure but unsuitable for mining.
If you are low on your budget and still want a hardware wallet for your Dogecoin, you should consider Ledger Nano S as one of your options for cold storage of your cryptos.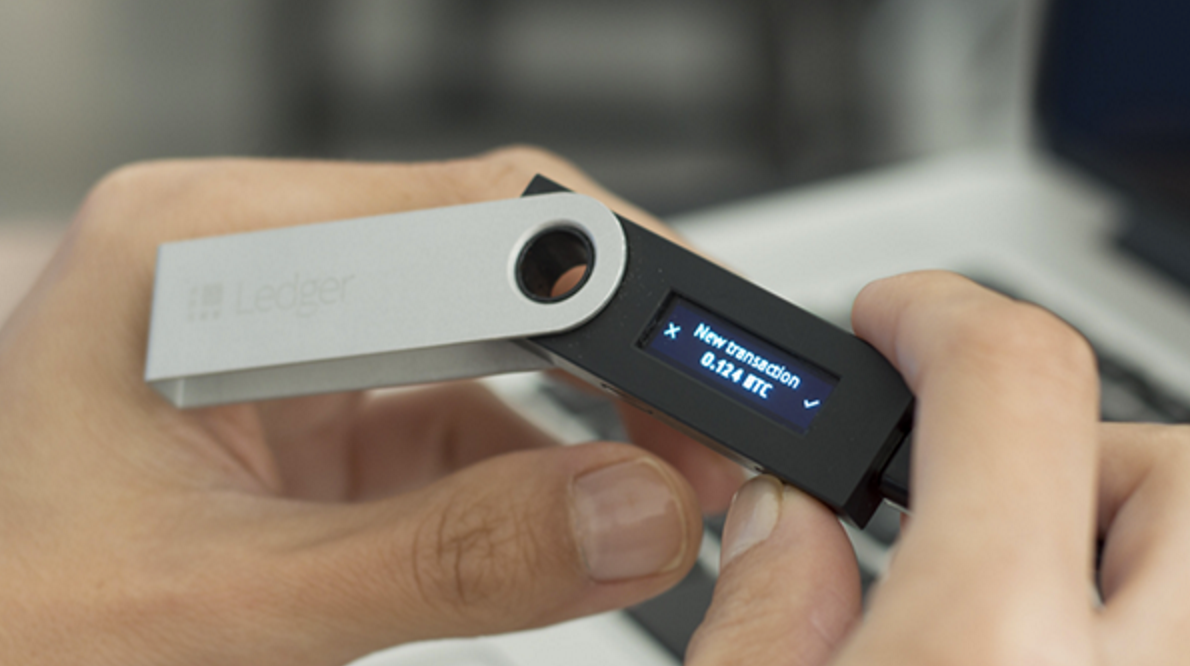 Also, it is a non-custodial wallet that can be used on a virus-infected device and can be used with an Android device using an OTG.
But Ledger Nano S only support iOS devices on consultation mode and don't expect it to do so anytime soon because Ledger Nano X already supports Dogecoin and Apple devices. To know more, have a look at this Ledger Nano S review.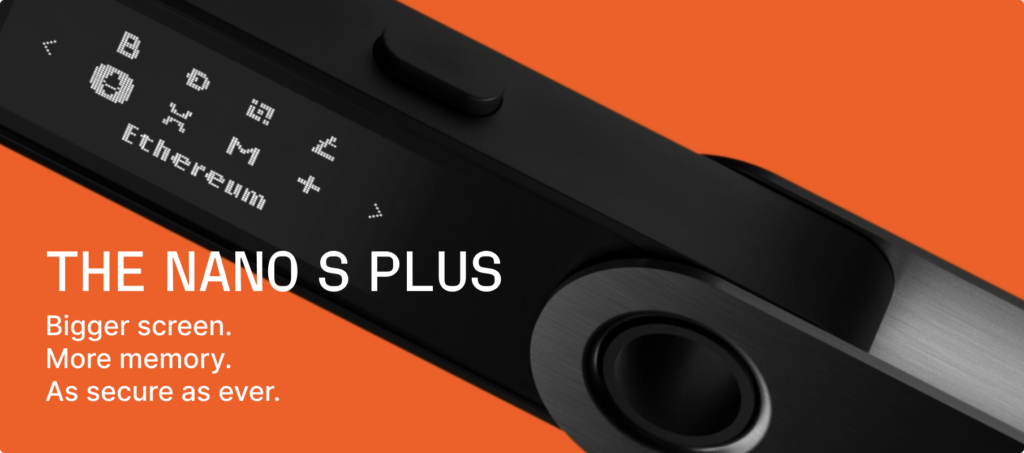 Ledger also offers another great option with a more robust and advanced design; the Ledger Nano S Plus is among the top Dogecoin wallets in the crypto world.
Ledger Nano S plus holds the mid position between Ledger's flagship, Nano X and the low-priced Nano S.
These mobile wallets are equipped with all the functionalities and connectivity choices similar to Nano X except for Bluetooth and battery. The hardware wallet is 9 grams lighter and 10mm shorter than Nano X.
Being sleeker in design line, it has pin code capabilities with the certified secure element protected (CC EAL5+) and is independently certified by ANSSI.

Additionally, you can manage over 5,500 coins and tokens with the company's own application, the 'Ledger Live' app, for securely storing Doge on your devices, supporting both Android and iOS devices seamlessly.
Ledger Nano S Plus is compatible with over 50 wallets; you can install up to 100 apps.
#4. Trezor Model T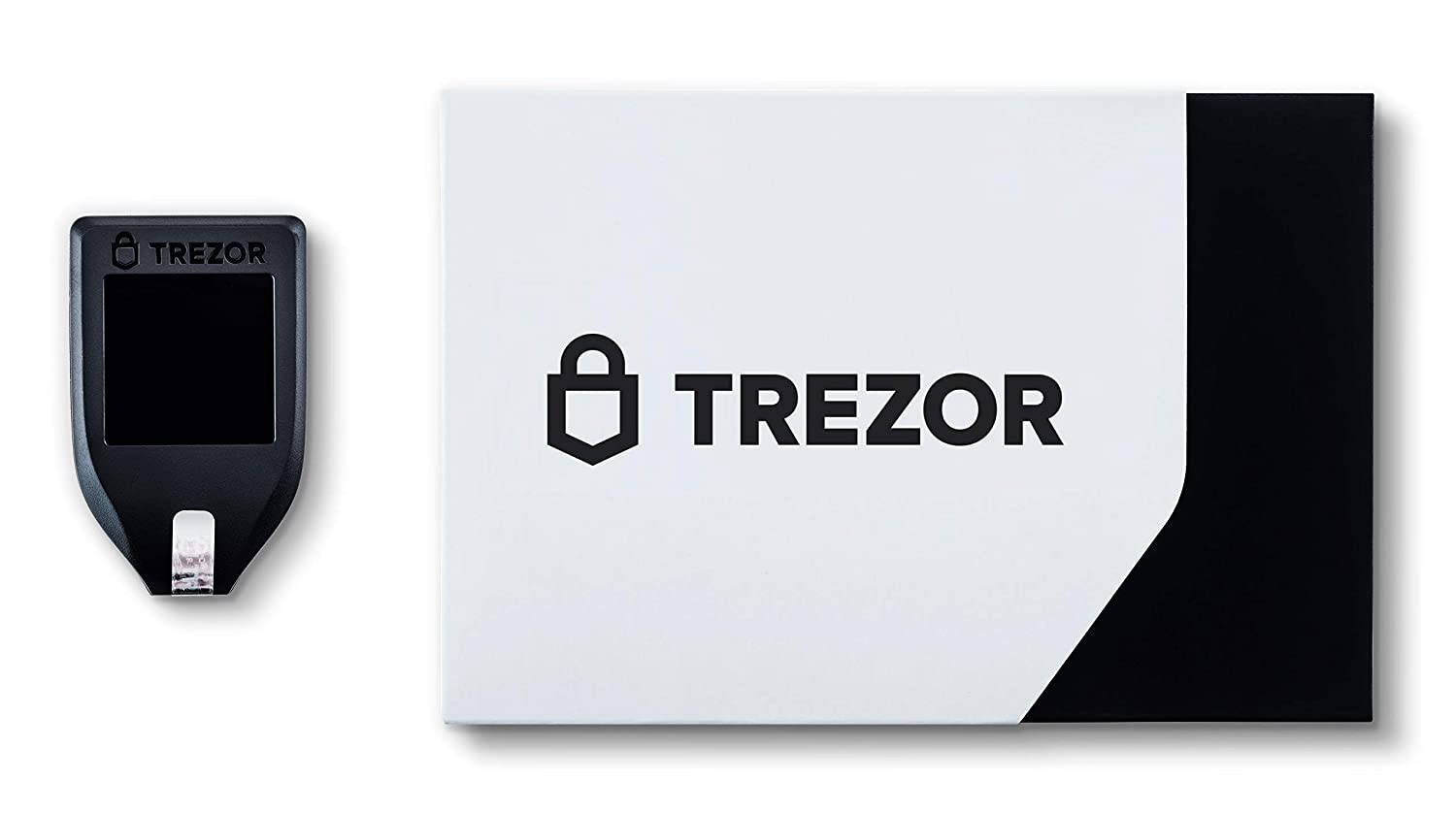 Trezor is the company you will always go through in the world of hardware wallets. The reason behind this fame is the Trezor Model T. It is among the most popular cold wallets.
This hardware wallet supports over 1200 digital assets and comes with a full-colour touchscreen user interface as well as multi-signature capabilities.
It allows you to securely store your private keys on the cloud, but soon you will be able to store them via a microSD card. Other than this, you can opt for U2F authentication and FIDO2 authentication.
It has a light and functional interface and is ready to use within 10 minutes of setting up. It is also an affordable hardware wallet where you can store your Dogecoin wallet address with ease.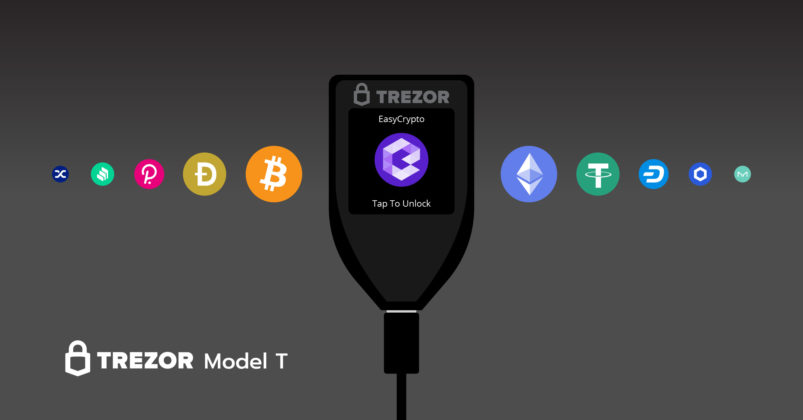 This is undoubtedly among the best dogecoin wallets as it is a secure wallet certified by RoHS and CE, meeting all quality, reliability and environmental standards for crypto storage.
With a robust and beginner-friendly user interface and startup guides through video tutorials, it is the first hardware wallet to implement Shamir Backup (SLIP39) for greater security. If you lose your device, you can quickly recover your entire wallet using a 12-word recovery seed. To know more, check out Trezor Model T vs Nano X comparison.
#5. Trust Wallet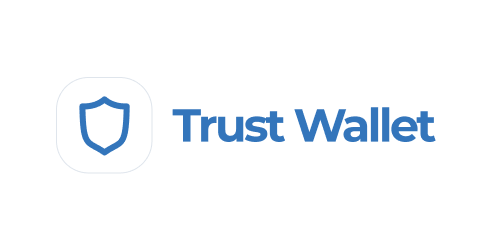 Next on the list is Trust wallet. Being an open-sourced, community-driven multi-coin wallet and one of the best software wallets.
The crypto wallet can be easily set up in just 5 minutes and currently offers $50 worth of BTC, ETH, BNB and many other coins. Trust Wallet doesn't collect any of your personal data.
You can use your favourite decentralized applications without leaving the wallet, as all the new apps are readily available on the wallet itself.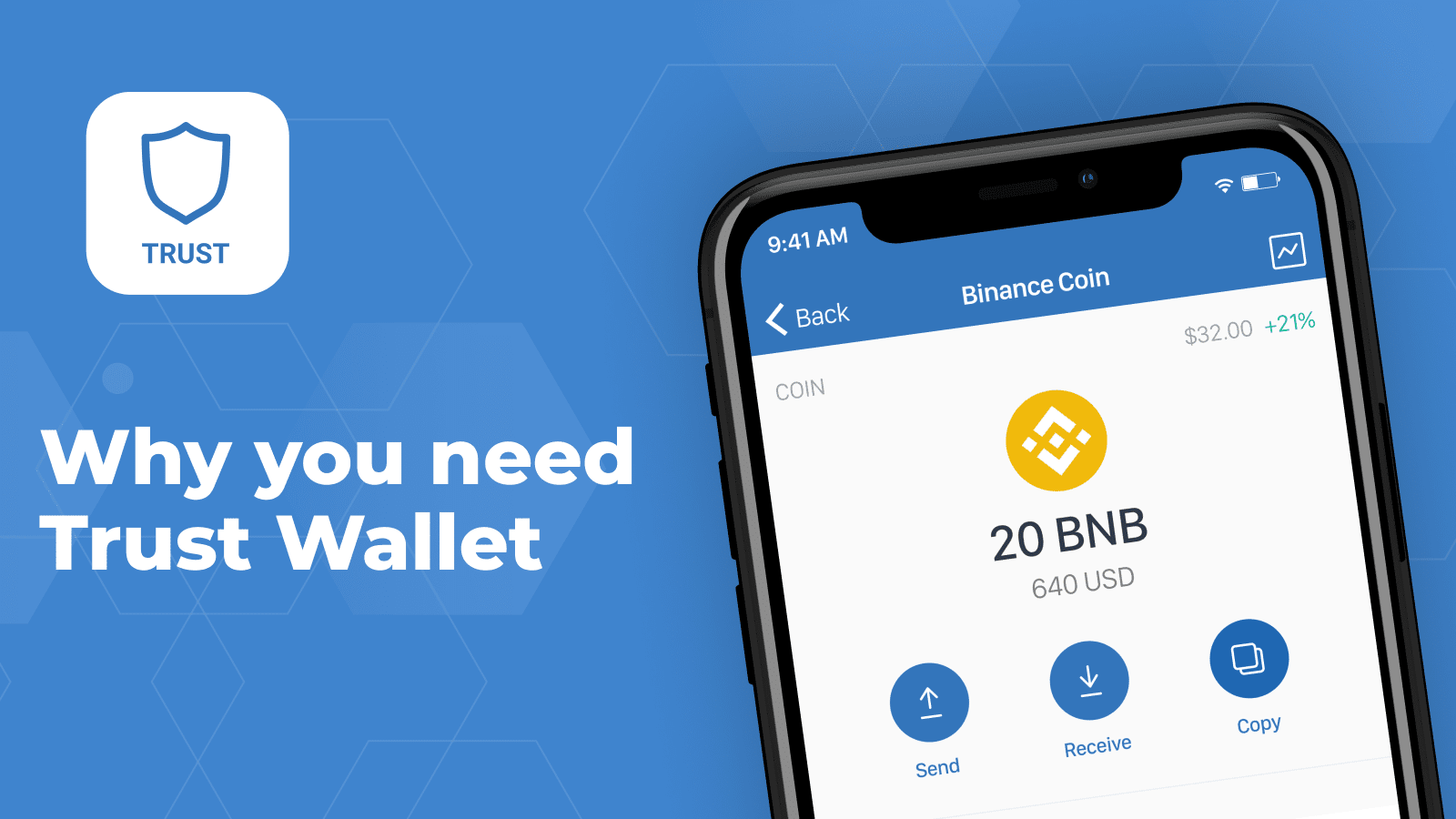 Just download Trust Wallet on any of your devices, create a new wallet and get some crypto deposited to your wallet; you can use your card to do so.
Trust wallet supports 65 blockchains as well as a whopping 4.5M+ assets ad thousands of coins. The interface is currently available in 11 different languages, and you can add the wallet as a chrome extension, making it easier to access anytime, anywhere.
The wallet also offers various other services for advanced crypto trading and is among the first choices of the crypto community.
#6. Dogecoin Core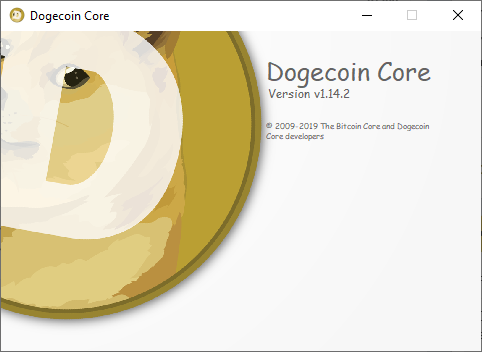 Dogecoin Core wallet is an official Dogecoin wallet offered by the company itself.
Since Dogecoin is proof of work currency, this wallet is a full-node client that requires you to download the whole Dogecoin blockchain.
When you download these Doge wallets and set them up, it starts downloading the blockchain itself, and this can take up to hours because synchronization takes time.
To get started, just select Dogecoin Core wallet, configure the wallet settings, deposit Dogecoin into your wallet, and start trading. It's that easy.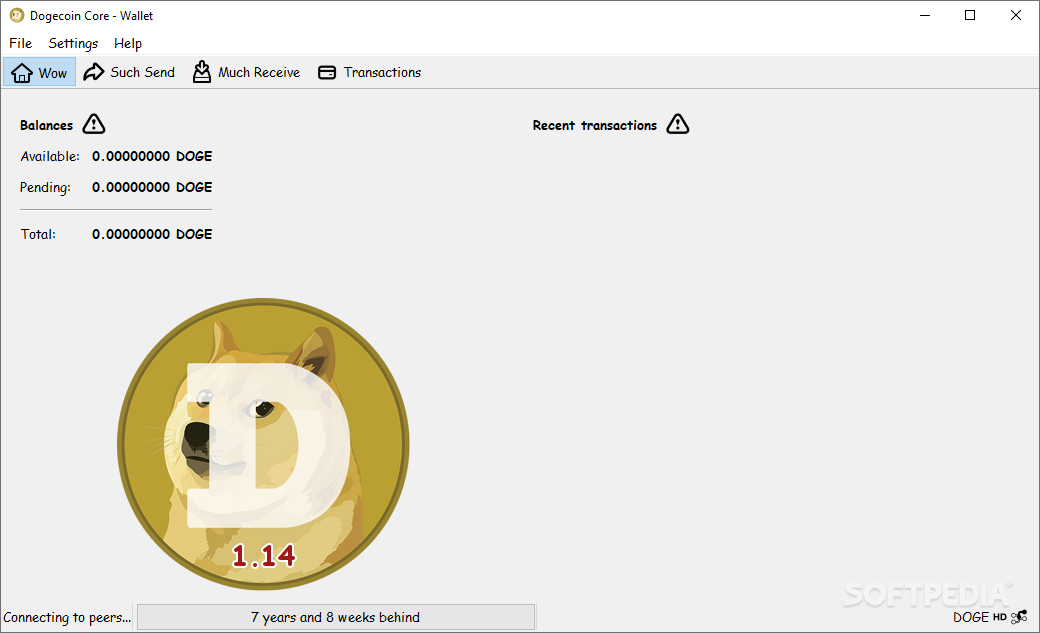 You can get Dogecoin through exchanges as a regular exchange wallet, tipping, payments in your business and mining.
But once that is done, you can easily send, receive, manage and buy Dogecoin from this wallet on your desktop clients like Windows, Mac, or Linux.
#7. Coinomi [Mobile Wallet]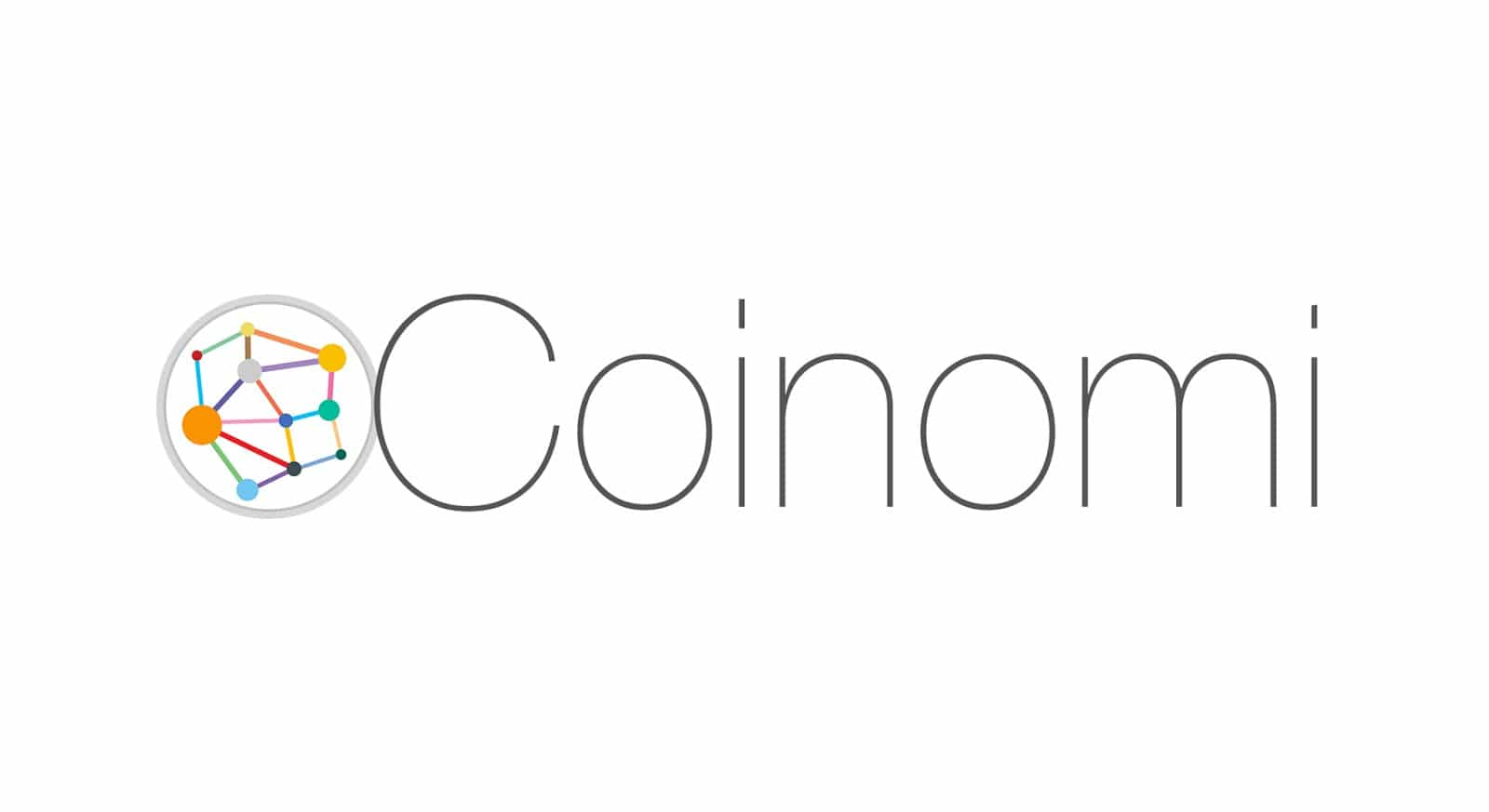 Coinomi is among the top online wallets that you can use for the safe storage of your Dogecoin currency.
The company is based in London, United Kingdom and has a strong development team, leading the company in implementing new cryptocurrencies and forked coins.
Coinomi was once my go-to mobile wallet for storing small amounts of cryptocurrencies, and if you too have a small amount of Doge to store, you can use Coinomi.
It is a non-custodial, self-hosted HD wallet that helps you store thousands of crypto coins, including Dogecoin. In cold wallets like these, the private keys are encrypted on your device, where you get the 12-word seed while initial setup, which you must keep safe at all times.
It would be best if you keep your seed safe, as losing this would mean losing all your funds stored on the Coinomi wallet.
Coinomi provides support and true ownership for over 125 blockchains. It is Seg-Wit enabled and offers 168 fiat currency representations available in 25 languages.
It allows users to access their crypto assets directly on their computers through the desktop version. Though it is not hardware-compatible, it has a user-friendly interface capable of processing cross-chain payments within minutes.
As of now, Coinomi is available both for iOS and Android. The app requires 127.9MB for iPhones and Android 15MB. The app is completely free with zero fees.
#8. Exodus [Desktop Wallet]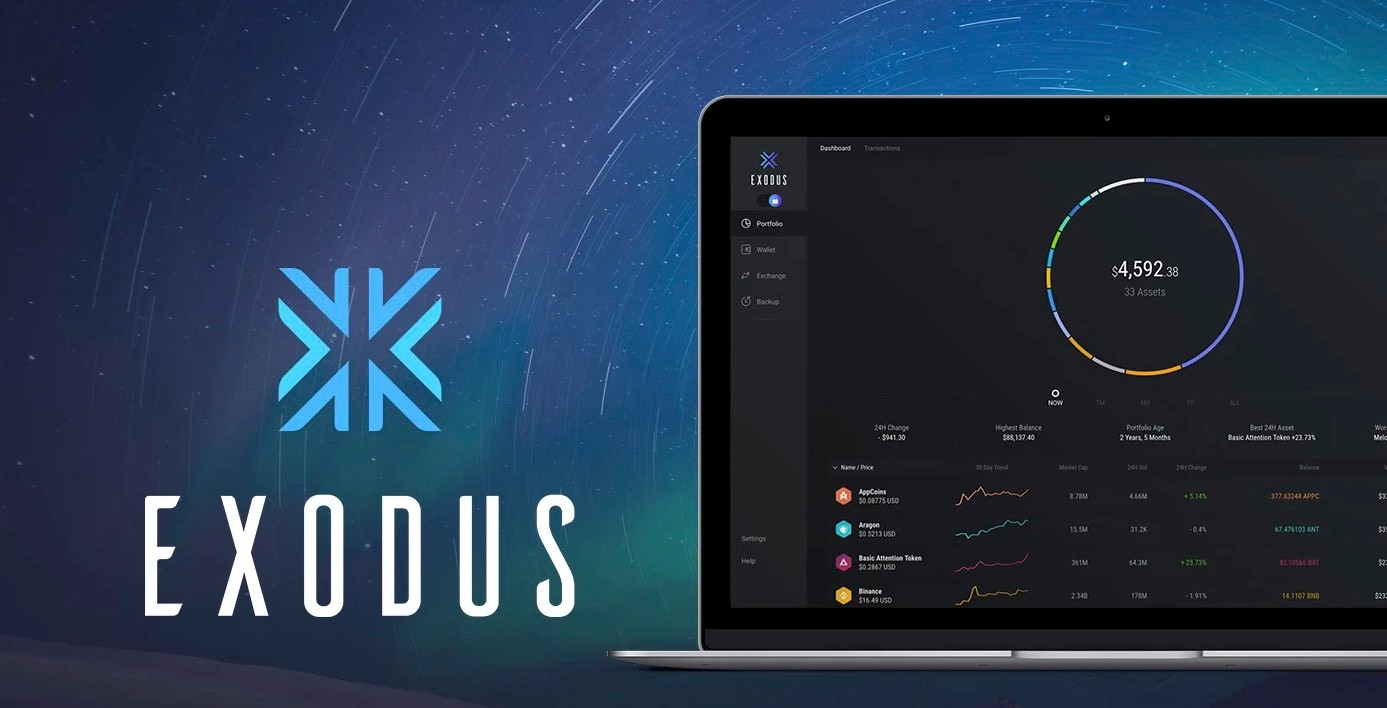 Exodus is my favourite desktop cryptocurrency wallet. It is one of the best-hosted wallets, and as of now, it supports more than 225+ cryptocurrencies, including Dogecoin.
The UI is super sleek, and the usability doesn't compromise the security features. It is a non-custodial desktop wallet for your Doge cryptocurrency where you get your seed words to protect your funds.
Also, Exodus integrates with well know hardware wallet brands and allows you to exchange Dogecoins within the desktop app.
The Exodus user interface is easy-to-use and straightforward to understand. Portfolio balances are eminently displayed, and the latest market information is available for all supported assets.
For all the assets, users will also find the 24-hour change, portfolio age, highest balance, and best and worst percentage moves, given a particular time frame.
Lastly, Exodus provides its mobile wallet apps for Dogecoin and other digital currencies and is considered among the range of top crypto-specific wallets. For Android, it requires 52MB, and for iOS, 62.6MB.
#9. DogeChain
DogeChain wallet is for anyone who wants a web wallet for their Dogecoin crypto.
But this Doge wallet is a custodial wallet where the wallet servers control your private keys. Of course, they allow you to set a password to access your DogeChain wallet, but this password can only be used to encrypt your keys on the server-side.
Additionally, for impenetrable security, you can choose to have up to 5 signatures for every withdrawal. One of which is by default of the server, and the other 4 are of yours.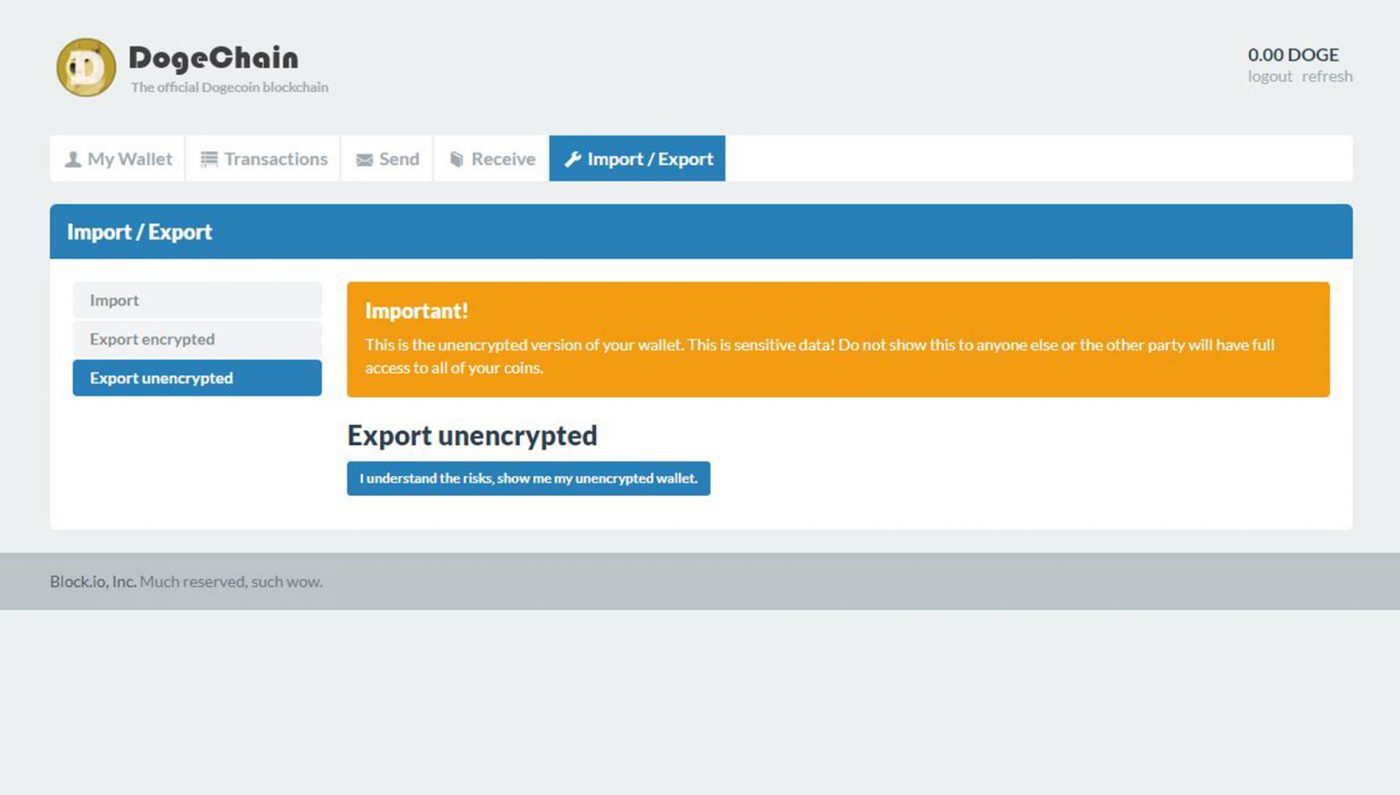 The company do not have access to your coins, so you should keep your keys safe either on a hardware device or write them down on paper keeping it safe.
The website and API libraries use up-to-date security standards such as BIP0062 and RFC6979. It provides a growing number of libraries that allow you to sign your transactions yourselves, outside of Block.io. It even helps you build your own library in any language of your choice!
To enhance transparency, all addresses on its system are on-chain, making them auditable through third-party Block Explorers. You can anytime verify your Block.io wallet balances are accurate using any block explorer of your choice.
DogeChain's entire infrastructure is made redundant, eliminating all single points of failure. Targeting over 99.999% system availability.
#10. Dogecoin Paper Wallet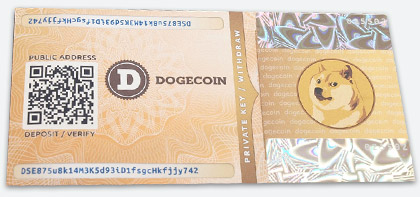 Anyone who has read TheMoneyMongers knows that I am not a big fan of paper wallets, but I used to use these types of physical wallets in my early days of cryptocurrency.
We don't need paper wallets because they are unsafe, cumbersome to use and require a fine print to get the QR code scanned, especially when you have hardware wallets available for Doge.
But still, some people prefer Dogecoin paper wallets, and I will leave a link below so they can make a paper wallet for themselves.
#11. Jaxx Wallet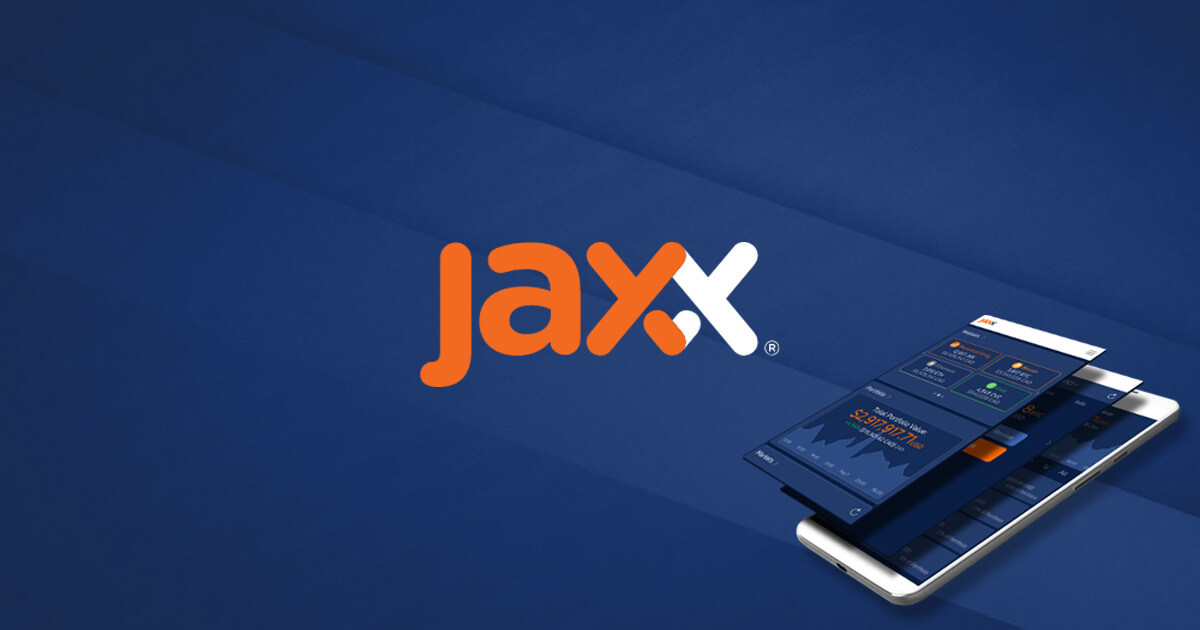 Jaxx wallet is an online wallet offered by Decentral, which introduced Canada's first two-way Bitcoin ATM.
Decentral came into existence in 2014 and has become Canada's leading blockchain company with a high market cap ranking.
Jaxx wallet is a Non-Custodial, one of the top software-based hosted wallets for your PC as well as mobile devices. It is a free wallet; however, fees can be charged on purchasing cryptocurrencies or exchanging them between wallets.
There are over 80 crypto coins supported on the wallet, including Dogecoin, with great in-app customer support and top-notch security features.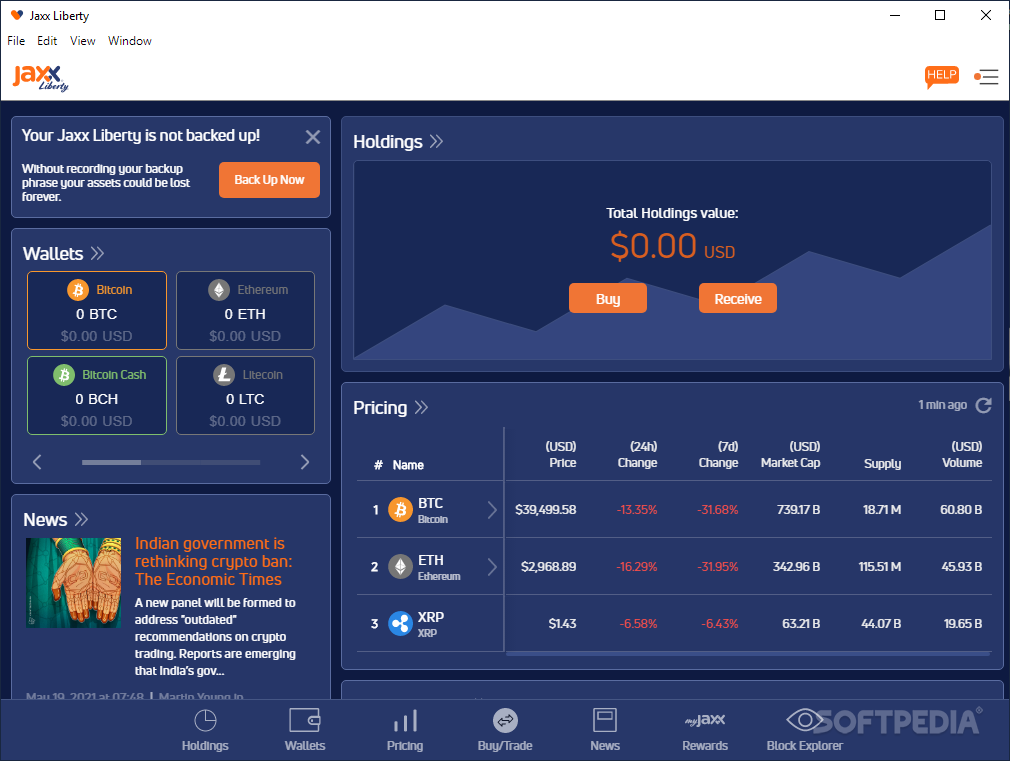 You can also opt for partner integrations to purchase and exchange your already held crypto in your wallet with Dogecoin easily and anytime your want.
Like other decentralized and non-custodial wallets, it doesn't store your personal information, nor do the developers have access to your wallet and balance.
The wallet is secured by a 12-word secret phrase. Once the wallet is set up, the only way to bring it over to another device is by using the secret phrase or QR code. Giving users complete control over their wallet and the assets in it and being anonymous.
The wallet doesn't require KYC as well, so privacy and anonymity are the top priority of the Jaxx wallet.
The desktop app is available for Windows computers running Windows 8 or later, Apple Mac OS computers running OS 10.9 or later, and Linux computers running Ubuntu 12.04, Fedora 21, or Debian 8 or later.
Its mobile application is available for both Apple and Android-based phones. In the Apple App Store, the app has a 46.1MB app size and a rating of 4.5 out of 5 stars, based on over 1,500 ratings. On the other hand, on the Google Play store, the app has an average rating of 3.6 out of 5 stars with a 20MB of storage requirement.
Conclusion: Which Is The Best Dogecoin Wallet Online?
This is easy.
We only believe that wallets, which are accessible, non-custodial, and have active community users, are the best crypto wallets. Accordingly, only Ledger Nano X and Coinomi qualify those standards.
Lastly, suppose you have a significant amount of Doge stored on software or web wallets. In that case, I suggest you reconsider your strategy of storing them and move to a safer option of hardware or desktop wallets, as all the enlisted cryptocurrency wallets support Dogecoin seamlessly.
Adios !!
Latest posts by Sudhir Khatwani
(see all)