Do you lie awake at night hoping to passively mirror the trades of your favourite Twitter crypto trader? Well, this article has somewhat of a solution for you. You just have to convince that person to join one of the platforms listed below.
Copy trading is a feature being explored by a lot of crypto platforms. Due to the sheer width and depth of the space, it is no less than a full-time job to keep an eye on the supremely volatile market. Sometimes it's just better to leave it to the experts.
This is where copy trading comes in, and as self-explanatory as it seems, you still need to do your research on the best platform and trader that work for you.
Best Crypto Copy Trading Platform 2022
#1. ByBit- Crypto Copy Trading
ByBit has already earned a lot of goodwill from traders in the past for being efficient and working as and when required which is more than you can say for the majority of exchanges out there. With their copy trading initiative started in 2022, the exchange has made it easier for new investors to dip their feet in the speculative market of trading.
Research now shifts from choosing and timing your entry and exit into a coin to choosing the trader that matches your investment style before beginning crypto copy trading. Bybit allows you to sort and filter by Ranking, 7-Day win rate (%), 3-Week win rate (%), 7 Day profit, and 7-day follower profit.
If you have a particular person in mind, just use the search box and pray that their follower slots are not full.
As a thank-you to the trader for making you a profit, the crypto contract trading platform automatically deducts 10% of the profit and credits it to the principal trader's account. Sadly, and what is painfully obvious is that if your trader of choice makes losses on their account, the same is reflected in your account as well. Such is the way of crypto copy trading.
Currently, the system only allows you to pick one trader to copy which might be a problem for most as it does not allow you to diversify your portfolio. There are currently 155 thousand people who have successfully joined their favourite traders, and there are close to 800 principal traders trying to make money for their followers.
It's unfortunate but if you are a crypto copy trading enthusiast in the US, the exchange is not available in the country so the copy trading platform isn't.
To know more about it, have a look at this Bybit review.
#2. PrimeXBT- Crypto Copy Trading
As one of the more trusted exchanges, PrimeXBT has been a large player in the crypto field. They have diversified their product in 2017 by offering a crypto copy trading feature. Their product is named Covesting and includes stocks, FX, commodities, and crypto.
Just like other exchanges, copy traders can diversify their capital between multiple traders in essence following strategies according to their risk appetite. Trading strategies are mentioned and should be taken into account when looking for successful traders.
For the mildly experienced traders or the risk-averse ones, the platform provides the ability to manually close trades as and when required. Also, there is an option to limit your risk by assets.
In case your selected trader allocates 5% of their portfolio to a gold commodity trade, and your risk appetite is only 3%, the system allocates your capital accordingly.
When choosing your trading strategies, you have the option to sort and filter by total profit, the total AUM (Assets Under Management), and the number of followers, all of which may aid the final decision.
Other than the fees deducted for opening and closing trades, the professional traders take 20% of the profits, 10% goes to the platform, and the rest of it, 70% is retained by the beginner traders willing to risk their capital.
As with a lot of exchanges, PrimeXBT is restricted in the USA due to not having the necessary regulatory approvals. So if you are looking for passive income in the USA, you might want to read on to the next part.
To find out more, check this detailed PrimeXBT review.
#3. eToro- Crypto Copy Trading
If you don't want to pay any extra management or hidden fees to start copy trading, eToro's CopyTrader, started in 2010, might be your platform of choice. You are only charged the trading fees for opening and closing trades which you would have even without the copy trading feature.
Popular Investors can be ranked in terms of their profit gains over the last 12 months and average risk score, both of which you can use to devise your copy trading strategies. The platform has a minimum deposit of $200 and a minimum trade value of $1.
Internationally regulated by FCA, CySEC and ASIC, crypto traders can sleep peacefully knowing that the exchange is not going anywhere, anytime soon. If you are an investor in the USA, please continue to read on as CopyTrader is available and perfectly legal in the country.
If you need further convincing about how profitable copy trading can be for crypto traders, the average ROIs were 30.4% in 2021, and 83.7% in 2020. It does not mean that the next year will yield higher profitability but it is a good gauge for traders on the fence.
Instead of having your money idling in a bank's savings account, earning you a measly sum of money, or having to put in the hours for market research after your day job, any extra money that you have can be put into your CopyTrader trading account to learn the tricks of the trade while hopefully making some money.
The ROIs from previous years are leagues better than any crypto-staking platforms out there.
As promised at the beginning, the CFD broker does not take any of your profits to pay the Popular Investors aka the professional trader but uses their in-house Popular Investor Program to compensate them in a tiered manner.
On the off chance you were not convinced by the glowing review above, CopyTrader offers a $100,000 virtual portfolio along with a trading terminal that one can use to take the platform for a test drive.
#4. Gate.io- Crypto Copy Trading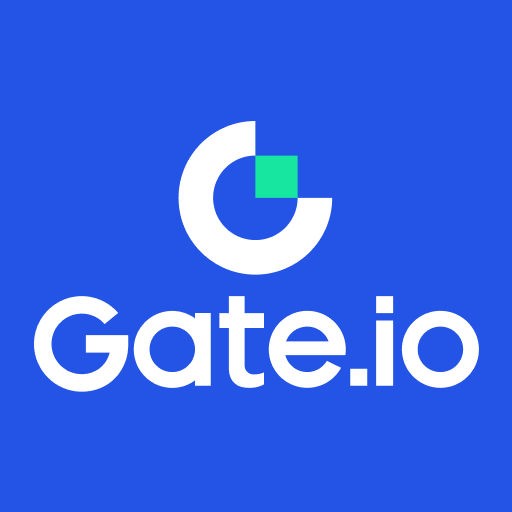 Since being launched in 2020, Gate.io's crypto copy trading feature has become one of its more popular features in addition to being a high leverage crypto exchange for cryptocurrency trading. At the time of writing, 255 traders are registered on the crypto copy trading platform with various trading strategies, and it is up to the new traders to find what works best for them, or what strategies they want to experiment with.
There is a way to sort all these 255 to find the copy trader for you by Total Return, Rate of Return, AUM, and Current copiers to give new traders a better idea of what they are getting into.
There is also the option to "Hide The Occupied" where a copy trader that doesn't have any more slots for new trading accounts will not be shown. Tick this button if you don't want a wave of FOMO washing over you and not being able to do anything about it
Customers in the USA do not need to fret. The people at gate.io have you covered with gate.us which is perfectly legal to use as a copy trading software in the country. The necessary regulatory approvals are being worked on and should be up sometime soon.
Unlike Bybit and very much like eToro, Gate allows you to copy trades from multiple traders so you can learn to diversify your portfolio and hopefully end up in the green. When choosing what trader to copy, the user can input the dollar amount they want to invest with that trader.
If copy trading is not for you and you want to follow someone's trading strategies, then Gate.io has you covered on that front too. So instead of buying and selling when the trader is, your buy and sell orders are placed algorithmically with the help of sophisticated crypto trading strategies. For example, a buy order is triggered when RSI goes below 30, and a sell order when it touches 70.
So just like copy trading is hands-off barring the initial research, you can do the same with crypto trading strategies as well. This page gives you the option to sort by "Top Gainers", "Most Copied", "Ranking top 10", "Profitable Strategies Top 10", and Trending Strategies Top 10".
All Gate.io asks of you is a measly 5% profit share which it essentially passes on to the person who is making the trades or the creator of the trading strategy.
#5. 3Commas- Crypto Copy Trading
Although copy trading sounds like a great idea, like copying from the studious kid in an exam you haven't studied for, what if I told you there is a way to take the human element out of the equation altogether? These are crypto trading bots and they are here to help you, not take over the world.
All a trading bot is is a bunch of predefined rules that trigger buy and sell orders and you come back once a week to say "Good crypto trading bot!" and see the money it has made you. With 18+ exchanges supported, there is a negligible chance that your favourite crypto trading platform is not on it.
As beginner traders are surprised to find out, and the crypto people already know, this market never stops chugging and there is a good chance you might miss a big move because regular humans need at least 8 hours of shut-eye every night. You might not have the spare time to make trading decisions on your own.
When it comes to security, 3Commas uses secure cold wallets for storing customer funds and only interacts with exchanges using API keys. This should help you complete those 8 hours of sleep peacefully. Your funds are secure because they do not have your credentials and cannot initiate withdrawals.
So create your copy trading strategies or find your favourite Twitter traders on the app and just follow them to recreate their successful strategies in your portfolio.
Please bear in mind, that this is unlike copy trading where every trade is copied into your portfolio. You are just copying the chosen strategy and relying on past performance which can be applied to any cryptocurrency.
If you are not an experienced trader and want to experiment before putting down any real money just to make sure other traders are not bluffing, 3Commas provides a paper trading dashboard for just this reason with complete integration with everybody's favourite charting software, TradingView.
Just take a gander through the subscription plans, take the 3-day full trial, and talk to some other traders who use it before making a decision. To learn more about it, check this review of 3Commas.
#6. CryptoHopper-Crypto Copy Trading

Started by two brothers: Ruud & Pim Feltkamp one a soap opera actor turned successful day trader, and the other, a brilliant web developer, CryptoHopper is a marketplace for crypto trading strategies.
With a bot backtesting tool, configurable and saveable templates, trailing stops, and customisable technical indicators, this crypto copy trading platform can help a new user go through the difference between free and paid trading strategies. Along with the built-in trading bots, users can also rely on indicators such as Stoch, RSI, Bollinger Bands and MACD.
The indicators and their particulars are added to the trading bots and this helps the inquisitive do a deep dive and try to understand the rationale behind why the trading strategies are created the way they are.
After registering the domain in 2017 out of Amsterdam, Netherlands the crypto copy trading platform has amassed over 75000 users. This has helped the traders network with each other and swap trading strategies.
The CryptoHopper team have been very involved in helping to build the community by making tutorial videos that help users navigate the platform, and moderating the multi-lingual message boards.
Experienced traders can try creating their trading bots as a source of income by selling their templates on the marketplace. They have a long list of 75 crypto assets to choose from.
As a security measure, it is best to set up 2FA (Two-factor authentication) for your account so that you don't lose your assets because of faulty API coding at the crypto exchanges' end.
#7. ZuluTrade- Crypto Copy Trading

Founded in 2007, and headquartered in Athens, Greece, ZuluTrade is majorly a copy trading platform that in addition to cryptocurrencies, has stocks, indices, commodities, and forex. Speaking about crypto copy trading, ZuluTrade has a rather thin list of 6 trading pairs including Bitcoin, Ethereum, Litecoin, Bitcoin Cash, EOS, and Stellar ($XLM)
Users can start their copy trading journey with a $100 minimum deposit with the platform being licensed and regulated in Japan, the EU, and the USA. As per the website's numbers, the last 12 months have had 38% losing trades while copy trading, and 52% losing trades while manual trading.
This does not necessarily mean that copy trading is better than manual trading as percentages can often be misleading. What the numbers do tell you is that first-time crypto traders will have a better chance at copying other traders rather than trying to learn and most probably make multiple losing copy trades.
The website in itself is not the most impressive looking and the user interface contains multiple steps for actions that should be completed in a single click. For example, sorting of traders can only be done by creating a new view, and the only default sorts are winnings today, last week, last month, and last year.
What is interesting in the UI is the ability to search traders by country, which is not something a copy trader software does not have front and centre.
ZuluTrade does introduce the concept of combo portfolios which creates mutual funds type offerings by combining their traders in dynamic combinations. These combos are managed by the platform's certified management portfolio team and try to cover all trading profiles so that no trader is left behind.
It aims to diversify your cryptocurrency trading journey so that losses can be mitigated.
The traders are picked as part of a combo if they have a win rate of more than 30%, a long-term positive ROI, have executed more than 100 trades, and have stable trading activity over the last 15 weeks in the crypto markets.
The quickest way to follow a traders' combos is to select the amount of money you want to invest, your risk appetite, and then follow the traders' combos you prefer (one or more)
#8. Shrimpy – Crypto copy trading

Since 2018, Shrimpy has been trying to make a central dashboard for crypto trading and portfolio tracking for the crypto markets. Its biggest export is its portfolio rebalancing tool, which can automatically rebalance your portfolio by gradually buying and selling crypto assets according to your risk/asset allocation level.
The starter plan at $19/month paid monthly or $15/month paid yearly gives most individuals all the tools they require for crypto copy trading. The copy trading bots and other tools are free to use with this plan.
For people who wish to systematically manage their portfolio, Shrimpy also provides the opportunity to create a custom index and allocate capital to it every time an investment is made. For example, if you wish to invest equally in all of the top 10 cryptocurrencies by market cap every month. This would exclude any fiat tethered stablecoins.
A problematic con that was not mentioned with the others because it is a given these days, is the lack of a mobile app and a desktop trading terminal, both of which water down the experience and make it almost impossible to check up on your money when out and about.
There is also no way to write a script for copy trading bots and the strategy is mostly spot trading, rebalancing according to your understanding, or following a trader you trust to lead you towards profitability.
What is great also needs to be discussed. Shrimpy's backtesting tool, although a touch slow, gives you the chance to see how much better your new strategy is compared to the previous one. It can also link to close to 30 exchange accounts and wallets which makes it one of the better crypto copy trading softwares.
The list of cryptocurrency pairs is also a lengthy one which is always good to see. It's a pain when you find a gem after hours of research and it is not available on your copy trading of choice.
Shrimpy calls its experienced traders Social leaders, who if they play their cards right can earn close to $45,000 per month according to the platform's website.
When you click the profile of a trader you want to follow, a prompt (shown below) asks you to input a dollar amount which if reached, would trigger unfollowing of the trader and convert the rest of the portfolio to USDT/USDC/DAI/BTC/NUSD/TUSD/PAX. This is accompanied by a sign-off on understanding that any changes to the social leader's portfolio will reflect in the user's portfolio as well.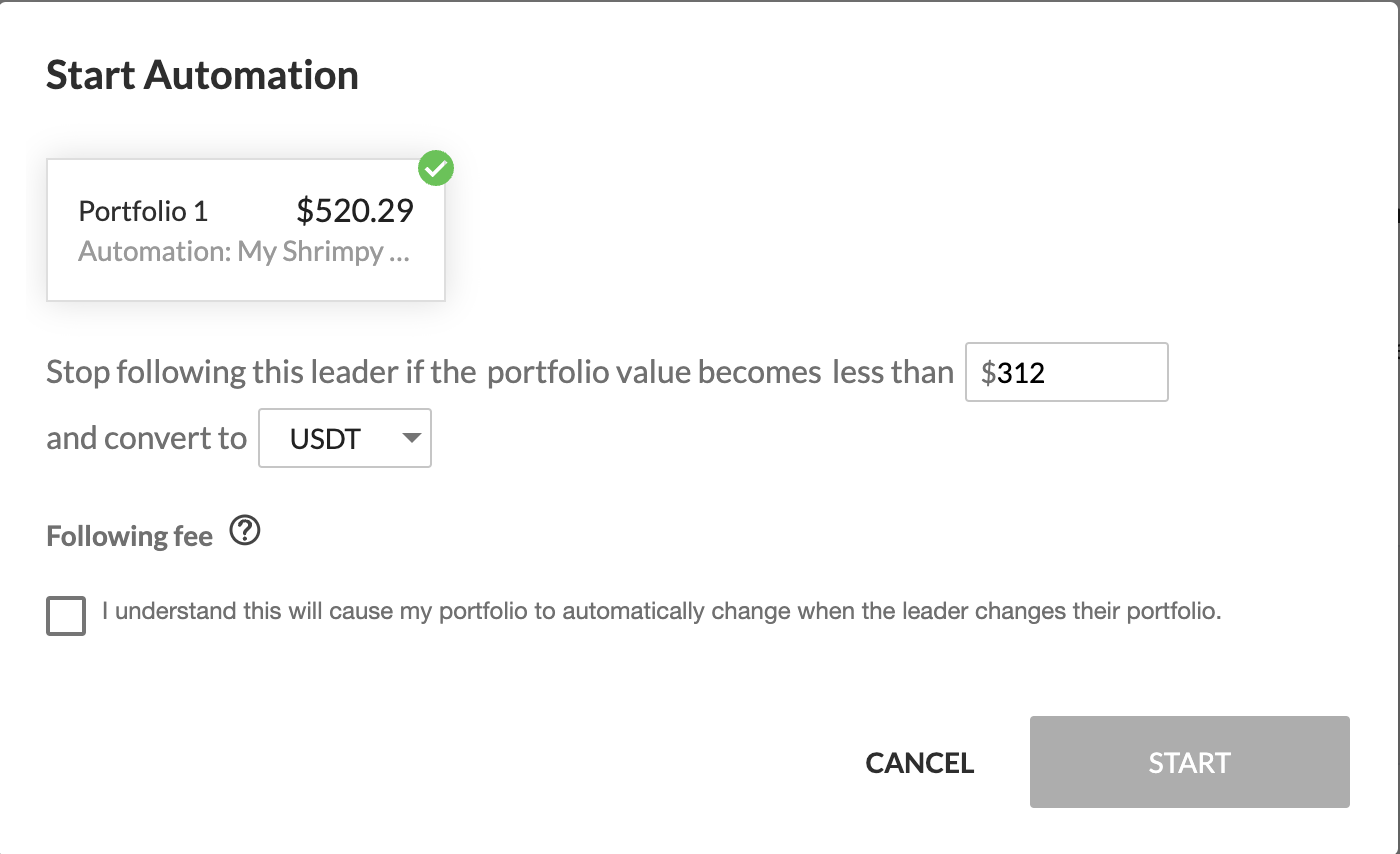 The filters are for crypto exchanges and whether you would like to see traders with no joining fee or premium ones. Overall the dashboard looks great and is useful and intuitive. It is essentially a headquarters for all your portfolio most of which can be connected here.
Pros & Cons of using Copy Trading in Crypto
Pros
Brilliant for beginners willing to either learn or experiment. Allows you to sit back and watch how professional traders or at least more experienced traders make money for themselves, and hence for you.
Allows you to cut your losses whenever you feel like it. This is partly owing to the intuitive UX and the platforms willing to give their customers freedom.
Better than idling extra money in a savings account where it would earn a measly amount of interest. The money is better in a place where it is working hard and not relaxing and waiting to be spent.
Saves time for a part-time investor by outsourcing the decision of coins to invest in and trade entries and exits. Retail investor accounts like us don't know about the ins and outs of the crypto domain as we don't devote all our time to it. Best to leave some things to the experts.
Risk management takes place at the copy traders' end when they choose the trader to follow by strategies and risk appetite they approve of
Cons
It is always nerve-wracking when your money is dependent on someone else. Multiple losing trades can easily send you into a panic about your entire corpus.
Fees need to be paid according to the platform used and the trader selected. This eats into your profits but most platforms have this capped at 10%-15% if it's not a subscription-based service
What should be the criteria to choose the best Crypto Copy trading platform?
First and foremost, you need to be aware of what you are going to pay for the privilege of crypto copy trading with a platform. Most platforms I have looked into have a transparent fee structure but no one mentions any hidden costs/fees upfront. Just be a little cautious and make decisions accordingly
Breadth and depth of information about traders
It's always helpful to have more rather than less information about traders you are about to follow and entrust your money to. Hence you need to choose the platform that gives you more information and lets you choose what parts are more important rather than having less information and not knowing what else might have been helpful.
Brakes/handbrakes in cars and eject levers in fighter jets serve a similar purpose. They save you when you know a situation is deteriorating and you want to cut your losses. Now in the context of copy trading, it is needed both at the individual trade level and the trader level.
You might not love every trade your trader-of-choice takes and should be able to cut when you like. Also if you change your mind about following a trader, unfollowing them should be as easy as clicking a button. Just make sure to check all the positions opened by the new ex-trader have been closed.
Try not to work with a platform that only allows you to copy one trader. Or at least don't invest all your money there. It can quickly become like putting all your eggs in one basket. Diversification is a cornerstone of investment.
You can increase the percentage allocation to a successful trader next time you invest but do not let it be your only investment.
If a platform is taking efforts to protect its customers' funds, it will put it front and centre on its webpage. Mostly you will not have to dive deep into the documentation to find that they use cold wallets or have enabled 2FA for their accounts.
But it is necessary to be vigilant at your end about something that looks fishy. Better to be safe than sorry when money is concerned.
FAQs
– What is Crypto Social Trading?
With copy trading, you are hands-off in terms of deciding the coin, entries, exits, stop losses and the strategy used for the trading process. You outsource this job to other traders you trust. With a social trading platform, you discuss the coin, entries, exits, stop losses and the strategy used with other traders and take your own decisions.
People choose to share their profitable trades and losses on these platforms so that they can be critiqued or lauded for their work, and hopefully learn from it.
Some traders have their subreddits or telegram channels for this same purpose and masquerade as signal providers. Some genuinely want to help and others want to build an internet brand and be able to say that I have 2000 people in my trading group.
Members need to take their trades with the help of social trading tools like Take-Profit and Stoploss levels. This becomes a tedious task as it is not possible to take the trade at the same time as the other person. This leads to FOMO and hence losses.
Such social trading platforms are useful when it is educational and not necessarily for trading signals. Hence it should be seen as that. You also need to keep in mind that the creator of the trading group uses these results as a marketing ploy for future entrants.
– Where can I copy trade Crypto?
An eToro account should be your starting point for crypto copy trading. It is regularly used by 25 million people and is trusted by the community. If trading bots are more your style, CryptoHopper might be the way to go where you can connect other trading accounts of your favourite exchange.
Just remember to take it slow and not dive in head first. Experiment with copy trading crypto and build up gradually.
– Does Binance allow copy trading?
Binance does not have a copy trading platform and I see no media reporting that one might be in the works. Not to fret, other platforms, like the ones mentioned above can come to your aid.
Binance being the size it is lends itself to third-party services building products that connect with its platform.
Once connected, these services can place buy and sell orders along with take-profit targets and stop losses where applicable. These connections tend to mostly be through APIs so the crypto copy trading platforms do not have access to your actual coins, and can only place orders for you.
I know what you are thinking; What if the copy trading software gets hacked and the malicious actor places sell orders for all your coins?
Sadly I don't have a way to comfort you that this will never happen. There is always a chance but copy trading platforms make their best efforts to secure their servers and also educate their customers about the best security practices.
– Is Crypto Copy Trading profitable, legal, & safe?
These are three separate questions and will need to be answered as such.
For profitability, there are no guarantees that any market participant can give you. And you need to steer clear of the ones that do. This is a game of managing your losses and knowing when to take your wins. Past performance is not a sure shot for future gains.
For legality, you need to look at where you live. A lot of countries are trying to figure out crypto itself and regulation is not on their radar currently. Other countries like the EU, India and the USA have strict regulations and tax regimes in place.
For safety, there are 3 points of potential failure, yourself, your exchange, and the trader you are following. Exchanges tend to be on top of the latest security measures as a lot of their reputation depends on it. The same goes for the trader to whom you entrust your money. If the trader is using misconfigured or infected devices, malicious actors may be able to get access to your funds. The last one is yourself, and you can be safe by being overly cautious and double-checking your actions.
If you are not convinced, you might want to start with some social trading tools like Take-Profit and Stoploss levels.
Conclusion
The space is very new. There is a lot left to be discovered in cryptocurrency trading and cryptocurrency trading bots are an advanced topic, and you are not the only one learning about it. Give yourself the benefit of doubt and sit back to try and learn from people who have been doing it for longer.
They don't necessarily have to be right but try to understand the reason underpinning their actions. This will help you make your thought process and approach to the market and copy trading crypto.
You might start as a risky investor, but with time, and a few successful trades learn that being conservative helps in certain situations. In the end, it is up to your preferred trading strategy and research to make crypto copy trading profitable.
If you are convinced to start crypto copy trading, then an eToro account might be your best bet especially if you reside in the USA. Otherwise, you can use the Bybit exchange account as it has a reputation as one of the best crypto copy trading websites.
Latest posts by Sudhir Khatwani
(see all)