Deribit boasts of a super-fast trading matching engine with a latency of under 1 millisecond. This and the fact that it has a potent trading platform thanks to the TradingView charting system make it highly popular for trading crypto derivatives.
Despite being a reliable and competent platform, Deribit is still not for everyone. Some traders might have issues with contract variety and other usability things or even restrictions on its use in the USA.
That said, there are many good alternatives out there. They address the shortcomings of Deribit, and some offer a little more than what you get from the popular platform. For those on the lookout for a reliable Deribit alternative for crypto derivatives trading, here are 9 great options.
Best Deribit Alternatives
Bybit
PrimeXBT
Phemex
KuCoin
OKX
Binance
StromGain
BitMEX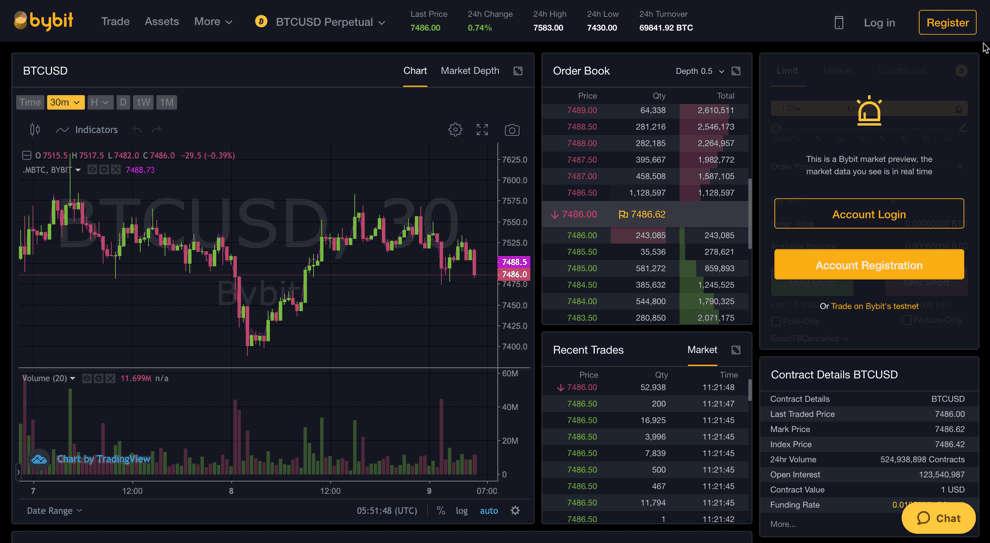 Bybit is a reasonably new entrant into the market, given it was established in 2018. However, despite being a new player, the company is among the top 5 most popular crypto derivative trading platforms, with a 24-hour trading volume of over $10.5 million.
Bybit offers up to a $90 bonus when you join the platform. Once you join, you can trade using linear perpetual contracts, inverse perpetual contracts, and futures contracts with up to 100x maximum leverage.
Pricing is always highly reliable when using Bybit as the platform uses a highly advanced pricing system. What's more, an advanced order system allows traders to stop the loss entry orders and take profits.
Since Bybit supports 100% anonymous trading, there is no identity verification or KYC required when joining. Trading fees are also quite attractive as Bybit charges market makers just 0.075% and offers a 0.025% rebate rate. You can also use ByBit for copy trading.
What Makes Bybit a Good Alternative?
No identity verification is required.
It offers a decent $90 sign-up bonus
Excellent market depth and liquidity
Works great well for beginners
2. StormGain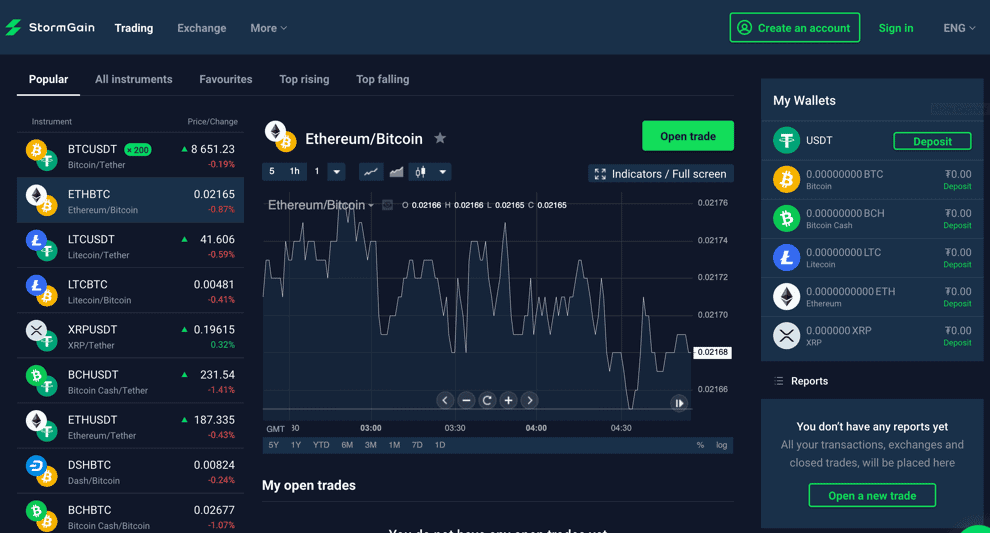 If you are a serious crypto derivative trader looking for an exchange that will give you greater capabilities, StormGain is a fantastic option. Its capabilities include high leverage on all contracts, low trading fees, and a solid trading platform.
You can trade 6 different cryptocurrencies on the platform: BTC, ETH, XRP, LTC, BCH, and USDT with a leverage rate of up to 200x. Users also have more control over their trading as they can use advanced order types like AI-generated signals to maximize profit.
StormGain is available in over 100 countries and has at least 120,000 clients. Trading commissions are between 0.06% and 1% for every trade, and there is also a 0.40% overnight financing rate. Also, it is possible to trade anonymously since no identity verification is required when signing up.
What Makes StormGain a Good Alternative?
Up to 200x leverage
Allows for fiat deposits
15% bonus for all deposits
Identity verification or KYC is not required
3. PrimeXBT 
PrimeXBT is a Seychelles-based company that has been in business since 2017. This premier platform is prevalent among more experienced crypto traders.
Most love it for its mighty trading engine. Also, traders can trade more than 30 assets ranging from crypto to stock indices and forex.
There are 9 crypto-crypto and crypto-fiat asset trading pairs on the PrimeXBT platform with upto 100x maximum leverage. Daily trading volumes on the exchange exceed $544, and a dozen liquidity providers pool to ensure a smooth trading experience.
The advanced trading platform used by the exchange makes it suitable for both professional and beginner traders. This system allows for the execution of up to 12,000 orders every minute, with the average execution speed per order being around 7.12 milliseconds.
PrimeXBT uses a flat fee fixed at 0.05% for any crypto futures contract and a 0.083% overnight financing rate for long/short positions for the trading fees. The withdrawal fee on the platform is 0.0005 BTC.
What Makes PrimeXBT a Good Alternative?
Highly advanced crypto trading platform
Relatively low trading fees
High leverage rates
Lots of trading assets
4. Phemex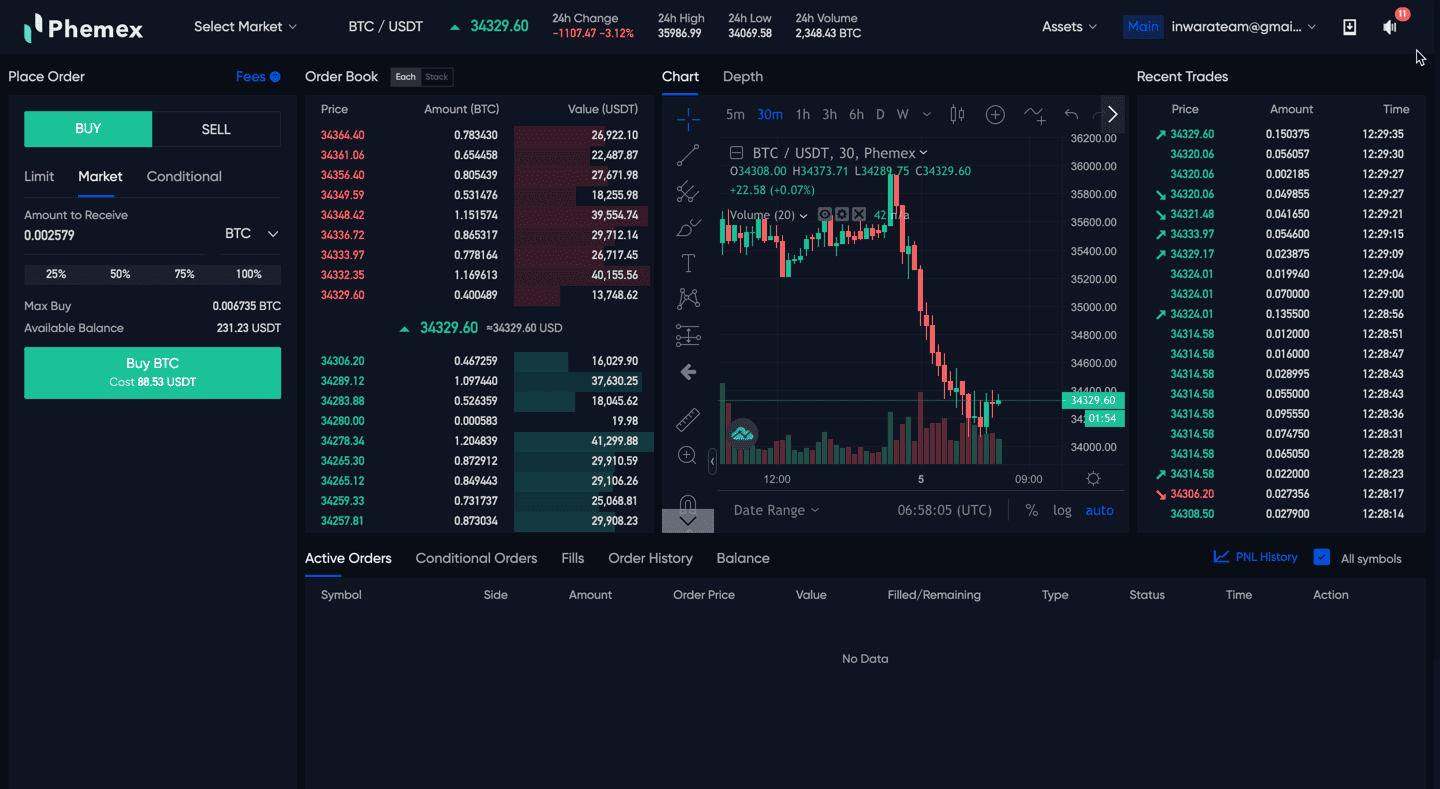 There are always new crypto derivatives exchanges coming up now and then, and Phemex is one of the latest entrants. The exchange was established in 2019 by some highly experienced ex-Morgan Stanley executives.
One of its primary selling points is speed, as Phemex boasts of making up to an impressive 300,000 transactions per second with a latency of just 1 millisecond. Also, the platform supports 6 leading cryptocurrencies: BTC, ETH, XTZ, LTC, XRP, and LINK. All of which are traded against the USD.
Phemex offers traders leverage of up to 100x for the bitcoin/USD pair and 20x for all the other pairs. When it comes to the trading fees, the maker rebate is 0.025%, while the taker fee is 0.075%. Also, the platform charges a withdrawal fee of 0.0005 BTC.
Traders will be happy to know that Phemex does not require KYC and identity verification when signing up, meaning that 100% anonymous trading is possible.
What Makes Phemex a Good Alternative?
Super-fast trading platform
Supports multiple cryptocurrencies
Up to 100x leverage
No KYC/verification of identity required
5. KuCoin 
KuCoin launched in 2017 and trades in more than 400 markets while supporting over 200 different cryptocurrencies. What's more, the 24-hour trading volumes for crypto derivatives are over $1.06 billion. Hence, liquidity will never be an issue when trading on this platform.
Convenience is also at the heart of the system as the traders can make deposits using both credit and debit cards or through the instant exchange service. The ability to buy cryptocurrencies using fiat currency is an excellent feature on the KuCoin platform that traders love.
Security is well taken care of on the platform as it uses advanced bank-level security features like IP safe listing and complex encryption. You can also take the security a notch higher with non-custodial trading.
Other things that make KuCoin a good platform for your derivatives trading include the up to 100x leverage for all cryptos, user-friendly interface, and excellent customer service.
What Makes KuCoin a Good Alternative?
Highly secure trading system
More than 200 cryptocurrency options
Accommodates fiat currency
Great customer support
6. OKEx 
OKEx has been around longer than most other crypto exchanges. The company started operation in January 2014, and it is now one of the largest exchanges with a 24-hour trade volume of around $14.5 billion.
The exchange offers greater flexibility when trading as it is available as both an in-browser and downloadable software.
Hence, traders get to choose their most preferred method of trading. Additionally, the platform offers advanced charting packages that are great for seasoned traders.
When using the OKEx platform, you can trade BTC, ETH, and EOS futures contracts with weekly, bi-weekly, or monthly expiry.
Trading fees depend on the trading volumes, with the low-volume accounts attracting a 0.15% marker fee and a 0.2% taker fee. The marker fee goes down to 0.02% for high-volume traders, while the taker fee is 0.05%.
What Makes OKEx a Good Alternative?
Supports the conversion of fiat to cryptocurrency
Fairly low trading fees
Very ideal for professional traders
Flexible exchange platform
7. Binance 
With over $60 billion in daily trading volumes, Binance is among the largest crypto derivatives exchanges in the world.
The company started operation in July 2017 as a spot exchange, but it has ventured into offering other services such as cryptocurrency futures and margin trading over the years.
Binance offers 24 perpetual swaps and has some of the highest leverages out there. The leverage is up to 125x for BTC and 75x for ETH and other cryptos.
Speed is also guaranteed when using the platform, given that the trade engines can handle up to 100,000 transactions per second with under 5 milliseconds latency.
When it comes to the fees, Binance offers a tiered structure with 10 levels from VIP-0 to VIP-9 based on the trade volumes for the last 30-day period.
For the lowest level (VIP-0), the market and taker fees are 0.020% and 0.040%, respectively. The market and taker fees reduce to 0.00% and 0.020% for VIP-9.
However, it is vital to note that when using Binance, it is mandatory to fulfill KYC verification before you can trade. But, there is an advanced risk management system that ensures greater protection for traders.
What Makes Binance a Good Alternative?
Super high liquidity
More competitive trading fees
Variety of crypto future contracts
Robust risk management system
9. BitMEX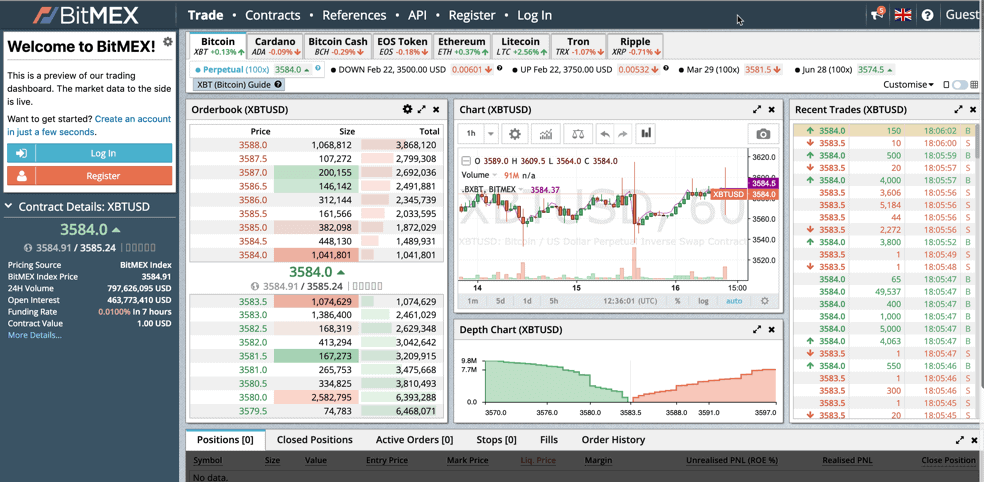 BitMEX has been in business since April 2014, which makes it one of the oldest crypto exchanges. It works as a P2P trading platform and has decent liquidity given its $1.9 billion 24-hour trading volumes. Also, the platform accommodates both perpetual and traditional futures.
For the perpetual futures, the exchange allows traders to trade BTC, ETH, and XRP, while the traditional futures contracts include these three and others like BCH, LTC, TRX, EOS, and ADA. BTC contracts have up to 100x leverage, and the others have between 25x and 50x.
User identity verification is mandatory before you can start trading on the platform. Additionally, you also need to fulfill the KYC requirements when signing up. As for the fees, the maker rebate is 0.025%, and the taker fee is 0.075%.
What Makes BitMEX a Good Alternative?
Offers multiple trade options
Highly secure exchange platform
Industry-standard fees
Supports narrow spreads
Conclusion
There is no doubt that Deribit is among the best crypto derivatives exchanges out there. However, it has its fair share of shortcomings, such as the need for KYC that makes anonymous trading difficult and that it only offers BTC and ETH contracts.
The good news is that there are more than enough alternatives out there that address these shortcomings, and the 9 above are some of the best ones.
But, before settling on one of them, you need to weigh between its merits and demerits and only choose what works for your specific needs. Watching out for liquidity, platform security, number of assets, and fees should help you decide on the best alternative for you.