For the more experienced crypto traders that prefer a premium exchange platform that offers a powerful and advanced trading tool, PrimeXBT is perfect.
The Seychelles-based exchange has provided a platform for traders since 2017 and has more than 30 assets for trade.
PrimeXBT also offers decent daily trading volumes that exceed the $500 million mark, meaning it has good enough liquidity. Also, its 0.05% fixed flat fee is quite fair for most traders, and the withdrawal fee is the industry standard 0.0005 BTC.
If with all these merits and the many others we have not listed, PrimeXBT still does not work for you; there are still many other good alternatives. Here are a few PrimeXBT substitutes worth taking a look at.
Top 9 Alternatives to PrimeXBT
Bybit–

[up to 30,000$ Bonus & 100x Leverage Crypto Exchange]

StromGain– [25$ Bonus & 500x Leverage]
Phemex– [Upto 2200$ Bonus]
1. Bybit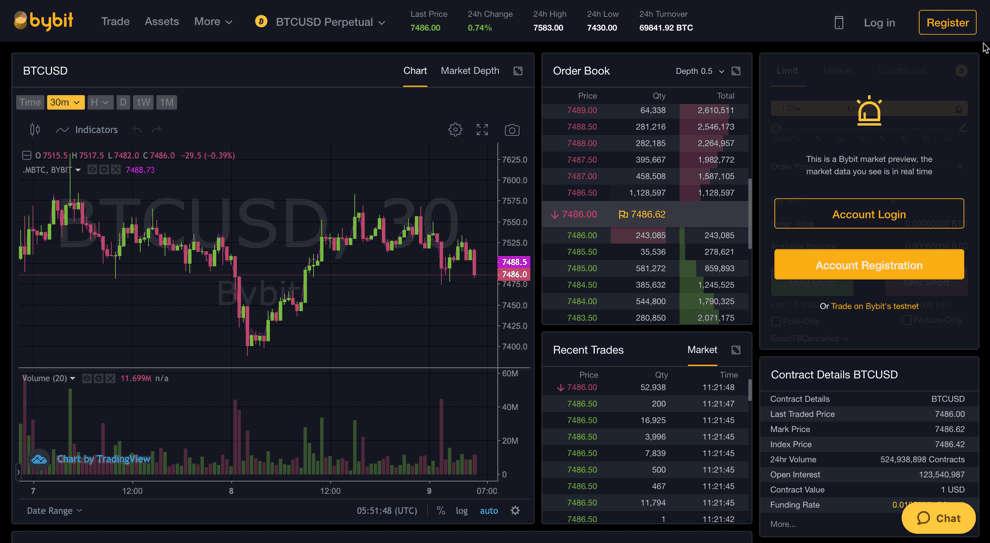 Bybit boasts of being one of the fastest-growing crypto derivatives exchanges, and it is also one of the most popular among beginner and experienced traders. One of its key highlights and the highly advanced trading platform seems to give it an edge over the many other PrimeXBT alternatives.
The exchange allows for linear perpetual contracts, inverse perpetual contracts, and inverse futures contracts with a 100x maximum leverage. Also, an advanced pricing system prevents unfair liquidation and some powerful APIs for high-volume trading.
There is a $90 bonus when you join the exchange, which is quite good compared to others.
Also, identity verification is not required when signing up on Bybit. When it comes to the trading rates, the platform has a 0.025% rebate while the taker fee is 0.075%.
Why Go for Bybit?
More technologically advanced trading platform
New users get a $90 bonus
Advanced trading
Identity verification is not required
2. StormGain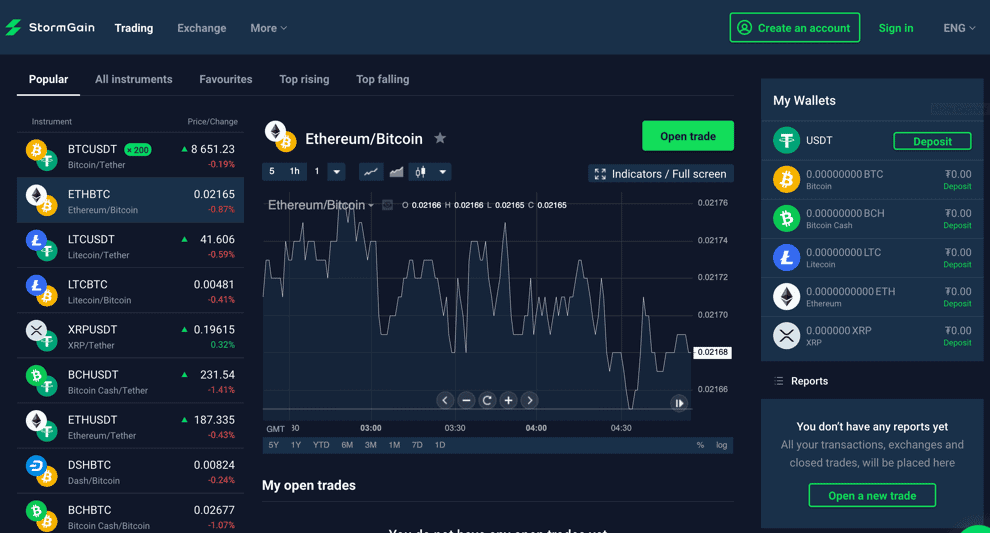 For anyone looking for a serious platform that offers everything a seasoned trader wants for their exchange, StormGain is perfect.
The platform is ideal for experienced traders as it provides trading capabilities that many others will not offer. They include pretty higher leverage on the futures contracts and lower trading fees.
Overall, StormGain is quite a solid trading platform that you can be sure will never disappoint you regardless of what crypto you are trading.
Also, it accommodates 6 different cryptocurrencies, including BTC, ETH, LTC, XRP, BCH, and USDT, and offers maximum leverage of 200x.
Some advanced order types on the platform include market order, limit order, stop-loss, and profit, making it possible for traders to use different strategies for maximum profits.
StormGain is  a no kyc exchange so you do not require to verify their identity before trading. Also, it is available in over 100 countries. When it comes to the charges, the platform has a 0.006% to 1% per trade. Also, StormGain is among the few exchanges that allow fiat deposits.
Why Go for StormGain?
Up to 200x leverage
KYC or identity verification is not required
Supports fiat deposits
15% deposit bonus
3. Phemex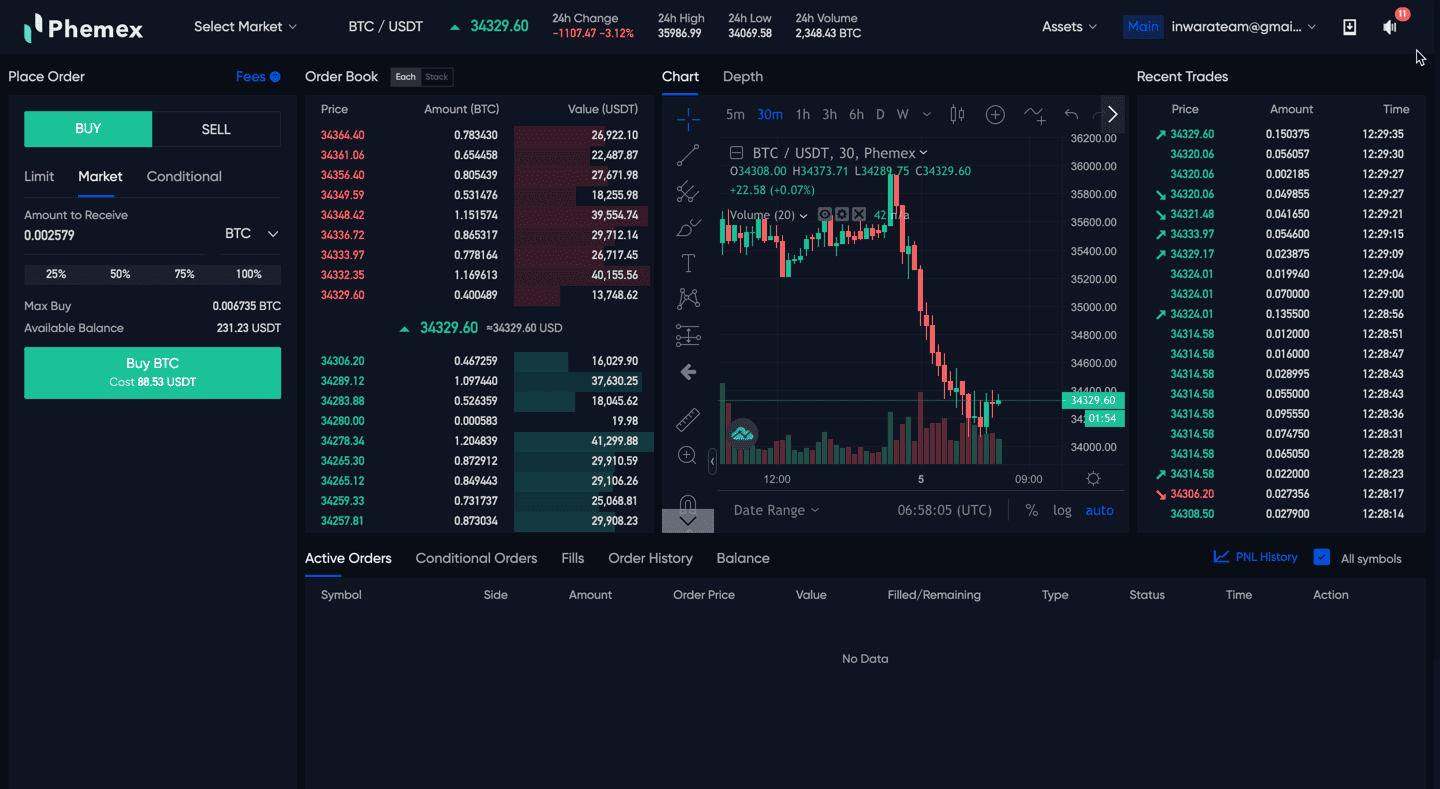 Phemex is one of the more recent entrants into the crypto exchange market. However, the team behind it has vast experience, given they are former Morgan Stanley executives.
Therefore, you can be confident it has all it takes, which should explain why it is drawing thousands of seasoned traders from across the globe.
The founders of the exchange claim it is the fastest when it comes to crypto derivatives exchange. It supports up to 300,000 transactions per second with a latency of under 1 millisecond. Both are pretty impressive even when compared to the older platforms.
Among its unique features is that Phemex gives traders both USD and BTC contract settlements, which is highly convenient.
Also, the platform accommodates 6 top cryptocurrencies; BTC, ETH, LTC, XRP, LINK, and XTZ. Additionally, traders can also exchange gold with crypto on the platform.
When using Phemex, you get maximum leverage of 100x for BTC and up to 20x for the other cryptocurrencies. The fees are also standard with the 0.075% taker and 0.025% maker rebate fees.
Why Go for Phemex?
Offers USD and BTC contract settlements
Beginner-friendly trading platform
Standard trading fees
Fast and accommodates high trade volumes
4. Deribit
Deribit is a Dutch exchange platform but with a global presence. The exchange seems to specialize more in bitcoin futures and options and allows for trading most other common cryptocurrencies. Also, traders can do perpetual swaps for bitcoins and Ethereum.
For the BTC futures market segment, traders get a leverage of up to 100x, but for options, the maximum leverage is 10x for all cryptocurrencies.
What's more, Deribit is one of the fastest crypto exchange platforms with a trade matching engine that offers an under 1-millisecond latency.
KYC verification is required when using Deribit, and there are two levels with varying trading capabilities. As for the trading fees, you can expect to part with 0.025% as the maker rebate fee and 0.075% for the taker fees. However, there are no withdraw or deposit fees.
Why Go for Deribit?
Super-fast trading engine
Zero deposit and withdrawal fees
Good platform security
Friendly customer support
5. KuCoin
The KuCoin is the perfect exchange for the traders that trade a diverse catalog of cryptocurrencies as it accommodates over 200 different coins. Better still, there are more than 400 markets on the platform.
Liquidity is also hardly ever an issue with KuCoin, given its 24-hour trade volume exceeds $1.6 billion.
Also, the platform is highly convenient and flexible when it comes to making deposits. It not only accommodates both debit and credit cards but also allows traders to use instant exchange services.
With its advanced bank-level security features, KuCoin is one of the most secure platforms for traders. Some of the impressive security features include complex encryption and IP whitelisting.
When using this exchange, you can get leverage of up to 100x for your BTC, and it charges the industry standard trading fees.
Why Go for KuCoin?
Advanced system security
More deposit options
400+ markets
Accommodates over 200 coins
6. OKEx
OKEx has been around since January 2014 and is an industry leader in cryptocurrency trading instruments. The platform has over 20 million traders from 200 countries globally, making it one of the largest and most trusted exchange platforms.
Given the high number of traders, the platform also offers greater liquidity than most others, with over $14.5 billion daily trade volume. Although the OKEx software is more popular, the platform also has an in-browser option for increased user flexibility.
You can exchange BTC, ETH, XRP, USDT, and several other assets on OKEx. Also, the platform allows traders to convert more than 30 local currencies into various cryptocurrencies.
Trading fees on OKEx depend on trading volumes, with the low volume traders parting with 0.15% and 0.2% maker and taker fees. Maker fees for the large volume traders are just 0.02%, while the taker fee is 0.05%.
Why Go for OKEx?
High liquidity
Allows for conversion of local currency to crypto
Low trading fees
Flexible software or browser trading
7. Binance
Binance is a household name among seasoned crypto traders as it is a feature-rich platform that offers many advantages.
Although it has not been around very long, Binance has already established itself as a significant player in the trade of crypto derivatives.
The company offers some of the highest leverages in the market. For bitcoin, it is up to 125x, while the maximum for the other coins is 75x.
With Binance, there are 24 perpetual swaps. Also, it uses a fast trade matching engine capable of handling up to 100,000 transactions every second with a latency of under 5 milliseconds.
Binance aims to offer a highly secure platform for traders, so KYC verification is mandatory before trading. Also, a risk management system includes an advanced risk engine, a smart liquidation model, and even an insurance fund.
For the trading fees, what you pay depends on your trading levels, as there are 10 levels based on your monthly trading volumes. However, the maker fee is 0.02% for the lowest volume traders, while the taker fee is 0.04%.
Why Go for Binance?
Wide range of futures contracts
High leverages up to 125x
High trading liquidity
Robust risk management system
8. BitMEX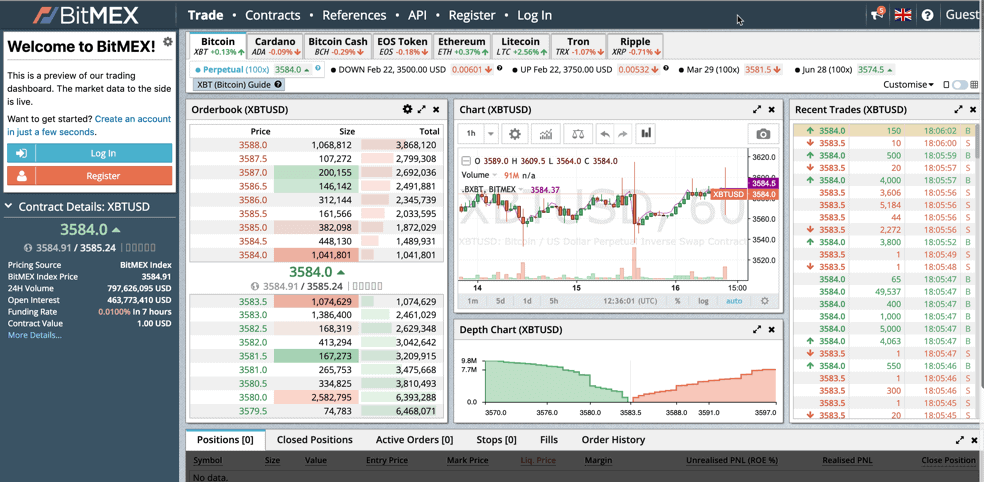 BitMEX is one of the old names in the crypto derivatives exchange segments.
The company started in April 2014 and currently has a daily trading volume of over $2 billion, one of the main reasons for its success in the highly competitive market. Another reason is the fact the platform offers a sophisticated and more technologically advanced trading platform.
The platform has both future swaps and contracts.
Additionally, it accommodates the most common cryptocurrencies, including BTC, ETH, XRP, BCH, ADA, TRX, EOS, and LTC. The platform offers maximum leverage of 100x for BTC and 25 to 50% for the other cryptocurrencies.
Identity verification is mandatory before using BitMEX, and you also need to fulfill KYC requirements. The platform charges 0.025% for maker trading fees and 0.075%  taker fees, respectively.
Why Go for BitMEX?
Multiple order types
Industry-leading security
Highly liquid platform
Conclusion
While PrimeXBT is a highly dependable and secure crypto derivative exchange platform, it does not always work for everyone.
Some users might have issues with even simple things like the appearance of the user interface. But, the good news is that there are still more than enough alternatives out there.
That said, to get a good alternative, you first need to identify your specific needs, as each of these other platforms has something that gives it an edge.
Some platforms like prioritize security KuCoin prioritize security while others like OKEx offer higher liquidity.
Some like Bybit seem to strike a balance between everything. Therefore, the ideal alternative for you will depend on your preferences. That said, you may have to try out a few to determine what works best for you.