As someone who has tested the waters of the most popular cryptocurrency day trading exchanges, I know how daunting it can be to choose the right one.
Today, I will put two of the industry's heavyweights, Bybit and Binance, head-to-head.
This article dissects their features, assesses their strengths, weaknesses, and trading volume, and hopefully helps you decide which of the two popular cryptocurrency exchanges aligns better with your trading needs.
Bybit vs Binance: Comparison at a Glance in 2023
Here's a detailed comparison between Binance, which ranks no 1 globally in crypto derivatives trading volume, and Bybit exchange, which ranks number 2 in derivatives trading volume.
Hence, the exchange is the leading cryptocurrency exchange in terms of trading volume.
Both Bybit and Binance offer a wide range of trading products for fiat currencies and derivatives. You can also get attractive leverage on both crypto exchanges.
The product offerings of Bybit include:
Spot trading
NFT marketplace (Non Fungible Tokens)
Buy crypto with fiat deposits
Decentralized Exchange platform (Defi)
Derivatives Trading – Inverse perpetual contracts, Linear perpetual contracts (without expiry), Inverse Futures contracts (with expiry)
Bybit Leveraged Crypto tokens
The product offerings of Binance include:
Spot trading
NFT marketplace
Binance Earn – Crypto staking to earn passive income
Binance Pay
Derivatives trading – COIN-M Futures (Perpetual or quarterly contracts settled in cryptocurrency), USD-M Futures (Perpetual or quarterly contracts settled in USDT or BUSD), Options
Binance leveraged tokens
Margin trading
Bybit is one of those exchanges that supports more than 270 cryptocurrencies, compared to more than 237 supported on Binance. Bybit offers up to 100x leverage on trading crypto and derivatives, while Binance offers 125x leverage for Futures.
Verdict: Both popular cryptocurrency exchanges have their own pros and cons, so at first glance, it seems like both of them are competitive.
Bybit Fees vs. Binance Futures Trading Fees
Like Bybit, Binance also follows a Maker and Taker trading fee structure for trading fees, just like most exchanges in the crypto world.
Bybit charges the following fees for Perpetual and Futures trading:
Taker Fees: 0.06%
Maker Fees: 0.01%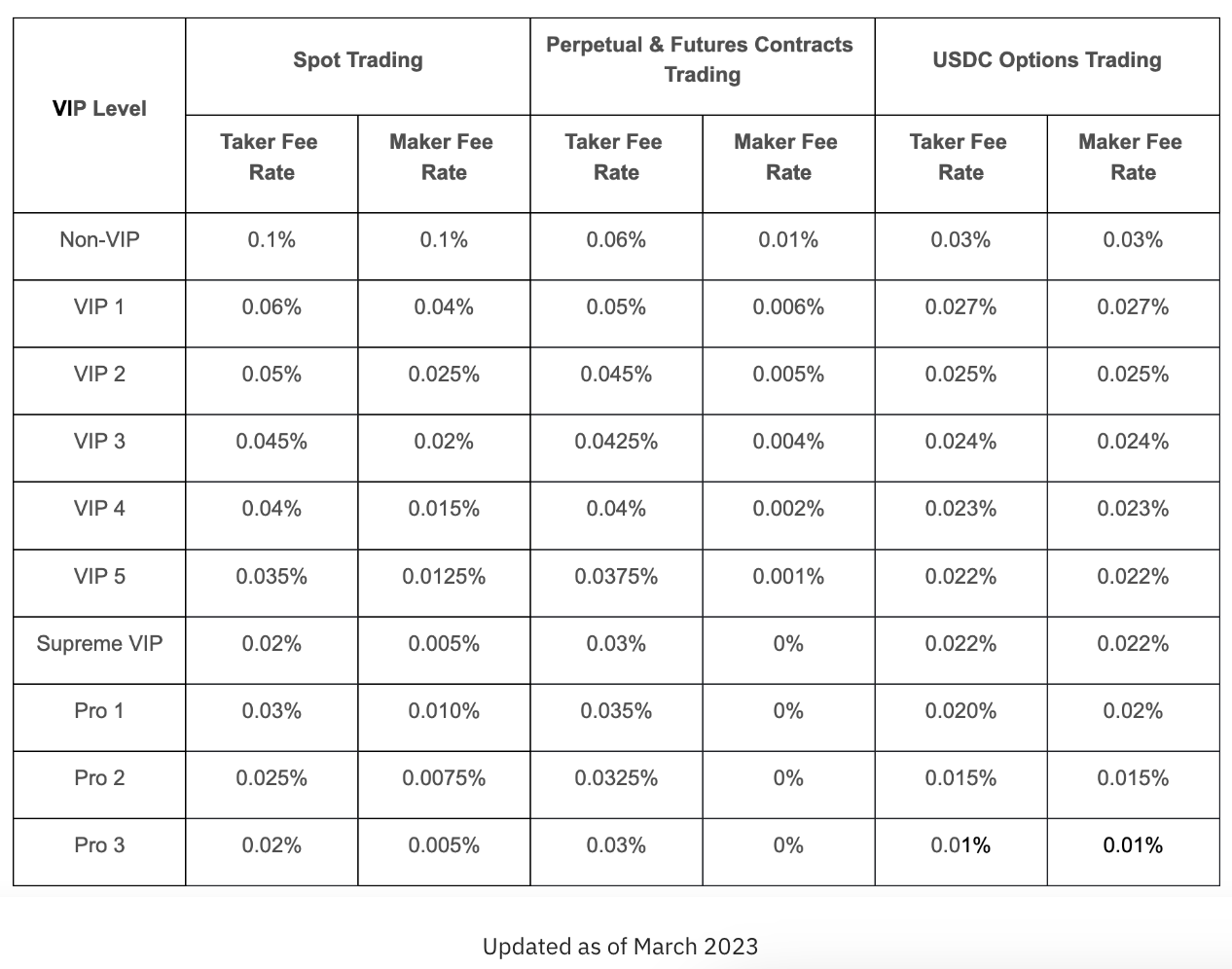 Binance charges the following fees for Futures trades if you use USDT:
Taker Fees: 0.040%
Maker Fees: 0.020%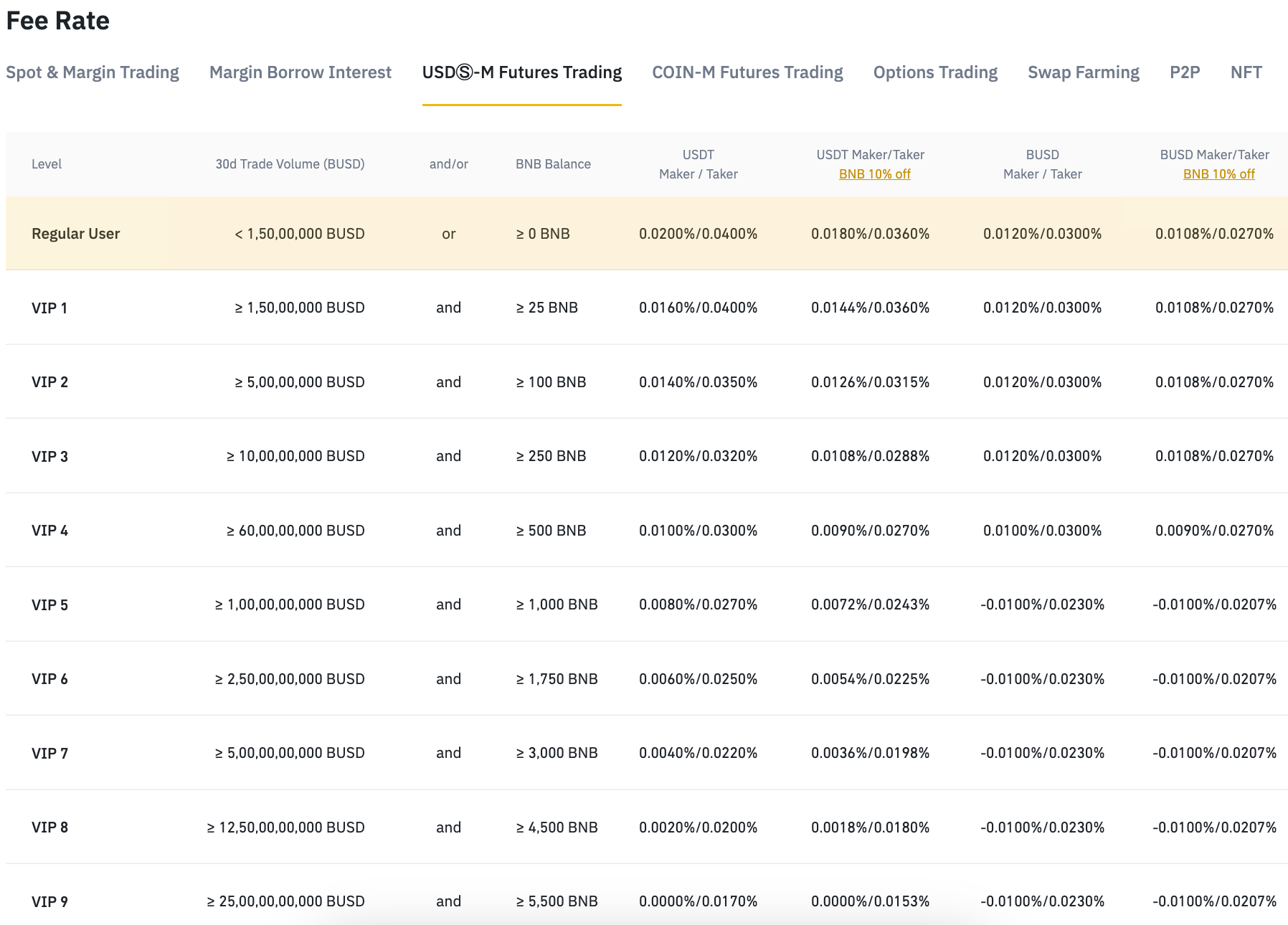 Bybit and Binance offer lower fees based on 30-day trading volume and/or total account balance. As a result, the market takers' and market makers' have a variable fee as the 30-day trading volume increases.
Binance Coin (BNB) coin holders do get special benefits in fees upon holding their native token.
Verdict: Bybit charges a slightly lower trading fee than Binance and, thus, is the winner.
Bybit vs Binance: Deposit & Withdrawal Fees
Both Binance and Bybit don't charge a deposit fee for any of the deposit methods. Both exchanges allow users to buy crypto using fiat currency, wire transfers, bank transfers, credit cards, and crypto.
Both exchanges charge a small withdrawal fee, which changes from coin to coin.
For example, the minimum withdrawal on Bybit for Bitcoin (BTC) is 0.001 BTC, and the flat withdrawal fee is 0.0005 BTC. Binance also charges a variable fee with the same withdrawal charges.
Verdict: It's a tie, as both the exchanges charge no deposit fee and a similar withdrawal fee structure.
Bybit Vs. Binance Platform & Trading Experience Comparison in 2023
Bybit and Binance Futures have powerful user interfaces with all the essential and specific features needed for seamless and informed trading of crypto assets.
Let's draw a head-to-head comparison between the trading platforms of the two exchanges.
The key features of the Bybit trading platform are:
Advanced charting platform for advanced users
Highly intuitive and easy-to-use mobile app
Multiple order types, including limit, market, stop-loss, etc.
Security measures like Insurance fund to cover your losses
Rapid trade speed
Copy trading
Bybit has a cutting-edge Futures platform with 99.99% uptime and system functionality. In addition, it can process up to 100k transactions per second and seamlessly manage trading volume spikes.
Other features include Mark and Index price mechanisms to avoid unfair liquidation, liquidity depth to execute orders instantly, and powerful system APIs to refresh market data with high frequency (20 ms).
Bybit trading platform has an intuitive interface and supports all the major order types. Professional traders can also use API keys to integrate the best trading bot services. You can learn more about the exchange by checking this Bybit tutorial.
The key features and functionalities of the Binance trading platform are:
Advanced charting platform
Multi-level security
Insurance protection
Binance academy and knowledge base
User-friendly mobile app
Decentralized exchange platform
Copy trading
Binance crypto exchange has a similar platform to Bybit with similar features and functionalities. It comes with all charting features, order types, APIs, etc., that you find in Bybit or any other crypto exchange.
Moreover, the platform has unmatched liquidity and can process more than 1.4 million transactions per second, more than any other cryptocurrency exchange. To know more about the exchange, check out this guide on how to trade crypto futures on Binance.
Verdict: Both Binance and Bybit have best-in-class trading platforms with state-of-the-art functionality. Bybit has more robust APIs for algorithmic trading, making it ideal for experienced traders. Binance has more product offerings and trading volumes, making it perfect for regular crypto traders and experienced crypto investors.
Bybit Vs. Binance: Account Opening Process
Bybit and Binance require identity verification and offer a seamless account opening and registration process.
Bybit offers a new account and to get this, you need to head to the Bybit account registration page and open an account with your email ID and password. Contrarily, you can also open an account using your mobile number.
Binance offers a new account for crypto exchange, you need to register on the Binance application or website. With the same account, you can get access to the Futures platform for trading derivatives. Binance also allows you to open an account using an email ID or a phone number.
Both exchanges require KYC and once that is completed, fiat currency deposits can be made. You can deposit fiat currencies via bank transfer or third-party providers.
Verdict: It's a tie. Both Binance and Bybit are KYC exchanges and offer a seamless account opening process.
Bybit Vs. Binance Customer Support
Customer support is one of the key factors to consider when choosing a crypto trading exchange, especially for active users.
You might come across numerous issues related to spot trading fees, making deposits of fiat currencies, withdrawing funds, and using the crypto exchange in general.
Luckily, we have a winner here.
Bybit provides around-the-clock multilingual customer support to resolve your queries instantly.
In addition, the Bybit platform has a live chat feature from which you can connect with a support executive. You can also email them at [email protected] or send your queries on Instagram at @BybitTradinChat.
Binance exchange provides a virtual chatbot to answer commonly faced issues instantly.
If a virtual chatbot can't answer complex issues, you can raise a support ticket from their website. The support team will get back to you on your email.
Verdict: Bybit provides 24/7 multilingual customer support, which gives it a clear edge over Binance.
Bybit Vs. Binance Security Features
Similar to support, security is another major factor to consider when looking for the right cryptocurrency exchange.
Bybit and Binance implement robust security features.
Bybit also offers a cutting-edge security management framework comprising cold-wallet systems and two-factor authentication to authorize sign-ins.
The exchange stores more than 90% of the users' funds in a cold wallet system and uses a multisig wallet address mechanism to eliminate the risk of fraud.
Binance has a multi-tier security architecture that consists of two-factor authentication login to provide access to a safe trading experience to its customers.
It uses hot and cold wallets to store users' funds, with most funds being stored in cold wallets. However, users are advised to store their funds in Binance's Trust Wallet instead of the exchange wallet.
However, Binance had a major security issue in 2019, when USD 40 million in funds disappeared from the users' wallets. Bybit has had a clear run so far when it comes to security.
Verdict: Bybit and Binance have robust security measures and features. However, Binance had a hacking instance in 2019.
Bybit Vs. Binance Liquidation Mechanism
Liquidation refers to the process of closing a trader's position due to the loss of all (or nearly all) of the trader's initial margin. This occurs when the trader takes a leveraged position.
Bybit uses the Spot Price liquidation mechanism, also known as the Mark Price mechanism, to manage liquidity. In this process, liquidation happens when the Mark Price hits the Liquidation Price.
Here, the Last Traded Price is used to calculate the price at which the position closes instead of being used as a liquid trigger.
Binance uses various mechanisms based on the market and exchange. However, in most cases of trading, Binance also uses the Mark Price liquidation mechanism, and liquidation occurs when the Mark Price hits the liquidation price.
Verdict: Bybit and Binance both use the Mark Price Liquidation mechanism to facilitate liquidation.
Copy Trading: Bybit vs. Binance
Copy trading is a system where individuals can automatically copy trades of experienced traders.
On Bybit, the copy trading feature is quite user-friendly and enables users to replicate the trading strategies of proficient traders seamlessly, albeit it's a newer entrant in the copy trading scene.
Binance, on the other hand, has a more mature copy trading system. Its platform also offers a wider range of traders to copy, thus potentially providing more diversified trading opportunities.
Binance's established reputation and larger user base may instill more user confidence.
In summary, while Bybit is user-friendly, Binance provides a more established platform and a broader selection of traders to copy.
Is P2P trading available on Binance and ByBit?
Binance, a full-featured platform, provides P2P trading with a wide range of cryptocurrencies and multiple payment methods.
It lets you buy and sell your favourite cryptocurrencies directly with other users, which can potentially speed up transactions and lower costs.
Meanwhile, Bybit, widely recognized for its robust derivatives offerings, and Futures trading fees, has recently added P2P trading to its platform.
You can use Bybit's P2P mechanism to buy USDT directly using INR or other selected fiat currencies.
This new addition brings more versatility to Bybit's offerings, enabling users to navigate both the Futures market and the P2P market in a single place.
Remember, the best choice between Binance and Bybit depends on your specific trading needs and preferences. Both platforms have their unique strengths, so it's important to consider all factors when making your decision.
Binance vs Bybit: Trading and Order Types
Trading and order types are fundamental features of any crypto exchange. Binance and Bybit have various types of orders to accommodate the diverse needs of their users.
Binance shines with an extensive list of order types. It provides limit, market, and stop-limit orders for spot trading.
For trading, Binance has more advanced order types such as trailing stop, take profit, and stop market orders. These advanced orders allow traders to implement sophisticated strategies and manage risk better.
On the other hand, Bybit keeps things straightforward and user-friendly. For perpetual contracts, they offer limit, market, and conditional orders.
Traders can use these orders to hedge their positions and capture profit. Bybit's trading interface is clean and intuitive, which makes it especially appealing to beginners and those who prefer a streamlined trading experience.
In summary, Binance has a wider variety of order types, catering to advanced traders. In contrast, Bybit simplifies the trading process, making it easier for beginners to understand and use.
This difference reflects the overall philosophy of the two platforms: Binance is for diversity and complexity, while Bybit is for simplicity and ease of use.
Binance vs ByBit: Mobile App
In today's fast-paced world, having a reliable and user-friendly mobile application for trading is a must for any crypto market.
Binance and ByBit understand this need and offer mobile applications for their users.
Binance can be accessed through mobile as it has a feature-rich mobile app available for iOS and Android devices.
The application provides full access to Binance's comprehensive trading platform, including spot trading, derivatives trading, and even the launchpad for token sales.
It has an intuitive design and a user-friendly interface, which allows you to track your trades, manage your portfolio, set price alerts, and deposit or withdraw funds on the go.
Additionally, Binance has integrated its 'Binance Academy' into the app, providing users with informative articles and videos about blockchain and crypto.
On the other hand, ByBit's mobile application, also available on both iOS and Android platforms, has been praised for its clean, uncluttered design and ease of use.
It allows users to trade, view real-time price data, set stop loss, take profit levels, and more.
The app also has advanced features like the strategy alert function, which alerts users when the market reaches certain prices or certain candlestick patterns occur.
In summary, Binance and ByBit have reliable and user-friendly mobile applications.
Your choice between the two might come down to personal preference, specific features you're looking for, or the type of margin trading you intend to do.
As always, it's recommended to download and try out both apps to find the one that suits your needs best.
Are Binance and ByBit reliable exchanges?
Regarding reliability in the crypto industry, Binance and ByBit are two names that often come up in discussions.
Both have built a reputation in the industry for their robust security measures and reliable services.
Binance, founded in 2017, has quickly risen to be one of the largest and most respected exchanges in the world, with Changpeng Zhao as the CEO of Binance.
They employ industry-leading security protocols, including 2FA and encryption, to protect user funds.
Binance has a solid security track record and has even established a "SAFU" (Secure Asset Fund for Users) to cover potential losses in extreme situations.
On the other hand, ByBit, despite being a newer player in the market, has established itself as a trustworthy exchange, particularly among Futures traders.
The platform's transparent trading environment, 24/7 customer service, and robust risk management systems help ensure that user assets and data are well protected.
ByBit has also shown commendable resilience in handling high-volume trading without system overloads, a factor that is critical for day traders and short-term investors.
Binance US is available in the US for US traders & Binance.com for the rest of the world.
In conclusion, Binance and ByBit have proved themselves to be reliable exchanges in the cryptocurrency space.
However, as always in the crypto market, it's essential to employ your security measures like using hardware wallets for large holdings and keeping your software updated.
Binance or ByBit: Passive Income Tools
Cryptocurrency exchanges are not just for trading; they can also be a source of passive income, and both Binance and ByBit offer tools to help you earn.
Binance has several passive income opportunities and options to purchase crypto or trade crypto, with one of the top trading features.
With 'Binance Earn', users can hold cryptocurrencies and earn interest through various financial products like Savings, Staking, and Launchpool. Binance also has a Binance Pool for mining enthusiasts and a Liquid Swap platform where users can earn fees by providing liquidity.
ByBit, on the other hand, offers 'Cloud Mining', a low-risk way to earn passive income. With Cloud Mining, ByBit users can mine cryptocurrency without buying expensive hardware or dealing with complicated setups and maintenance issues.
By renting mining power from ByBit, users can earn mining rewards directly in their ByBit accounts. ByBit also hosts trading competitions where users can earn rewards based on their trading activity.
When comparing Binance and ByBit for passive income tools, Binance consistently offers a broader range of options although Bybit cloud mining feature is unique and an easy way to get involved in crypto mining.
As always, the best choice depends on your specific interests and investment strategies. It's recommended to explore each platform's offerings in detail to understand which one could serve your passive earning goals best.
Recap: Binance vs. Bybit
Let's revise this Binance and Bybit review by discussing the pros and cons.
Bybit Pros:
Trade futures with high leverage up to 100x
24/7 multilingual support
Advanced order types
Top 3 in highest volume traded
No KYC is required to start
Best security amongst top crypto exchanges
Bybit Cons:
Like Binance, Bybit Restricted for US traders
Not regulated
Offers only 4 CFD products
Binance Pros:
The largest exchange in terms of volume traded
High liquidity
Low trading fee
Great reputation
Binance Fees are one of the lowest in the industry
Native BNB token available for investment
Leveraged tokens allow
Binance Cons:
No multi-lingual support
It was hacked once in 2019
Conclusion: Is Bybit better than Binance?
In wrapping up, Bybit and Binance bring their unique strengths.
Whether it's Bybit's simplistic design and cloud mining feature or Binance's extensive offering and passive earning tools, they cater to different types of crypto enthusiasts.
Neither Binance nor Bybit entertains US traders, but they have ample amounts of perpetual futures trading pairs, which both crypto or fiat support to help generate passive income on your crypto holdings.
Which exchange is right for you out of Bybit and Binance largely depends on what you value more in an exchange – simplicity or diversity.
I find myself leaning more toward the one that aligns best with my trading style, and investment strategy, and which is bigger in terms of trading volume.
Do spend some time exploring both platforms because the choice for traders will vary depending upon the selection of assets available, low fees, and crypto projects on offer.
Remember, in the end, it's all about making your crypto journey comfortable and profitable!
Learn how ByBit & Binance stack up against the competition.